Football Manager 2024 is the latest in the long-running soccer management simulator series from developers Sports Interactive. The franchise started as Championship Manager back in 1992 and has produced yearly Football Manager games published by Sega since 2004.
The aim of Football Manager 2024 is simple: take the reigns of your favorite club or national team and lead them to glory. Players are given full control over everything from player signings to tactics and even dealing with pesky agents, but more on that later. It has been the gold standard for sports management sims for some time now and continues to deliver with small tweaks to improve the formula.
One of the biggest new additions to Football Manager 2024 is the enhanced control of set piece tactics. The new Set Piece Creator gives players an unprecedented level of control over how to run set pieces and provides excellent feedback so you can adjust your approach as needed. Set pieces are vital for any successful soccer team, so it was about time this aspect got a facelift.
The benefit of this upgrade was noticeable quite quickly, with my team's goal output from corner kicks playing an instrumental role in winning the Premier League with Manchester United. Getting in-depth feedback from set piece coaches helps with things like knowing which players should be making a run into the box and which are better served on the outskirts waiting for a loose ball. Don't worry though, the process is extremely streamlined for those who might feel a bit overwhelmed, and it does not take long to learn the ropes.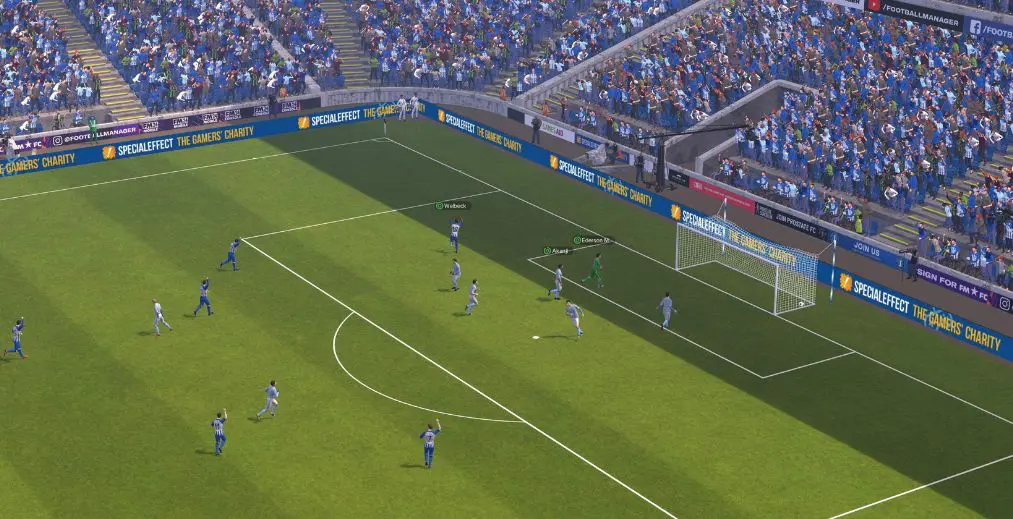 The in-game match engine has also received an upgrade that makes much more of a difference than expected. No, Football Manager 2024 does not look like EA Sports FC 24, but that isn't the goal. The new facelift here does, however, look significantly more fluid and helps with player scouting. It is much easier to tell the type of runs and movements a player makes with this new upgraded engine, which is important when deciding whether to spend big bucks on a young prospect.
Speaking of spending, transfers in Football Manager 2024 have been updated on several fronts. The first and most noticeable is that other teams will fight you for your transfer targets much more frequently than before. In previous games, it was easy to identify a target and bid on them without much interference, but now you should expect every transfer to be substantially more competitive. This drives up prices and also makes negotiating with agents more crucial than ever. That young wonder kid from Brazil is not going to come easily, but be careful what promises you make when trying to attract them.
Agents are also a bit different in Football Manager 2024. They remain as greedy and terrible as ever, but now they have the ability to help facilitate a move for an unhappy or unwanted player. This makes it much easier to sell a surplus player when before they would sit on the payroll for seasons at a time, unable to find a new home. Being able to ask an agent to act as an intermediary and find a new club for a player is incredibly helpful and probably my most used new mechanic.
Football Manager 2024 is at its best when it makes you truly feel like a manager, and these new upgrades actually help with that. Player interactions are also a vital part of feeling like a virtual José Mourinho, and the inclusion of new player targets adds a new dimension. When a player asks for a new contract or more playing time, now you have the option of giving them a target to hit if they want to earn it. Players aren't always willing to accept that, which is pretty realistic, but it is a nice addition to have in the game.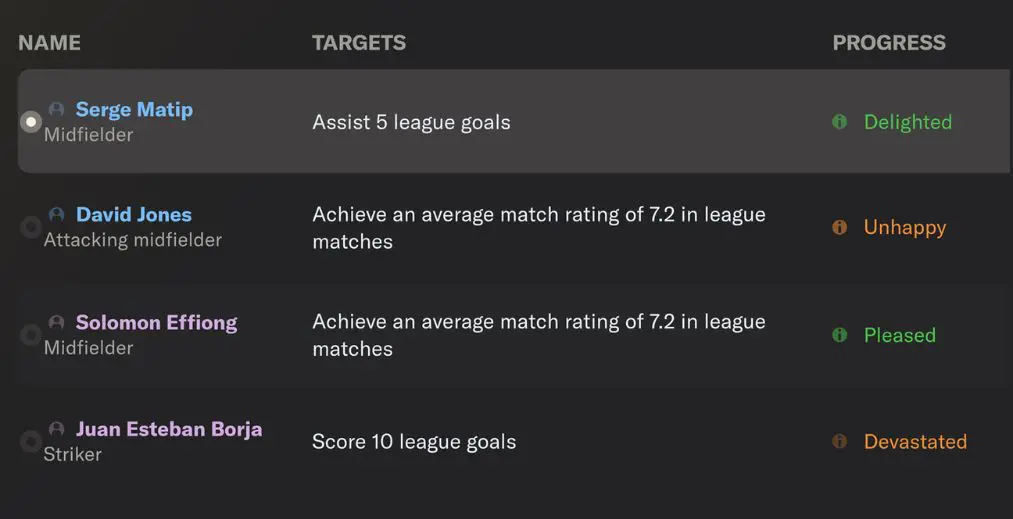 With all of these new features added on top of an already deep game, Football Manager 2024 can feel a tad overwhelming at times. Not everyone is going to want to sit and dig through menu after menu for hours at a time just to find the slightest advantage. Thankfully, it is easy to delegate tasks to assistants who, for the most part, do a good job of managing the things you don't want to. Allowing players to be as hands-on or hands-off as they want is really important, and Sports Interactive does a great job of finding that balance. It isn't always perfect, and choosing to dive deep into the mechanics and data is always going to be the fuller option, but it is still pretty accessible, considering how much it throws at players.
There are still some disappointing licensing issues causing some teams and nations not to include real names or logos. The inclusion of Japan's J.League helps balance that out a bit, and it would be nice to see even more leagues added in the future, like the lower leagues in the United States. Still, there are more leagues and players here than you will find in any other soccer game, so this is more nitpicking than anything.
After a bit of a letdown last year, Football Manager 2024 gives new life to a storied franchise. Next year's iteration is promising more drastic changes, but in the meantime, it is nice to see some smaller ones already being made. As far as management simulators go, Football Manager 2024 remains among the absolute best of them.
Football Manager 2024 is available now on PC, PlayStation 5, Xbox Series X|S, and on Xbox Game Pass.
Football Manager 2024
TL;DR
After a bit of a letdown last year, Football Manager 2024 gives new life to a storied franchise. As far as management simulators go, Football Manager 2024 remains among the absolute best of them.