Cozy and roguelite don't usually go hand-in-hand, but in Cuisineer, a food-focused game with a quickly compelling loop, you can lose hours (and I do mean hours) of your day. With gorgeous art and endearingly adorable character designs that range from the cutest chonk of a chili pepper to the most attractive anthropomorphic wolf furniture maker, if the gameplay doesn't make you fall in love, everything about the visual presentation will.
Developed by BattleBrew Productions and co-published by Marvelous Europe and XSEED Games, Cuisineer is a little bit of Animal Crossing, a little bit of Cooking Mama, and a whole bunch of procedurally generated dungeons that embrace the roguelite genre. The story itself is straightforward. You play as a catgirl named Pom who returns to her hometown of Paell. Expecting to see her parents, she instead finds that their restaurant has closed for business because of deep, deep, deep debt. Now, Pom has to re-open the restaurant and make it thrive, paying off the tax man in the process with increasing amounts (a real Tom Nookian affair).
The focus of the game is to build and decorate a thriving restaurant, serving up dishes from a recipe book that spans three different star rankings across over 100 meals. But to do that, you have to explore a buffet of dungeons using your utensil and food-based weapons, healing yourself with boba tea and buffing your stats and resistance with brews.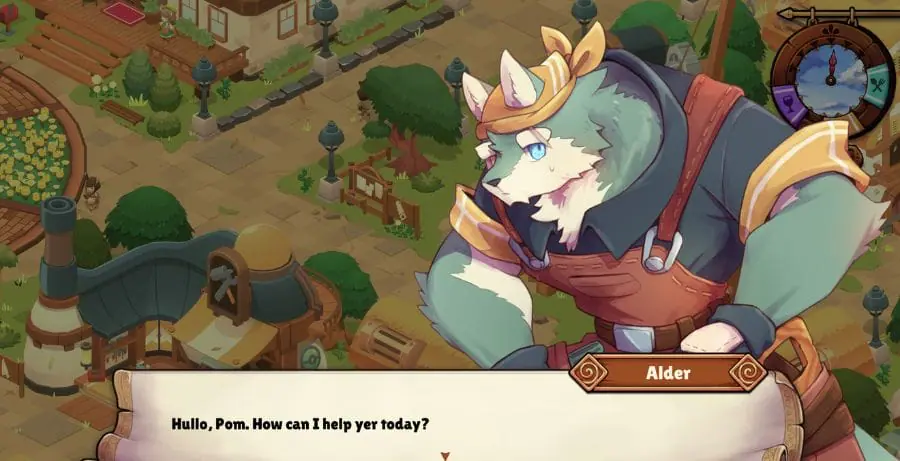 In order to get ingredients, you need to work your way through the floors of dungeons in different regions, all catering to specific backgrounds and filled with the most adorable food and animal-enemy art you can imagine. After filling your upgradable backpack, or just running out of health, finding a safe spot to recall back home can be the difference between taking back a haul to keep the next few days' meals made and getting paid, or losing the majority of it if you die.
But dungeoneering and cooking can't necessarily be done all in one day. Instead of being able to both dungeon delve and cook, you need to begin your day cooking, but the longer you serve customers, the more tired you become, lowering your maximum available health when you head to the dungeon. So choosing one or the other is one of the smarter ways to play, especially if you aren't playing on "mild" or "bland," the game's reduced damage modes that make the dungeons easier to progress through.
That said, having to choose between making meals or collecting ingredients because of the short day-night cycle isn't a bad thing. In fact, it makes you manage your time and adds to the nearly addictive game loop structure. By limiting the time in the day, Cuisineer is able to build in lunch and dinner rushes on the clock while still allowing for enough downtime to walk through the town after running your restaurant. This is central because you'll need to make time to buy upgrades and furniture and talk to the towns folk, who each have recipes to give you through quests. Thankfully, the clock denotes the busy periods to make money and can help you make the most of your "day."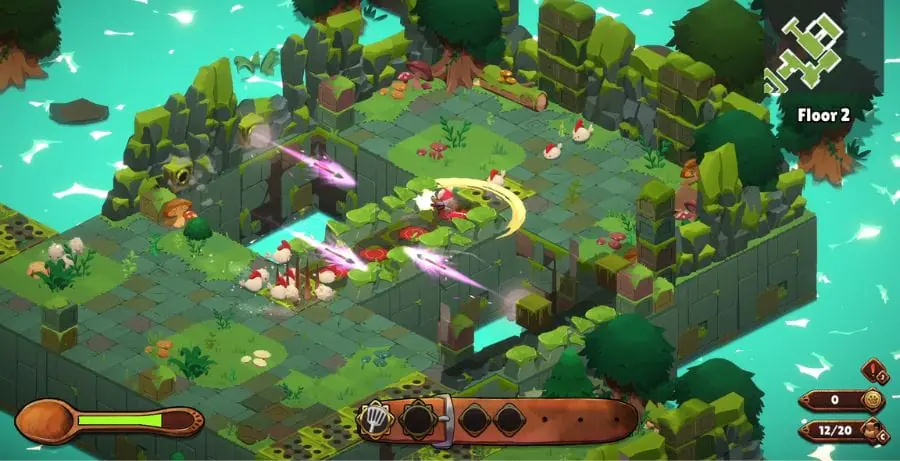 BattleBrew has paced the game's loop extremely immersive because it makes you plan out your segments of time. You need ingredients to make money, and the only way you can make money is to sell meals in your restaurant. The only way to make a lot of money in a day is to upgrade your shop, which takes money and materials (which you can only get in a dungeon). Every element of the game feeds into each other. You pay off your taxes and rely on the townspeople to expand your dishes, which makes more money and increases your restaurant ranking.
While you have to choose between those two things, you also can't complete quests extremely fast. Quests from townsfolk require meals, materials, or ingredients of varying difficulty to find. Once you have what the request is, you have to turn it in, but not every person is in the town all at one time. You'll often have to wait for one or two cycles in order to complete the quest, which allows you to pace your time and gives you a reason to keep playing without stopping.
The game's pacing offers a large part of its mechanical appeal, but the diversity of dungeon types and enemies allows you to sink in and be constantly surprised, especially as you start to encounter large bosses in different levels. Additionally, the time spent in the dungeon can be mixed up by changing the powers you use to fight, all food-based of course. Whether you're using a Salty, Sour, Sweet, Bitter, Umami, Frosty, or Toasty power to knock out your enemies each time through the different lands, it can yield surprisingly varied results.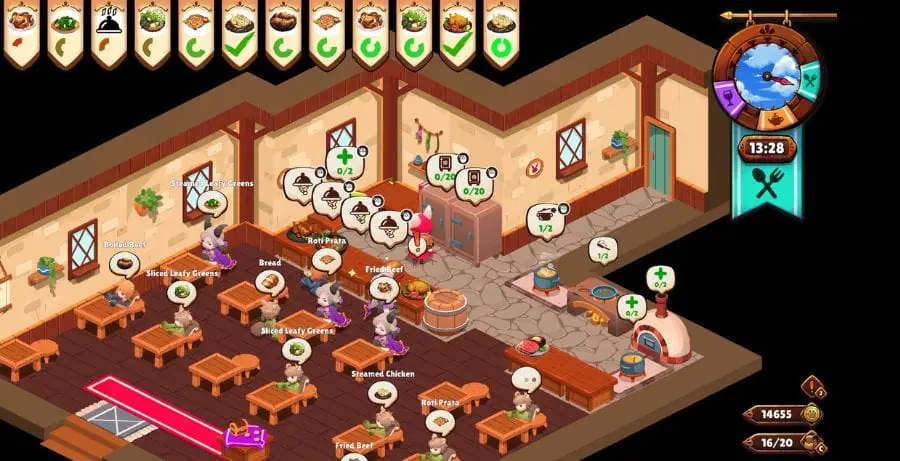 If there is one fault with Cuisineer, it's that it doesn't have that many ways to decorate your restaurant in terms of flooring or wallpapers. Even some basic palette swaps could have offered much more personality to develop your restaurant. Different furniture sets are all based on different materials, but the color range is so muted and limited that it's hard to match the gorgeous and vibrant world around you as you play. In fact, the dullness of the furniture options doesn't match with how effervescent and bright the rest of Paell and its townsfolk are, which ultimately holds the game back in that one element.
Even so, Cuisineer is an absolutely beautiful and joyous game that pushes you, as the player, to just keep playing and finding more creatively gorgeous elements around every corner. Pom is a fantastic lead, and it's easy to find one character to fall in love with as you keep playing. Whether it's embedding yourself in Paell or running dungeon after dungeon, you won't want to put Cuisineer down.
Cuisineer is available on Windows PC via Steam on November 9, 2023.
Cuisineer
Cuisineer -

8.5/10
TL;DR
Whether it's embedding yourself in Paell or running dungeon after dungeon, you won't want to put Cuisineer down.