Curve Games and Microbird Games have teamed up to deliver a visual breath of fresh air in their upcoming single-player role-playing game, Dungeons of Hinterberg. In production since 2020 by a small team, this striking title pulls inspiration from the Australian Alps and all the splendor it brings to those who visit.
Players are transported to a scenic tourist location that deeply exhales tranquility and respite. As such, adventurers flock to Hinterberg to explore dungeons that have mysteriously sprouted across its lands. While it may sound alarming, the general feeling is anything but. With your sword and magical abilities in tow, there's a thrill and encouraging attitude present through its environment and conversations.
The time spent trailing to reach the first dungeon is picturesque. Visible gentle, white swirls of a breeze wisp around the air. A sensory image of cool and crispness that would tease any outdoor adventurer. As blades of seasoned yellow grass sway ever so slightly along rolling hills, it's hard to deny how well aspects of the outdoors translate to the game.

Cell-shaded visuals grant depth and are striking with their vibrant colors. It just adds to the atmospheric intention for player enjoyment. After all, Dungeons of Hinterberg wants to leave you feeling relaxed while engaging in something unique. Should you lose your way, however, little details like chalk-dusted ledges softly nudge players towards progress in puzzles and make a note of scalable areas.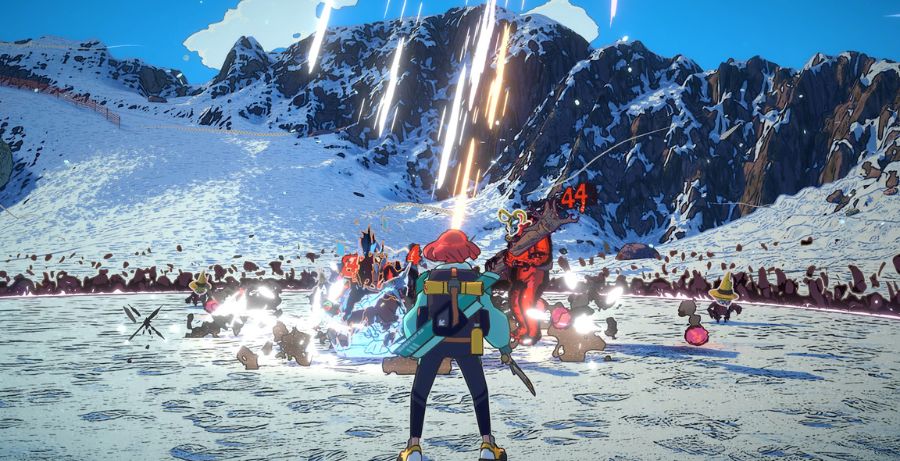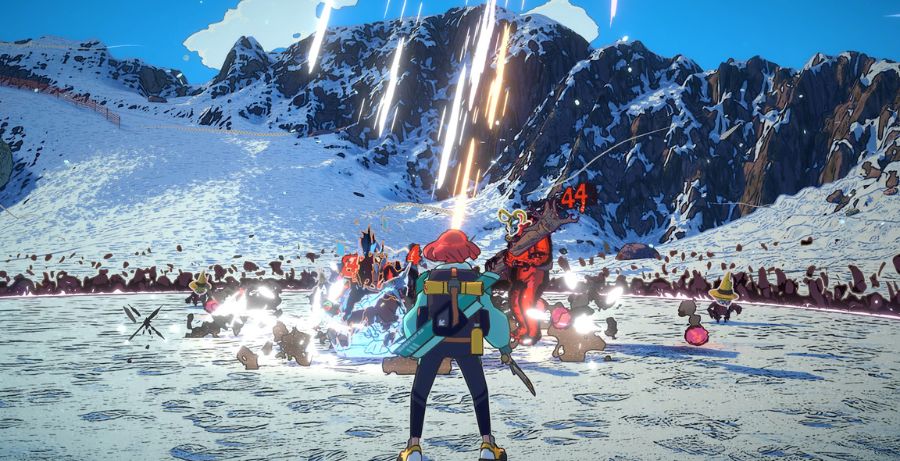 While our silent protagonist ventures out alone, it never feels like an isolation that creates uneasiness. Instead, it feels freeing. An adventure awaits and there are magical dungeons to explore and conquer. Even should you fail, there's a continuous feeling of support and fun to get back in. Part of that lightness is thanks to its social simulator aspect.
An enchanted violet dungeon door is reached after climbing, vaulting, and encountering some enemies. Dungeons hold puzzles like using a mine cart to move through, which results in a rewarding, fun rollercoaster-like ride. Wheels scream against the metal tracks and suddenly you fling onto a scalable wall, only to eventually meet with enemies and a boss shortly after.
Magical abilities not only help with solving world puzzles but can also be utilized in combat. Used as a weight or for creating a path, a summoned giant boulder can also explode on command, creating strategic damage to an overcrowded combat space. With a trusted sword harboring its own unique skills, the combat is pure magic. Add a perfect dodge to grant a brief slow-down mode to the mix and it's icing on the cake.
Whether conquering or falling short in a dungeon, players reconvene in the cozy town square of Hinterberg. Here, fellow adventurers and locals gather. Moreover, this is where players can further conversations by choosing who to invest time in. For instance, each holds different buffs and knowledge like understanding why these dungeons appeared or teaching a new skill to help battle the monsters lurking within them. The more time spent with an individual, the more you learn and grow your abilities.
The time spent with Dungeons of Hinterberg was a great escape to the outdoors with its magical wonder of adventure from the comforts of home. A conquered dungeon gets stamped off like a National Parks Passport Book, which feels just as gratifying as visiting a park itself. Players looking to embark on something uniquely adventurous will surely find something to resonate with in Dungeons of Hinterberg.
Dungeons of Hinterberg is set to release in 2024 on PC and Xbox.