Disney is around, in some way, present in every facet of our lives. Their movies, TV shows, sports, their media empire is vast. But there is one area they and their wide range of media properties have been lacking. Since the time when movie tie-in games sputtered out, Disney seemed to have forgotten just how much fun their video games were and how beloved they were. That all has changed. With the regrowth of Disney Interactive Studios, they have been approaching the modern game market with new unique entries with a lot of already memorable games. Their newest entry, Disney Illusion Island by Dlala Games and published by Disney Interactive Studios, may be the most fun Disney proper game in some time with their new Metroidvania platformer.
Disney Illusion Island is an all-new adventure starring Disney's golden children, Mickey, Minnie, Donald, and Goofy. With the promise of a picnic thanks to a mysterious letter that invited each other to a mystical woods. This all was a ruse from Mickey mega-fans to bring them all together to save these woods. In this world, all Mickey and his friends' escapades are known legends like the classic Mickey and the Beanstalk, the Three Musketeers, and more. They are seen as heroes and adventurers, whereas in reality, they are just normal people. That doesn't stop our "heroes." They (except for Donald, who wants a picnic) agree to help the mega-fans with getting three mystical books back, leading them onto a grand adventure.
What makes Illusion Island stand out right away is its animation style. In recent years, Disney's Mickey shorts have taken a… unique… look (like a jaundiced Goofy). The shorts are unhinged, and I highly recommend you watch them for some good laughs, yet the new looks aren't the most popular. Illusion Island has found a really happy medium between Disney's new and classic designs of the four. It's simplistic and memorable. That doesn't stop with the character design. The world itself is adorably animated. Think classic Disney cartoons with the backgrounds feeling alive. Subtle movements of what looks like static backgrounds make every environment feel alive. Plus, they're all colorful and unique in their own ways, making wherever you go stand out.
It's not just the animation and art style that stands out. The story, too, instantly makes this game feel like one of the better Mickey shorts, particularly with how each of the four heroes stands out in their own way during any cinematic. Regardless of who you choose to play, they all appear and interact with each other in ways that are genuine to their characters. If you are new to the modern versions of Mickey Mouse and Friends, you will still feel right at home with every character's mannerisms. However, if you've been watching everything new from Disney revolving around Mickey and the gang, you may get even more enjoyment because the developers did that great a job at making this game feel like a bridge between the old and the new while being its own entity.
The story and characters aren't the only things that felt really well polished, but the gameplay as well. Illusion Island is a combat-less Metroidvania platformer. An odd mix that works surprisingly well. You explore this mysterious world with all kinds of platforming mechanics, like wall jumping, grinding on rails, swinging, double jump, etc. All of this gets slowly unlocked through the story, allowing you to access new areas you previously couldn't. What makes unlocking new mechanics even more fun, besides backtracking, is HOW they're divvied out.
Occasionally, you'll run into Mazzie, a purple crocodile inventor who looks similar to Disney's mobile game, Where's My Water. Mazzie anticipates the gang's next need and invents items for them to conquer it. These are some of the funniest moments in the game. Each character gets a unique item that, while all doing the same thing, fits with the character that receives it. For instance, Goofy gets food-related items because he's always hungry. Donald gets items that seem like they'll hurt him or feel like afterthoughts. Yet the fact that each item does the same thing is great, especially when it just adds that while playing as either Mickey, Donald, Minnie, or Goofy is a choice, there is no downside to just choosing your favorite person to play.
A standout item was when the team learned how to glide up air vents. The rest of the team gets items because they can't fly. Mazzie looks at Donald and assumes he can because he's a duck. What follows is a hilarious yet awkward moment because Donald, like most other ducks in the Disneyverse, cannot fly. So, Donald is given two large feathers that let him flap to glide/fly up the air vents. As I mentioned before, what makes these moments great are the interactions between the characters. In this instance, Mazzie, confused by why Donald can't fly, results in Mickey responding, "We don't talk about it." This is all just an unspoken "oh yeah, Donald can't fly, huh" between the group that finally gets called out for being as outrageous as it actually is.
While navigating around the world is fun, there are lots of obstacles, from unique enemies in each biome that need to be found to secret areas. What was great about the enemy variety was how they evolved over time. There are a lot of similar creatures that feel like they are copied and pasted into different environments, but they all work differently. Recognizing a hazard too quickly can result in unnecessary damage. Thinking about something you're coming up on when entering a new area felt anticipated. How? Well, the newer-looking enemies always reacted in ways that immediately countered how you'd quickly get past the older versions of them. For instance, a blob on the ceiling in one area shoots down two pellets in two different directions. A later iteration shoots down one pellet right down the center, which then fires in two directions when it impacts the ground. So waiting around just under this new enemy would damage you.
Yet the shining moments of the game's non-combat focus were the boss fights. Occasionally, you'll have to conquer a boss level which puts all your new skills to the test. What is required of these is jumping over obstacles and triggering specific events in the arena enough to cause the boss to take damage indirectly of your actions. They're great moments that not only feel like they are the culmination of what you've traversed up until this point but are just fun moments that are interesting ways even to add boss battles to a combat-less game. These are moments that feel like the developers understood what they wanted to do and executed their ideas in fun and innovative ways.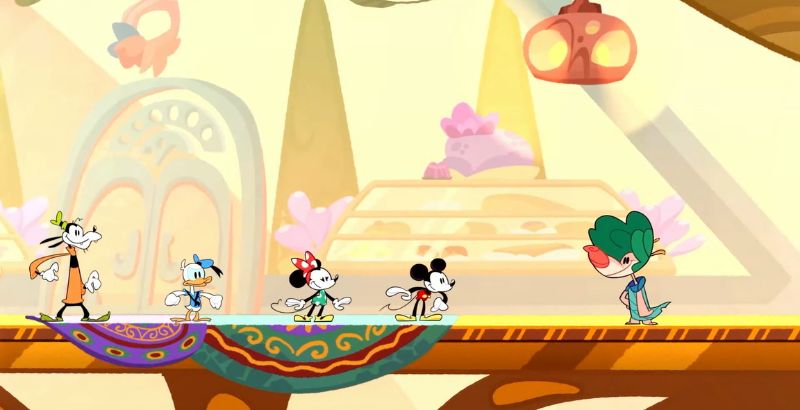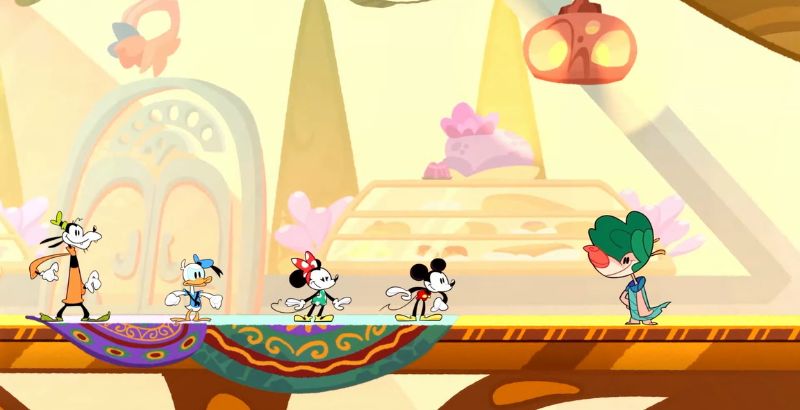 Then there is replayability and explorability. Like many other Metroidvanias, there are a lot of collectibles to find. There are the little orbs that, when enough are collected, award you with an extra heart. Cards collected reveal more about everything existing in this world. Little knapsacks are even more hidden which give little collectibles from famous Mickey shorts and movies. Finally, there are hidden Mickeys, objects that just so happen to be shaped like the Mickey silhouette scattered everywhere. If you interact with these, you get a great picture moment of most of the gang being excited to find it and Donald being over Mickey's love. Yet another moment that feels like the developers get it and want to make a modern Metroidvania is the implementation of fast travel and the map just being so informative. Fast travel is unlocked later in the game, allowing you to explore the world at your own pace. Then, when you want to go collect everything after getting the last abilities, you can jump around at your pleasure.
Finally, there is the difficulty. Illusion Island not only feels like a great intro-to-metroidvanias for parents who may be worried this game may not be great for kids but also a great game for more skilled gamers looking for a challenge. When you start, you can choose your difficulty by how many hearts you get right at the beginning. From one to three, with even an indestructible heart. Then there are accessibility settings to refine your experience. All culminating to an unlocked "Iron Mouse" mode after beating the game that deletes your save file if you die.
If you're worried that this game may be hard for a game that seems like it's made for kids or that it may be too easy for you, don't be. After beating the game, I've been diving into "Iron Mouse" mode and have had such a fun time challenging myself that way and getting even more hours out of my time with this game I can't put it down.
And the map is just a fantastic guide for those who want to collect everything too. As you explore, items you've come across will populate the map, even if you can't get them yet. It even marks specific locations where you can use newly unlocked traversal abilities to reach areas yet explored. Plus, it tells you what exactly you're missing in each area too!
Disney Illusion Island is quite possibly one of the best Disney games about Mickey and Friends made to date. The world of Monoth is such a joy to explore and is made fantastically to feel like a modern Metroidvania platformer. Plus, it feels like a great Metroidvania for any skill level, first timer youngsters wanting to play with their parents to more skilled players who are looking for a challenge. In the end, this is Mickey and friends at their best and an amazing love letter from mega-fans to fans old and new of the mouse that started it all.
Disney Illusion Island is available on July 28th on Nintendo Switch.
TL;DR
Disney Illusion Island is quite possibly one of the best Disney games about Mickey and Friends made to date. The world of Monoth is such a joy to explore and is made fantastically to feel like a modern Metroidvania platformer.