From director Andrew Haigh and writers Haigh and Taichi Yamada comes All of Us Strangers, a movie better left unexplained, wherein Andrew Scott plays a lonely man, Adam, living in a nearly empty apartment tower in London when he meets one of the few other people living there, Harry (Paul Mescal).
The movie opens on its two biggest points right away. It shows Adam completely alone and rather miserable-looking, and it shows endless colors as he mopes about from dawn until dusk. The lights of the thriving city beyond his dull existence twinkle out of focus in the night while the light of his refrigerator is the only true sign of life in his well-kempt apartment. From there, it delivers a heartbreaking vision of love, loneliness, and loss.
The most endearing part of All of Us Strangers is perhaps the way that Adam may be timid, but he's not square. He says yes, knows how to have a good time, and is inexperienced with gay relationships, but he's not just learning about them for the first time. It's a nice respite from the more common portrayal of this type of shy, lonely character where they're often still in the process of coming out or have to be shown every rope by their more outgoing partner. Adam and Harry are more or less equals throughout the movie despite their gingerly chastised age gap.
They're also both quite vulnerable and honest. Their conversations are as beautiful to watch as their other kinds of intimate moments, and everything they have to say feels precious. The movie contains the some of the best written conversation after conversation about gayness on widely released film. This continues to be the case for Adam and his other two scene partners, as played by Jamie Bell and Claire Foy. Where the scenes between Scott and Pascal are special for their tenderness, the scenes between Scott and Bell and Foy are tense. Their history is as brutally difficult as the conversations in the present. The huge juxtaposition between the twilight of Harry and Adam's time in Adam's apartment is stark against the bright and sun-lit house of the other characters' scenes.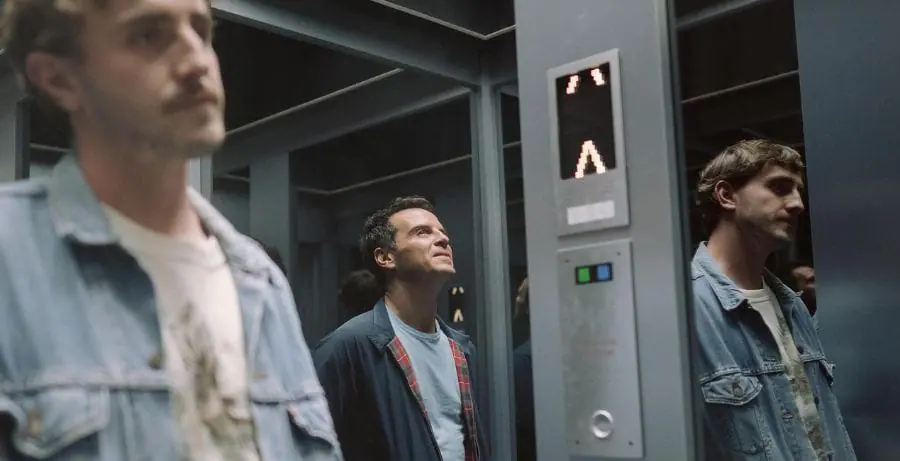 The camera also makes incredible use of reflections throughout the movie. The elevator in the apartment building is covered in mirrors, and there's a mirror right in Adam's entryway. The camera even takes advantage of moments where somebody is leaning against a window to use the muddled reflection to frame the shot. There might not be any deeper significance to this trick with regard to the plot, but it's beautiful to look at every time.
All of Us Strangers' plot is both one of its greatest assets and its greatest misfortune. The burgeoning relationship between Harry and Adam is enthralling thanks to the constant sweetness with which they both regard one another. And the harrowing, heartful scenes during the daytime with Foy and Bell's characters deliver most of the movie's emotional highs and lows. It's also all edited together so creatively. Time moves oddly across the film, and an extended sequence midway through comes out of nowhere with creative camera movement and purposefully confusing editing. The sequence raises the audio-visual stakes to their highest point.
But the same scene was the moment where I figured out the movie's big twist at least an hour too early. The scene doesn't necessarily telegraph anything too obviously, and the specifics of the ending are certainly not revealed. It was just distracting spending the whole second half of the movie considering whether a lick of what I was watching would matter in the end if my hunch was correct, which it was. It severely reduced the impact of what may otherwise have been an exceptionally emotional ending. The penultimate sequence still had me in tears, as did many of the soft and intense moments throughout the movie. But the surreal final shot and the big emotional ending that proceeds it could not deliver on everything else the movie built up to that point. Guessing what would be revealed might not be to blame entirely for this dissatisfaction, but it certainly didn't help.
If anything, the two stories felt like they were on such different emotional trajectories the entire time that it seemed impossible halfway through to completely reconcile them by the end, no matter what. All of Us Stranges is all about loneliness and regret, but Adam and Harry's story itself, as it's depicted moment to moment, is hardly about that. Their experience is one of mutual bliss, trust, and joy. The ending makes total sense, especially in retrospect, but it didn't feel like the conclusion their story deserved from how their relationship developed until then.
All of Us Strangers is a beautiful movie all around, with beautiful imagery, beautiful dialogue, and beautiful relationships. The ending doesn't quite align with the movie you're initially presented with, but it's absolutely the ending it deserves once it arrives. If only the movie could have somehow delivered both, but this impossibility is ultimately kind of the whole point.
All of Us Strangers is in theaters December 22nd.
All of Us Strangers
TL;DR
All of Us Strangers is a beautiful movie all around, with beautiful imagery, beautiful dialogue, and beautiful relationships.