Ah, there's nothing quite like the feeling of getting paid. Wait, not the regular day job pay that serves its daily purpose. I'm talking about the fat payouts gained from successful heists in Payday 3. Starbreeze Studios and Deep Silver signal a flare to its Payday veterans and new players to squad up, mask up, and get stacks in this cooperative four-player first-person shooter sequel.
At the time of this review, Payday 3 is more than a week out the gate from its launch date. Since Day 1, it's presented massive issues for many players, rendering it utterly unplayable. Whether it was as a Nebula Data Error, game crashing, or idling in online matchmaking purgatory, players were ironically challenged to break into the game and get a heist going. Known bugs and issues aside, however, it's shockingly fun when it does run.
Return to a world of crime. In this sequel, several years have passed since the conclusion of Payday 2. The team now attempts to identify a new threat that has disrupted their happy lives and bank accounts. Choosing from a set of six unhinged masterminds, players will work together to tackle various elaborate heists.
With hundred bands of money filling the lining of several duffle bags and an escape van in sight, it's hard to suppress the gratifying rush of scoring big with your allies. As a newcomer to the series, Payday 3 is exciting and fueled with chaotic, fun trial and error. Players can aim to complete heists through tactical stealth or charge in raining bullets and havoc.
Honored with a full team of friends, an "accidental" grenade thrown or failed sneak quickly hurled us into chaos and laughs. Resetting a heist came easily through an external voice channel if we wanted to be more serious by not setting off any alarms. A "perfect run." However, the fun begins to dampen for Payday 3 if players don't have a full team to play with. Questionable choices like queuing in unreliable bots create obstacles for a cooperative title that focuses on online-only matchmaking.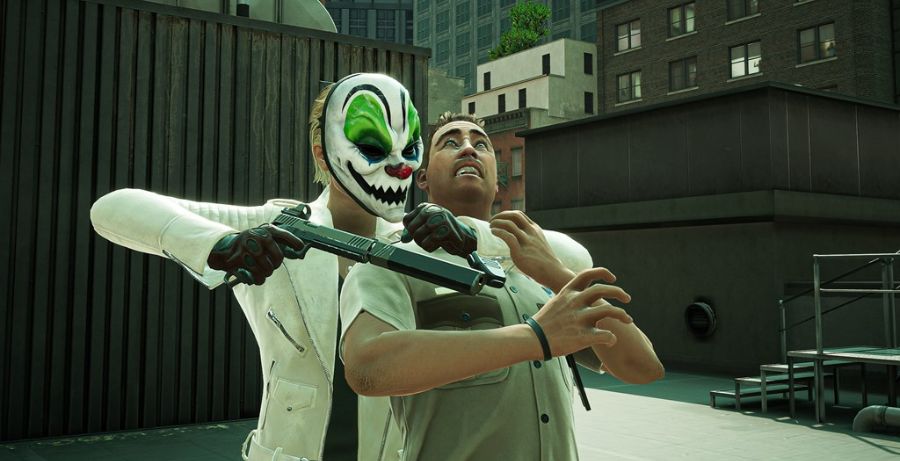 No Rest for the Wicked is the first of eight playable heists in Payday 3 that players ease into. It's a classic bank robbery designed to get veteran heisters warmed up. Meanwhile, newer players can test what they've learned from a separate tutorial menu—a smaller area with fewer variations of what could go wrong. Gradually, heists will become more elaborate as areas become larger and the team handles different types of cargo. In 99 Boxes, for example, heisters have to quickly transport equipment that deteriorates as soon as it's handled. Each second matters as it slowly loses value over time. Notably, all heists can be done through stealth except Road Rage, which requires going in loud to intercept an armored vehicle.
Kitting your teammates properly pre-heist and coordinating movements during them can alter the success rate of runs. Whether players will play with friends or match with randoms, a cooperative title that features stealth as a tactic functions best with communication. Thus, an external voice chat is essential, due to an oddly absent in-game voice chat option. Players will resort to in-game text chats, which is less than ideal when things can go sideways quickly or players want to optimize time spent tackling a heist. A lackluster chat wheel, with simple cues like "Hi" or "I need ammo," doesn't offer much constructive communication either.
While stealth is advisable on harder difficulties and select missions, it doesn't reap any significant bonus either. Players gain experience or infamy through completing challenges, not heists. Challenges are broken down into three categories: heist, career, and combat. Players may need to complete a heist on very hard mode a certain amount of times or take out a certain amount of snipers. This means that whether you sound off the alarm, secure all the valuables, or just hit two of them, the result almost doesn't matter. It could easily become a "get what you can when you can." This can become problematic for completionist players who want to grab everything and find that secured room but are throttled by random teammates who are merely focused on completing their select challenges. Frustration mounts further when players get paired with bots to replace leaving members or failed matchings.
Bot companions are, unfortunately, utterly useless. Other than helping gun down waves of law enforcement and maybe picking up downed players, they will idle about or roam aimlessly. Tasks can't be assigned and players are limited to what's available in the social chat wheel. Requesting a medic bag doesn't guarantee a drop since players have no control over how to gear them prior to starting a heist or seeing what they carry should an AI drop in midway through.
Without question, Payday 3 is best served as a mess with others. It offers varying heists that are not just held to a traditional bank scenario. From seizing goods from an armored vehicle to swiping high art from a prestigious art gallery, there is a distinct variety to its eight heists. Cosmetic customizations offer a small relief to the otherwise lacking counterparts. Money earned from heists can be spent purchasing new weapons and add-ons, which can be applied with paints of color or charms. Items will need to be unlocked through player infamy level, which ties back to completing challenges.
At present, Starbreeze Studios is continually attempting to iron out the wrinkles since its launch. With a desire to attract more players to a cops and robbers experience, it's clear the game is still continuing to improve itself while aiming to add more content over time. In the meantime, Payday 3 is fun when it runs but hits frequent bumps that begin to stifle any joy for players in a PvE and online-only matchmaking world.
Payday 3 is available on PC, PlayStation 5, and Xbox Series X.
Payday 3
TL;DR
With a desire to attract more players to a cops and robbers experience, it's clear Payday 3 is still continuing to improve itself while aiming to add more content over time.