Richard Linklater's sensational Hit Man is the type of elevated studio comedy sorely lacking in today's Hollywood. It packs a killer script and a tour de force performance from the ever-charismatic Glen Powell, delivering a one-of-a-kind romance that is as alluring as it is captivating—sizzling with a sexy, intoxicating form of chemistry. It's a charming, thought-provoking character study that wonderfully toes the line between comedy, noir, and crime thriller, morphing into a playful meta-commentary on the nature of acting itself. It will not only go down as one of the funniest and purely entertaining movies of the year but also the one that finally launches Powell into superstardom.
Very, very loosely based on a true story, Hit Man, isn't really about a hitman at all. It centers on Gary Johnson (Powell, who serves as a co-writer), a name so unremarkable it could only belong to someone as ordinary as him. He's a psychology professor who is as drab and boring as his hobbies: he'd rather stay at home and feed his cats "Id" and "Ego" than seek human companionship. The only thing remotely interesting about him is that he moonlights as a surveillance agent for the local police department, catching people in murder-for-hire plots, but his role is limited to making sure the equipment is working correctly.
He's thrust into a more direct undercover role when the cop who usually poses as the sting's hitman is suspended. Turns out he's shockingly good at the job. His expertise in the human psyche turns out to be the perfect asset, as he's able to transform into a multitude of personas, tailoring them to each prospective client's fantasy of what a contract killer is. Gary begins enjoying the job too much, relishing each identity as he morphs into a dashing, confident rogue one minute, to a straight-faced, Patrick Batemen-type, to a cartoonish, leather-clad villain out of a campy '60s serial.
Powell's chameleonic turn lends real depth and authenticity to each persona, making even the most absurd of them believable in any circumstance. He's the beating heart of the film, calibrating his mannerisms and inflections in both bold and subtle ways—Powell is the real deal, and one can't help but feel that, with each passing scene, a star is being born.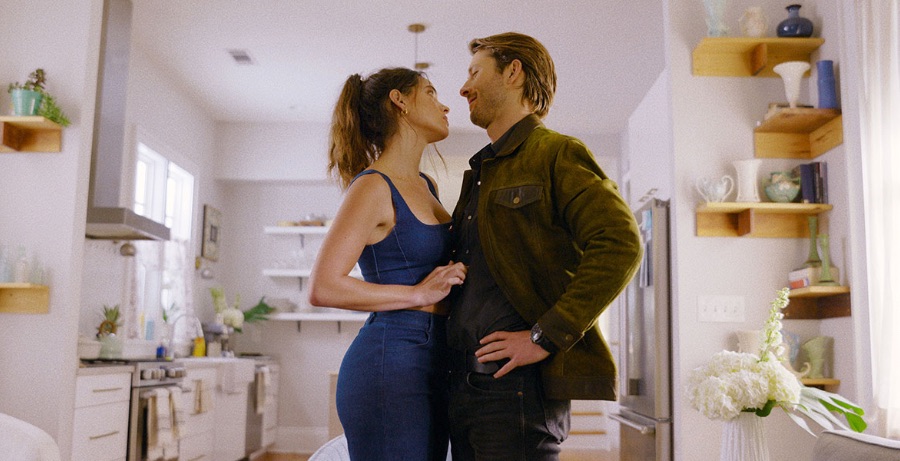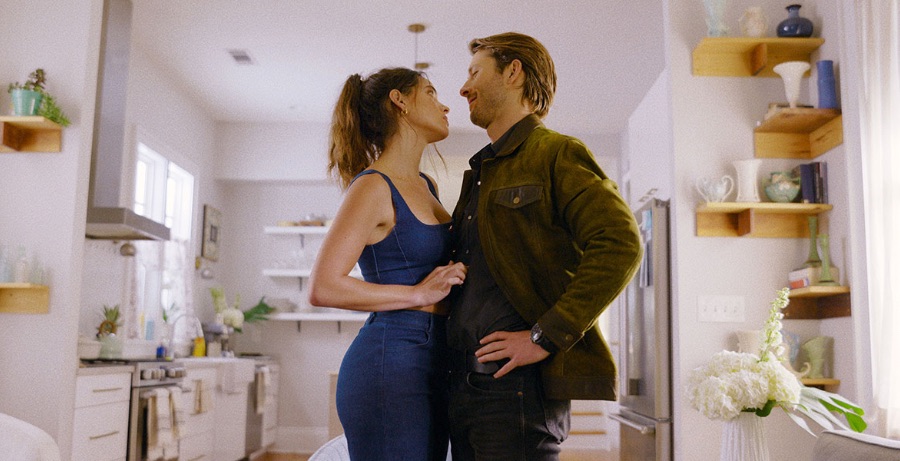 When Madison (Adria Arjona) hires a hitman—one of Gary's many personas— in the hopes of getting rid of her controlling husband, complications arise. Their first scene together palpitates with enticing energy, sparking an immediate, uber-cool connection. It's easy to understand why Ron/Gary talks her out of hiring him and thus sets a romance for the ages in motion. Ron is stone-cold but charming, the type of man who knows he's drawing eyes on him the moment he walks into a room—a character Powell realizes with soul and a steely brilliance. His dynamic with Madison results in one of the hottest romances in years, with Powell finding a perfect foil in Arjona.
At its core, Hit Man is about the nature of self and identity, and whether it is constructed by society or oneself. Gary's conundrum lies in reconciling these two opposing forces, with Ron's confidence and suave style seeping into his daily life and changing the makeup of who he truly is— in a funny moment, his students remark "When did our teacher get hot?" In this way, Hit Man posits that transformation is not so much a process of complete change but balance, as who we were five, even ten years ago is still an integral part of the changed person we are now. Linklater filters this through a noirish, Coen-esque lens that renders the film darkly uplifting in the best way.
Moreover, Linklater's direction never allows the tone to falter or the gags to become slapstick. His laid-back, hidden style—perhaps too hidden— allows the story to take precedence and be that much more effective. He lets us see how love and hate are two sides of the same coin, and passion is what dictates what side lands face up. Though Hit Man isn't the most visually stirring film, it's a story that will stay with you, just as much as its kinetic lead performance.
Hit Man screened as part of the 2023 Toronto International Film Festival.
Hit Man
TL;DR
Hit Man isn't the most visually stirring film, it's a story that will stay with you, just as much as its kinetic lead performance.