Harley Quinn Season 4 demonstrates a mastery of its source material. DC animation has long been a shining beacon in terms of credible adaptations. This year alone has given us the newest iteration of Clark Kent with the superb My Adventures with Superman, and the long line of adaptations demonstrates how crucial animation is for DC. From Young Justice and Teen Titans (and Teen Titans Go!) to Batman The Animated Series, Batman Beyond, and Justice League Unlimited, the minds behind animation television series have a history of possessing a keen eye for what makes these rosters of characters so electric and engaging. Harley Quinn has proven to be just as assured in its direction in the prior three seasons, but Season 4 might be its most confident yet.
This is funny, considering it's the season where our protagonists are at their most insecure. Harley (Kaley Cuoco) and Ivy (Lake Bell) are trying to find themselves. While Harley has joined the Bat Family, determined to be a credible crime fighter, Ivy has climbed the corporate ladder to lead the League of Villains. Both, to their dismay, realize that the accomplishments they seek are harder won than they originally thought. They contend with warring personalities, the difficulties of being in a relationship while pursuing new goals, and, you know, the general evil and carnage of the Harley Quinn world. There's an entire episode dedicated to a retreat for villains where the body count is immense, as bones break and shatter, with cars being dropped from the sky on unsuspecting visitors.
By the finale, both characters have come around to understanding where their places lie, with both unable to conform to the standards of the groups they've tried to infiltrate. This is necessary, as no version of the show would've been able to sustain the same level of intrigue had they tried to make Harley purely good. She's a much more interesting character when she plays in pools of gray, her instincts working against what her heart longs for. Ivy, too, is much more enjoyable when she's working on her own or with Harley, though watching the infrastructure of the League of Villains and its day-to-day monotony is a fun development.
Part of the charm of Harley Quinn has often been how it relies on the mundanity of the world as much as it plays with the absurd. An entire plot line this season is about Bane (James Adomian) trying to fix a pasta maker. The ability to start with something relatively normal and build on it until it's something out of control is a strength of the series as it asks and then tries to answer just how weird they can make normalcy become. Season 4 thrives on this because its roster of characters is stronger. While Clayface (Alan Tudyk) and King Shark (Ron Funches) were fun characters, there was a ceiling to how well they worked within the story the series was telling. Similarly, the less Doctor Psycho (Tony Hale), the better, especially as he's now used as an ancillary villain.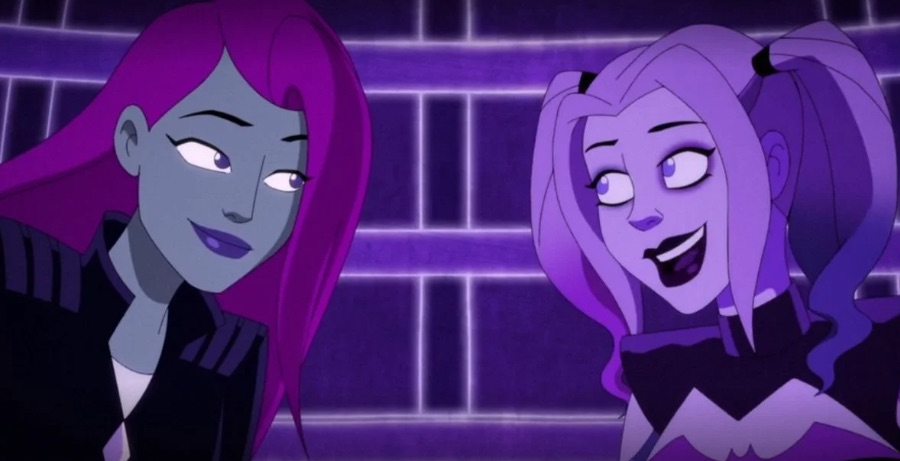 Harley Quinn Season 4 utilizes these characters in such a way to build large stories as well as personal ones. As Harley and Ivy's relationship struggles under the weight of their own aspirations but never breaks, the foundation is strong enough to weather the hardships. It's another example of how the show understands how to layer the real with the strange, building with it a fully realized world where it makes sense that Lex Luther (Giancarlo Esposito) would have a rocket ship shaped in a crudely phallic figure and would try to cause an apocalypse simply to stick it to Superman and that Harley and Ivy would have a tender reconciliation while fighting their daughter in the future. There's no questioning the logical — or illogical, rather — nature of this world.
If the season falters, it's oddly in the first three episodes, though it takes the entire season to realize as much. While Episodes 1-3 are strong in their own right, they feel out of place with the remaining season that digs deeper into bigger mysteries, such as Nightwing's death and Ivy's struggle for power. Removed from the major, overarching narratives, they are enjoyable as episodic excursions but don't fit as seamlessly as the rest.
Harley Quinn Season 4 is confident and creatively defiant in all the ways we've come to love about the series. Thriving in the mess and mayhem these characters commit to causing, the series depicts these characters and all of their many flaws in a manner that also underlines a clear love for them. Harley Quinn continues to be one of the best adaptations out of DC, defying many of the studio's films, because it captures a real affection and understanding of what makes these characters tick and the magnetism of them that draws viewers in.
Harley Quinn Season 4 is available now on Max.
Harley Quinn Season 4
TL;DR
Harley Quinn Season 4 is confident and creatively defiant in all the ways we've come to love about the series.