While Biopics have become more and more common, those featuring Latino icons and successes are still few and far between; however, 2023 has been a stunning year that has showcased a light on Latinos, specifically Mexicans and Mexican Americans, and their contributions to history, science, and more. Cassandro fits into this pattern but does so by capturing an icon whose story beautifully puts a spotlight on the importance of looking at queerness through a Latino lens.
Directed by Roger Ross Williams and written by Ross Williams and David Teague, Cassandro stars Gael García Bernal, Roberta Colindrez, Perla De La Rosa, Joaquín Cosio, and Raúl Castillo with special appearances from El Hijo del Santo and Benito Antonio Martínez Ocasio (Bad Bunny). It should also be clear that Saúl Armendáriz served as a consultant on the film, which is based on his life.
Cassandro tells the story of Saúl Armendáriz, a gay amateur wrestler from El Paso who rises to international stardom after he creates the character 'Cassandro,' the "Liberace of Lucha Libre." In the process, he upends not just the macho wrestling world but also his own life as he explores his identity and redefines what life means to him. The film tracks Saúl's life through grief and loneliness but also through love and success, always keeping him the central focus of the narrative. The film itself deals with large themes. It does so through Saúl's eyes. Even when the film investigates and offers a critique on masculinity, it does so not by viewing the subject as a lesson to be taught but instead by showing a life lived by showing Saúl.
Despite the eccentricities and dramatizations of the story, Cassandro is an intimate look at Lucha Libre, queerness, and how a man rectifies becoming an icon in a machismo-centered sport under homophobic stigmatization. Cassandro is a vibrant look at a vibrant life, and it captures how the sport of Lucha Libre allows people to connect, talk, and break barriers around them. As Saúl, Gael García Bernal delivers his most vulnerable and heartfelt performance. Playing the titular man is García Bernal's most vibrant and dynamic work in an already illustrious career.
Mexican sports fans, unfortunately, are known for their homophobia. From football to Lucha Libre, the very existence of exóticos as the constant losers to be mocked by the audience is a testament to that. Exóticos embody the effeminate villain trope we see across mediums. Cast as the villains and, as such, the losers, their drag performances and camp are essential to Lucha Libre. But, as Cassandro shows, the hostility toward them is anything but endearing. However, exóticos, and by that token, gay Mexican men, can be heroes too. They can be revered. They can be loved. Not only can they be, no. They deserve to be. The complexity of being a gay man in a culture that glorifies traditional masculinity as much as that in which Saúl lives is a revelatory act and one that belongs on camera.
For his performance, García Bernal gives audiences a nuanced and loving take on a real man who never loses sight of the intimate choices that he makes or the complexities of life in his shoes. Some moments of the film are hard to watch. The viewer is made deeply aware of the role that Saúl is meant to play as Cassandro. He is to embody the stereotype of the effeminate villain, the fears of machismo-steeped luchadores. At the same time, the audience also experiences the magic of him turning the crowd's slurs into cheers. You see the magic that Saul held in his presence Cassandro and the waves he made in proving exóticos could become more.
As Cassandro, Saúl can be loved in a way that he hasn't been. People don't feel shame cheering for him, calling out to him, chanting his name. As Cassandro, he can capture who he has always wanted to be. A Luchador, yes, but complete too.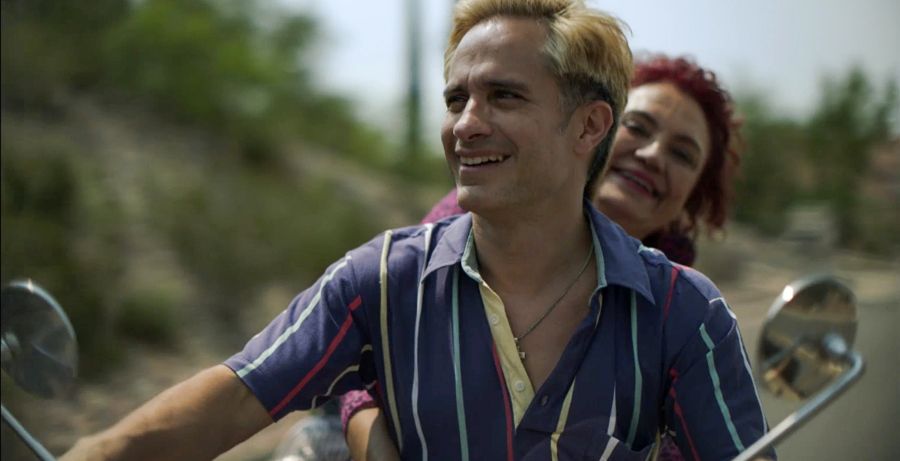 One of the most moving elements of the film is Saúl's relationship with his mother. Their bond, her acceptance, and the way in which they support each other with no questions. Like Saul, his mother is also maligned by society. An unwed mother, a woman who won't let the world tell her she isn't beautiful, and a woman who loves her body. It's easy to see where Saul gets his resiliency and how integral his mother's support was in teaching him how to love himself.
The film is a beautifully personal story that takes the time to highlight Cassandro's triumphs in the ring and his struggles outside of it, without ever losing sight of who the man is, in all of his faults, and all of his hardships. Saúl and Cassandro are two people, separated by a thin line. While Saul chooses to perform unmasked, as most exóticos do, his in-ring persona is still one. Where Saúl is anxious, Cassandro is powerful and adventurous. Over the course of the film, the line between the man and the myth grows smaller until we see them become one.
Cassandro is essential viewing, and if there were a list of Latino films to watch to explore the many different histories and lives lived within our culture, this film deserves to be on there. But this film isn't just essential viewing as a Latino film. It's also an important piece of queer history, and while white American faces often dominate those narratives, Cassandro's inclusion is necessary.
Here, we see the complex navigation of machismo gay Mexican men face, how homophobia has been baked into how Mexicans celebrate in sporting events, and how Lucha Libre fueled that expression. Nothing is ever simple, and Saúl Armendáriz's life wasn't either. His deep love for a sport that didn't love him and how he worked to shift the narrative by becoming a mythic luchador in his own right pulls the viewer through his life and never loses sight of the man.
Cassandro is a powerful and intimate exploration of a queer Lucha Libre icon and a testament to his resiliency. It is a film that chronicles the life and complexities of one man while also capturing vital history. The film is a necessary exploration of a life deserving of love and admiration. Saúl Armendáriz is a hero as much as his luchador persona is, and that's clear.
Cassandro is playing now in select theaters and streaming exclusively on Prime Video starting September 22, 2023.
Cassandro
TL;DR
Cassandro is a powerful and intimate exploration of a queer Lucha Libre icon and a testament to his resiliency.