I knew about José Hernandez's (Michael Peña) story before A Million Miles Away, the recent Prime Video biopic about his life. And I knew about his story because I saw my family in him. The child of migrant farmworkers and a farmworker himself, Hernandez's story is inspiring, but in that inspiration, you find a microcosm of a larger cultural experience and the ways in which succeeding despite your circumstances doesn't mean in spite of your culture and family, or history.
Directed by Alejandra Márquez Abella and written by Bettina Gilois, Hernán Jiménez, and Alejandra Márquez Abella, based on José Hernandez's autobiography, A Million Miles Away is inspired by the real-life story of NASA flight engineer José Hernández. The film follows him and his devoted family of proud migrant farm workers over the course of his life from a rural village in Michoacán, Mexico, to the fields of the San Joaquin Valley, to more than 200 miles above the Earth once he makes it to the International Space Station. It stars Peña, Rosa Salazar, Julio Cesar Cedillo, Veronica Falcón, Juan Pablo Monterrubio, Bobby Soto, Sarayu Blue, and Michelle Krusiec.
Sticking to the biopic formula, we see José as he grows with the unwavering support of his hard-working parents, relatives, and teachers—all of which leave an impact far into the future and past expectations. As much as the support is important, it all helps fuel José's unrelenting drive and determination, pushes him past failure, past closed doors, and ultimately past the system that didn't believe he belonged in space or even at NASA on the ground in the first place.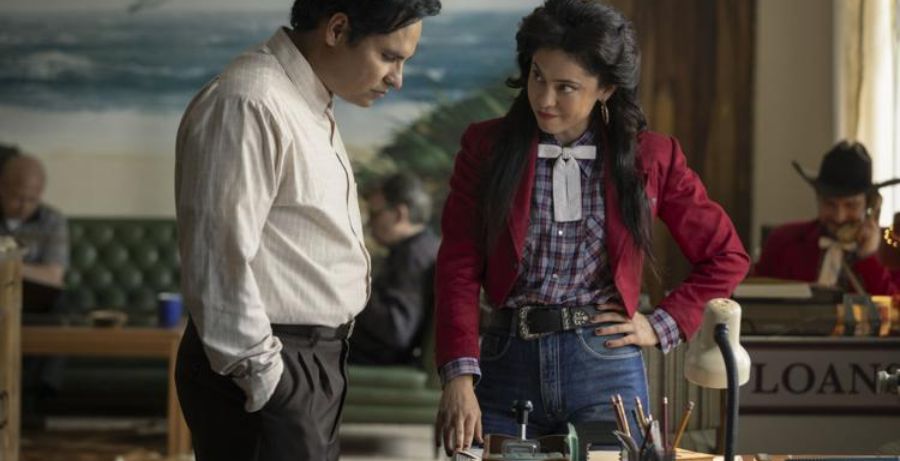 Reviewing A Million Miles Away is hard. As a biopic, it's solid and gives the audience a dramatized story with a hero to root for in uncertain circumstances. It hits every element that a biopic should and does so with a cast that shares immense chemistry that makes every scene feel authentic, creating an immediate connection with the audience as much as each other.
If A Million Miles Away is to be more than just a recounting of a resilient man overcoming the odds and inspiring others into a life of STEM when they're not sure they can make it, it's in the film's ability to highlight that each person is the longstanding journey of the generations before them. The film does a phenomenal job in its final moments as Jose heads to space to show the audience that he is not in space because he is different than the farmworkers he came from but because he is a part of their legacy.
It's a powerful movement through his family's hardships, his father's tears, and into the present as Jose achieves his dream. Jose is where he is because of his family, their lineage, and their culture, not in spite of it. To understand the importance of this, you have to understand how much the world tries to teach us that we succeed in spite of our families, not because of them. But in A Million Miles Away, we see the small moments in José Hernandez's that all build him to be who he is. The struggle, yes, but the sacrifices made by his family and the lessons taught through the resiliency that comes from all of it.
The film's largest success comes from the way that it captures life and all of its hardships but charts a pathway through it. José doesn't take no for an answer and engages in a profession that wants him to shrink his identity. He starts to shun his homemade lunches, switches the Tejano music he plays in the car as he pulls into the parking lot of work, and tries to assimilate. But no matter how much he tries to blend in, he doesn't.
The reality is that he will always be on the outside, so instead of shrinking for an acceptance that will never come on white workers' terms, he changes. He embraces his culture, his family, and all of the things that make him uniquely him. In doing so, he chooses to push through a door on his own terms, and when he does that, it starts to crack open, until he breaks it down.
That's the takeaway. You are every person who came before you. When people are racist, that means that you hold the reputation of your entire community on your shoulders because you are the only one of them in the room. That burden is backbreaking. You have to excel past what's expected by others, and it can hurt. But at the same time, you are the sum of all of your parts. By situating the story within the rules José learned from his father, he is always a part of something larger, and in that way, so is the audience. Every sacrifice made before you, every choice to keep moving forward, you are also that. You are your family's strength, and you are powerful because of that.
A Million Miles Away is standard biopic inspiration, but with a story that captures the important role family and culture play in building resiliency. It captures a story that deserves the spotlight and can, inspire a community often overlooked to embark on a journey in STEM, no matter the odds.
A Million Miles Away is available now, exclusively on Prime Video.
A Million Miles Away
TL;DR
A Million Miles Away is standard biopic inspiration, but with a story that captures the important role family and culture play in building resiliency.