Agatha Christie's Hercule Poirot is an all-time great. Intelligent, witty, and so extremely human without intending to be, this detective has been a staple in the murder mystery genre. Kenneth Branagh's films based on Mr. Poirot? Well, it's been hit or miss. That said, the individuality of each film means that you can easily step into the next installment with no strings attached, and that's why A Haunting In Venice succeeds, without the weight of the previous films like Murder on the Orient Express or Death on the Nile tying it down, making this a return of the celebrated sleuth that was worth waiting for.
A Haunting In Venice is directed by Kenneth Branagh, with a screenplay written by Michael Green, and adapts the novel Hallowe'en Party by Agatha Christie. Billed as an unsettling supernatural thriller, the film stars Branagh as the famed detective Hercule Poirot. Set in eerie, post-World War II Venice, the third entry in the series doesn't shy away from the horrors of WWII, including the U.S. impact on Italy. Instead, it uses that collective trauma as a way to investigate the paranormal, set on All Hallows' Eve, the day when the dead are the closest to the living. In addition to Branagh, the film stars
In A Haunting In Venice, Poirot is now retired and living in self-imposed exile in the world's most glamorous city, ignoring everyone who attempts to employ his services. When an old friend, Ariadne Oliver (Tina Fey) shows up on his doorstep, Poirot reluctantly attends a séance at a decaying, haunted palazzo in order to meet a famous medium, Mrs. Reynolds (Michelle Yeoh) and disprove her profession. When one of the guests is murdered, the detective is thrust into a sinister world of shadows and secrets that move through the palazzo and the family.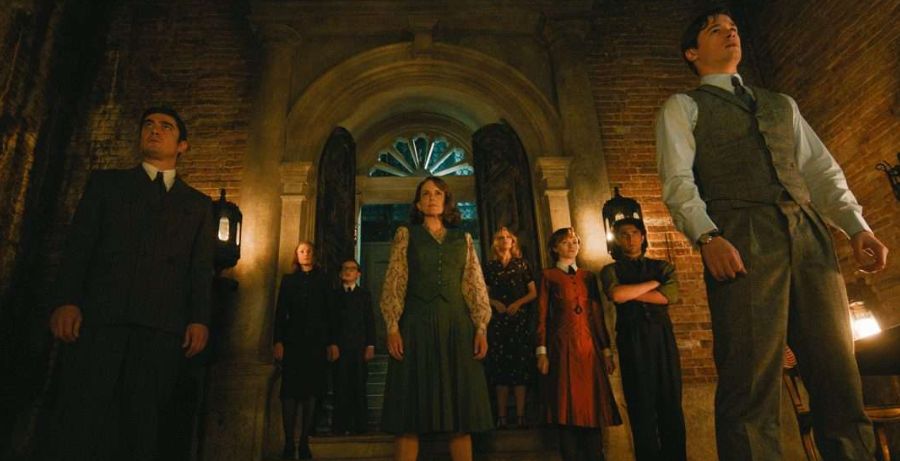 Ultimately, though, it's how A Haunting In Venice tackles the reality of ghosts that allows it to deliver emotionally salient points about grief, guilt, and the things we carry with us. The supernatural is always a look into humanity and explored as a coping mechanism for processing guilt, allowing individuals to unpack their lives in a protected way. When the murderer breaks that safety, the cast has to handle their pasts in unison as they each come under Poirot's investigating and in the crosshairs of a killer. Still, even while diving into the characters' tragic pasts, the film never over-explains Poirot.
A good detective story doesn't spend time telling the audience about the hero. Instead, they need to be an objective blank canvas for the mystery to be solved on while still holding the story's charisma. To pull this off, your lead has to see himself reflected in situations and people around them. You learn about the detective through the relationships he creates over quick amounts of time, and in A Haunting In Venice, that's exactly what Branagh does.
Poirot is a man who tried to quit solving murders, a man who has tried to forget the past instead of processing it, and ultimately, his skill of knowing the world is what creates his largest weak point. While we get direct moments where Poirot needs to explain his job, he comments about losing his soul to it. He talks about the crushing reality of the truth. Poirot does all of this for humorous dialogue but while they illicit a laugh from the audience, there are other moments where Branagh's somber portrayal of Poriot shows itself beneath the intelligence.
Branagh's Poirot is a perfect iteration of the character, but he isn't alone in his stellar performance. As the grieving mother Rowena Drake, Kelly Reilly is somber and nearly crazed by her grief in a moving way. As Olga Seminoff, Camille Cottin is a fantastic maid using her fear of God to move through the world. Yeoh's Reynolds is moving when on screen, standing at the same intellectual height as Poirot.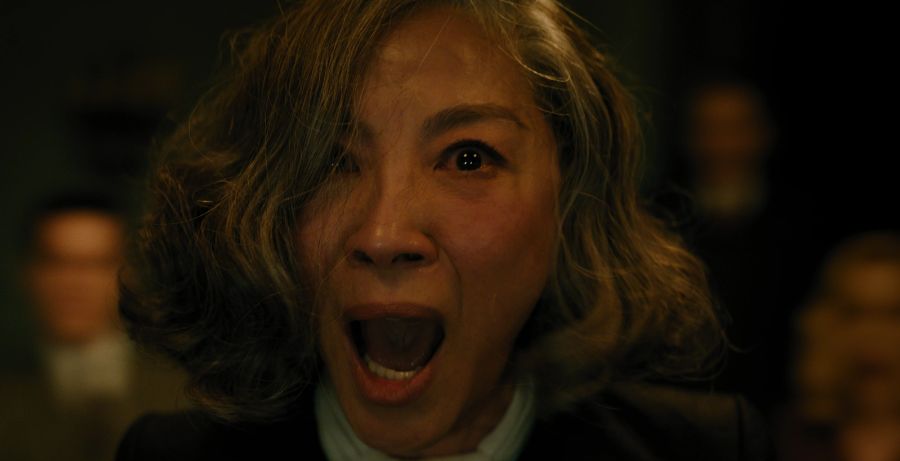 Additionally, Ali Khan as Nicholas Holland and Emma Laird as his sister Desdemona Holland are an emotive paid of siblings that deepen the mystery, while Kyle Allen as Maxime Gerard manages to move the audience even after playing "the one to hate" for the majority of the film. But when Poirot isn't on screen, it's the father and son duo of Dr. Ferrier and his son Leopold that truly moves emotional mountains in the film.
For his part, Jamie Dornan's performance as Ferrier is shockingly intimate. His portrayal of a man broken by the world without the ability or safety net to recover is a stark contrast to the heroes we see in the aftermath of any WWII story. He is holding onto his mistakes and the horrors of "liberating" a camp, only to lose those he's meant to save. It's a stunning portrayal of PTSD that rings even deeper when his son, Leopold, steps in to care for him. As Leopold, Jude Hill is a phenomenal talent. Wise beyond his years and moved by the spirits of the house, Leopold is either a "creepy child" or a child that has seen too much, one forced to grow up before his time. While Hill showcased his acting ability in Belfast, watching him in this film shows a depth beyond his years and the script takes advantage of that.
A Haunting In Venice features showstopping cinematography that uses the architecture not just as a framing device but as a character in and of itself. With smart transitions between scenes, ominous camera inversions, and an eye for dim lighting without obscuring talent, everything about A Haunting In Venice feels decadent and thoughtful and that caters to both the mystery and horror elements of the film.
The latter of these are striking. In fact, A Haunting In Venice is a stellar horror film first, a fantastic take on Poirot's humanity, and a solid mystery. Single-location stories are strong foundational elements for both horror stories and mysteries. When done correctly, the walls can move in the dark, the pillars can become foreboding shadows, and their hallways and corners become a space where someone can be hiding, alive or dead. Branagh understands this deeply, using the palazzo to the fullest from the film's start to the very last moment. Branagh intimately understands the palazzo and what kind of story you can tell with its walls.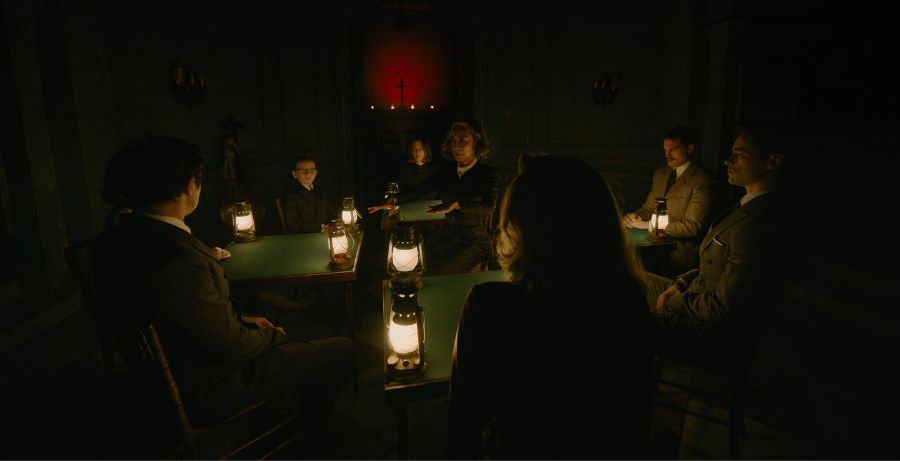 While the film does use small jump scares here and there, it's all done to accentuate Poirot's deteriorating state of mind. They're never overused, and instead of using the jumps as a crutch, they're used as small pinpricks in a larger horror story that plays out closer to the original House on Haunted Hill, a creeping dread embracing strangers as all their paths begin to connect. Balancing between solving a murder and crafting a ghost story, the film never feels like it's trying to be one thing or the other. It's never teetering between the two but wholeheartedly embracing each.
A Haunting In Venice works as a mystery because it doesn't overcomplicate nor over-explain each choice the killer makes in their plan. Additionally, in the finale, where we see how it all played out throughout the night, the piecing together of the mystery never feels like too much or like it's rewriting any of the events we've witnessed. Because the film shows us what happened in the small moments just outside the camera's view, the series of events are believable and allows the audience to grasp the game element of the genre. While some moments may be slightly ill-paced, at a tight hour and 40 minutes, the film uses its time wisely.
A Haunting in Venice is the strongest of Branagh's Poirot films, and where Death on the Nile stumbled particularly because of its cursed cast, this film shows that the Agatha Christie giant hasn't lost his impact. Kenneth Branagh's lovingly crafted outing as Poirot is near perfect behind the camera but perfect in front of it. Branagh embodies the mustachioed detective in a way that pulls you in and makes you ask for more.
A Haunting In Venice is in theaters nationwide September 15, 2023.
A Haunting In Venice
TL;DR
Kenneth Branagh's lovingly crafted outing as Poirot is near perfect behind the camera but perfect in front of it. Branagh embodies the mustachioed detective in a way that pulls you in and makes you ask for more.