Directed by Justin Simien and written by Katie Dippold, Haunted Mansion is the third take bringing the haunted theme park ride alive—if you count The Muppets' adaptation. That said, this film is worlds away from the previous iterations, including Eddie Murphy's 2003 adaptation, and manages to stand in its own space thanks to a cast of actors who all know how to hold the audience in their place.
The star-studded cast includes LaKeith Stanfield, Rosario Dawson, Chase W. Dillon, Owen Wilson, Tiffany Haddish, Danny DeVito, and features a flurry of appearances from Jamie Lee Curtis, Winona Ryder, Dan Levy, Jared Leto, and more faces you'll surely recognize. It's clear this film is nothing without the work of the actors and writer involved, something that director Simien has shared when discussing the film during the WGA and SAG-AFTRA strike, currently still ongoing.
In the film, the lore of the Haunted Mansion has been mapped onto the story of a grieving Astrophysicist. Having created a lens that could capture ghosts in an attempt to see a loved one last time, Ben is contacted by a priest, Father Kent. While Ben is depressed, tired, and just very much over-interacting with tourists of New Orleans, he needs to make a quick buck. Camera in hand, he winds up at a mansion outside New Orleans.
There, he meets Gabbie and her 9-year-old son Travis who have become permanent guests of a haunted mansion that they had hoped to turn into a bed and breakfast. After spending time in the house and not experiencing a single ghost, Ben heads back home, only he isn't the only one in his car. Turned into a believer, at least for now, Ben, Father Kent, a psychic (Tiffany Haddish), and a historian (Danny DeVito) all work together to help rid their home of supernatural squatters…because they don't really have a choice.
Grief is the key focus of the film. The opening takes viewers through a New Orleans funeral procession, citing that grief can open the door to celebration if you allow yourself to walk through the door. It works to make New Orleans more than just a backdrop but a character in itself. Pulling on that thread, we see Ben grapple with letting go of his grief and see another member of the cast do so as well. While the ghosts allow young audiences to fall in love with the supernatural horror genre in a way that only all-ages horror can, the grief in the film aims to show that choosing how you grow from grief, how you leave it, and how you process the powerful emotion is something that only you can do. You have to choose to let go, move on, or celebrate a memory while missing the person you created it with.
While the themes of Haunted Mansion aren't nuanced, rather laying firmly on the surface, it's done in a way that never induces an eye-roll, due in large part to LaKeith Stanfield's performance as Ben. Add in a fantastically emotive performance from the young Chase W. Dillon, and the emotional cores of the film keep it grounded. Outside of the dramatic elements, Disney's Haunted Mansion is also filled with humor that will have you laughing regardless of your age, primarily from Owen Wilson and Danny DeVito, whose comedic timing and chemistry lighten every scene they need to while still bringing a fair bit of sincerity to their camp. One of the things that you can tell from the ensemble is that they loved being there, and that joy shines through in their comedy.
The only large casting misstep in the film is Jamie Lee Curtis as Madame Leota. Not because Curtis is a bad Leota, but rather that the makeup and hair design in the crystal ball leaves her unrecognizable and not in a ghostly way. Additionally, the hint of an accent she tries is weirdly out of place in a film where every other actor is using their natural voice while reminding audiences what has made them each standout comedy actors in the larger pop culture landscape. Additionally, Haunted Mansion isn't without its VFX missteps, as has come to be expected from Disney projects. While there are only a few minutes that look like animated Playdough running down the hall, they were enough to break the immersion of the film.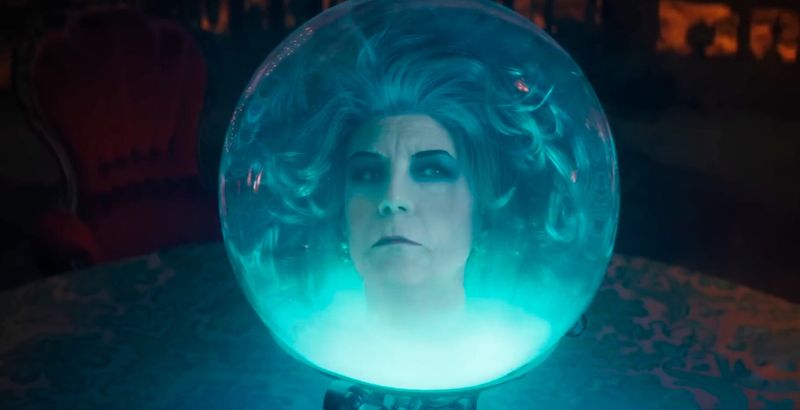 For a lifelong fan of the Haunted Mansion attraction, the film is layered with ghosts, props, and a bevy of well-crafted easter eggs that will excite. From the Hatbox Ghost, the Hitchhiking Ghosts (Ezra Beane, Professor Phineas Plump, and Gus), Constance Hatchaway, to Victor Geist and a dining room filled with undead life, the 999 ghosts in the mansion are represented in new ways that still honor the practical effects of the ride. The stretching room, the chairs to show the cars you sit in while the conveyer belt moves you, there is no end to small moments that show the care that Simmien and Dippold have put into this big screen version of the iconic Disney attraction. The small nods work without ever feeling forced, except for one choice in the film's final act, where the references expand beyond the New Orleans-themed mansion to another.
When I went to Disneyland for the first time, everyone told me to wait until the end of the day to go on the Haunted Mansion ride. Sure, it was a must, but still, it was chided for being a conveyor belt ride. One that you simply go on and vibe to the spooky atmosphere and thus not as deserving of riding as much as Rise of the Resistance or even Space Mountain. But filled with its own loving charm, quirky humor, and an atmosphere that makes it feel like Halloween all year round, the ride was well-worth going on, and I can't help but think that the new film adaptation embodies the iconic way classic theme park attraction in this same way, beyond just the aesthetic.
Haunted Mansion is a conveyor belt of a film. Step into it, strap in, and just let the haunting atmosphere, spooky humor, and all-ages spin take you for a ride that is absolutely fun. Better than the 2003 outing. Haunted Mansion isn't a masterpiece, it's not the best all-ages horror, and Disney is buried in a summer season with stiff competition against a Barbenheimer double feature. That said, it's still worth enjoying. It's not complex, but it is joyful in its representation of the ride and its attempt to make a spooky story that isn't so scary that it's inaccessible to young audiences. In that way, the film captures the all-ages magic of the ride. It can and will be many children's first foray into horror and what it can do to help viewers process complex emotional responses to loss. While a great all-ages horror, a fantastic theater run may be out of the picture, but I can see it taking a special place in people's 31 Days of Halloween viewing lists.
Haunted Mansion is playing nationwide July 28, 2023.
Haunted Mansion
TL;DR
Haunted Mansion is a conveyor belt of a film. Step into it, strap in, and just let the haunting atmosphere, spooky humor, and all-ages spin take you for a ride that is absolutely fun.