Any pirate crew that wants to survive the harsh seas within One Piece knows a capable cook is pertinent to the crew's success. The most capable and resourceful cook of them all is none other than Sanji Vinsmoke. Sanji, the chef of the Straw Hat Pirate crew, is a central character in Eiichiro Oda's widely acclaimed manga and anime series, One Piece. As the chef of the Straw Hats, Sanji Vinsmoke brings his culinary expertise and a unique blend of charisma, chivalry, and fighting prowess. His growth, backstory, and unwavering dedication to his crew make him a beloved and essential member of the Straw Hat crew. Known by his blond hair and eccentric eyebrows shown from the right side of his face, this suit-wearing long-legged man is an icon.
From his harsh upbringing to build his culinary skills to joining Luffy's crew to pursue his dreams. Sanji's journey and character arc throughout One Piece have played an instrumental part throughout the series and on Luffy's crew. In this piece, I will break down Sanji's origins, powers, and what makes him an essential member of the future Pirate King's crew. Learn everything you need to know about "Black Leg" Sanji before his live-action debut.
Origins & Dreams
Native to the North Blue, Sanji left his family's home at a young age to hone his cooking skills at sea. Since he was a young boy, Sanji dreamed of finding the All Blue. The All Blue is said to be the only place in the world where the North Blue, South Blue, East Blue, and West Blue seas meet—making it an ideal place for a chef to find every species of fish in the world. Although most people think the All Blue is just a myth, that has never deterred Sanji from believing it is real.
At a young age, Sanji Vinsmoke worked on a cruise ship as an apprentice in the kitchen until pirates invaded the ship one day. The pirate crew in question was captained by "Red-Leg Zeff," the fearsome leader and talented chef of the Cook Pirates. Suddenly, a storm destroyed Sanji and Zeff's ships, making them the only survivors.
Indebted to Zeff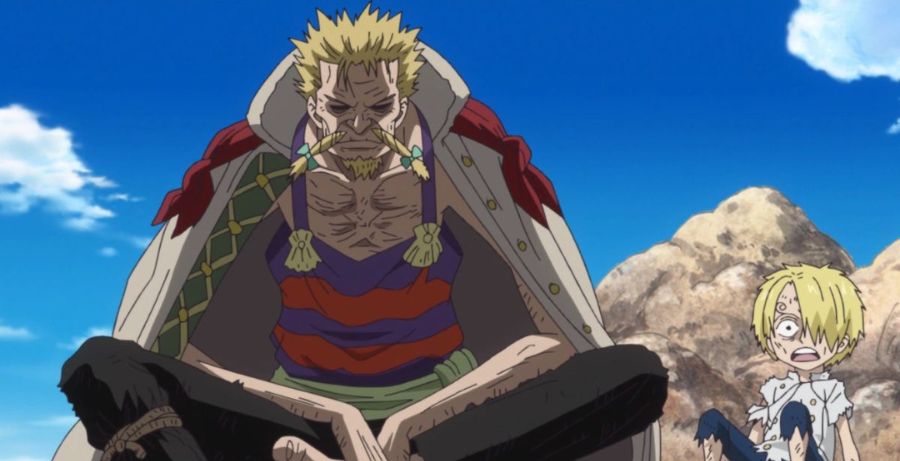 While Zeff and Sanji were stranded on a barren island with only a limited food supply, unbeknownst to Sanji, he gave the young boy all the rations he could find, sacrificing his own leg in the process. Meanwhile, he kept a larger bag filled with treasure for himself, letting Sanji believe it was Zeff's portion of food. When, in fact, Zeff cut off and ate his leg to survive to make sure Sanji had enough food to eat. Sanji eventually realized the sacrifice Zeff had made for him when he came to kill the old pirate in hopes of taking his food. After learning of Zeff's sacrifice, Sanji's respect for the old pirate grew, and he felt indebted to stay by his side.
Eventually, Sanji and Zeff were rescued. Following their rescue, Zeff retired from piracy and founded his float restaurant, the Baratie, where Sanji stayed by his side to train and further his culinary skills. During this time, Zeff's teachings and selfless sacrifice instilled Sanji's principles of chivalry, charity for feeding the hungry, and his passion for food. Upon meeting Monkey D. Luffy and his crew, Sanji was initially conflicted about joining their crew because it meant he would leave Zeff's side. Nonetheless, Sanji embraced his dream to find the All Blue and joined Luffy's crew. But not before he bid Zeff a tearful goodbye and thanked the old chef for everything he did for him.
Infamous Family
Sanji's family life and lineage were initially a mystery for most of the series. His family lineage is finally revealed in the Whole Cake Island Arc. The fourth child of the Vinsmoke Family and former prince of the Germa kingdom, it's complicated. Throughout the arc, Sanji showcases immense growth as he confronts his demons and reconciles with his heritage. The Whole Cake Island Arc provides a platform for Sanji to showcase his selflessness and unfathomable strength, further endearing him to fans.
Sanji Vinsmoke hails from the influential and genetically enhanced Vinsmoke family and is a prince of the Germa Kingdom. About 300 years ago, the Vinsmoke Family established the Germa Empire after conquering the North Blue. Although they were overthrown after 66 days, they maintained control over the Germa Kingdom and their royal privileges. The Vinsmoke family holds immense influence over the bounty system and uses their technological advancement in warfare for mercenary activities.
Sanji's father, Vinsmoke Judge, king of the Germa Kingdom, and mother, Vinsmoke Sora, had four other children named Reiju, Ichiji, Niji, and Yoniji. Sanji's father made all his children receive genetic enhancements to transform them into super-soldiers. The effects of which made them emotionless. However, thanks to his mother's interventions, Sanji was born without the augmented abilities that defined his siblings. Sanji's lack of superhuman abilities at a young age subjected him to incessant mockery and abuse during his younger years, and his brothers frequently united to torment him over his physical disadvantages. Over time, Sanji developed an intense aversion towards his family. Eventually, with the help of his big sister Reiju, he managed to escape aboard a cruise ship.
Despises Wasting Food
Sanji's aversion to wasting food reflects his deep-rooted values and passions. This characteristic stems from his background as a skilled chef and his profound respect for the culinary arts. As the Straw Hat Pirates' designated cook, Sanji's role goes beyond simply preparing meals; it expresses his love for nourishing others and creating flavors that bring joy.
His time spent in the Baratie and nearly dying of hunger while stranded further ingrained his perspective and respect for food. Under the tutelage of Chef Zeff, Sanji not only learned the culinary arts but also the importance of valuing every ingredient and creating dishes that are not only delectable but also resourceful. This ethos laid the foundation for his intense disdain for wasting food.
For Sanji, food represents sustenance, care, survival, and connecting with others. Wasting food would mean disregarding the effort that goes into its preparation and the potential to bring happiness to those consuming it. His abhorrence of waste extends beyond his cooking, reflecting a broader philosophy of appreciating resources and considering the less fortunate.
Skills and Powers
As the Straw Hat crew's cook, Sanji's culinary talents are unparalleled from his cooking to his kick-based Black Leg Style of martial arts, where he uses, only well, his legs. His ability to create delectable dishes from various resources in nearly any condition makes him a vital pirate crew member. In addition to his skillful culinary skills, Sanji possesses superhuman strength and combat prowess. As a chef, first and foremost, Sanji refuses to fight with his hands. Instead, he utilizes his powerful kicks, which deliver devastating blows to his opponents. His fighting skills are so impressive that they make him one of the strongest fighters in the Straw Hats, alongside Luffy and Zoro, making them the "Monster Trio."
Although his mother's interventions saved Sanji from losing his humanity, he still inherited some latent special abilities from his father's genetic manipulation. Before his powers awakening, Sanji had extraordinary strength, resiliency, speed, and agility due to years of arduous training under Zeff since childhood, even before his latent powers appeared. With his powers fully awakened and using armament haki, Sanji has developed fighting techniques that can cause mass destruction.
He is a Hopeless Simp
Sanji Vinsmoke stands out in the One Piece universe due to his distinct personality as a sophisticated and polished gentleman, a departure from the typical male characters in the series. Despite his outward elegance, Sanji's character harbors debonair charm and unapologetic romantic nature, making him susceptible to manipulation by any attractive woman who engages in flirtation.
While initial impressions might lead some to categorize Sanji as a stereotypical perverted character, he leans towards being a "simp" rather than a true pervert. His perspective on women is marked by profound respect, transcending their origins or appearances, as he firmly believes in treating all with utmost care and consideration as proper ladies. Sanji prides himself on his chivalry to the extent that he adamantly refuses to engage in combat with women, even if they are his adversaries actively seeking to harm him or his companions. This unwavering principle occasionally places his teammates in the position of intervening on his behalf.
---
Sanji Vinsmoke, the cook of the Straw Hat Pirates, has captured the hearts of One Piece fans worldwide with his remarkable culinary skills, chivalrous demeanor, and growth as a character. As a devoted crew member, Sanji combines his combat abilities with his passion for cooking to support his friends during their perilous adventures. Through his diverse attributes and compassion, Sanji brings a distinct flavor to the Straw Hat Pirates, making him a memorable and cherished crew member.