In the expansive world of One Piece, one character stands above others regarding strength, loyalty, and swordsmanship. That man is the unofficial first mate of the Straw Hats, the right-hand man to Monkey D. Luffy, Roronoa Zoro—brought to life by Christopher Sabat in English, Kazuya Nakai in Japanese, and is now played by Mackenyu in the new Netflix live-action series. With his signature green hair, black bandana, and green haramaki that carries three swords on his right hip, Zoro is one of the most iconic and beloved characters in Eiichiro Oda's long-running manga and anime series, Pirate Hunter Zoro's journey has captivated fans worldwide since his debut.
From his beginnings as a bounty hunter to his role as the swordsman of the Straw Hat Pirates, Zoro has made his path with unwavering determination and a steadfast commitment to his captain, Monkey D. Luffy. This article will explore Roronoa Zoro's captivating story, uncovering his origins, remarkable abilities, and indelible impact on One Piece. Get ready to immerse yourself in the world of this legendary swordsman as we dive deep into everything you need to know about Roronoa Zoro.
Origins & Wano Blood Line
Although Zoro was born and raised in East Blue, his lineage traces back to Wano Country. Zoro specifically hails Shimotsuki Village, where he trained in swordsmanship under the village's dojo master, Koshiro. This village also has lineage connections to the Wano Country due to its Shimotsuki lineage. His parents were Tera and Roronoa Arashi, Shimotsuki Furiko and Roronoa Pinzoro were his grandparents, and Shimotsuki Ushimaru was his granduncle. Zoro's intricate lineage on his mother's side establishes him as a descendant of the revered Shimotsuki Family of Wano Country and the legendary samurai Shimotsuki Ryuma, a prominent figure and hero of Wano from hundreds of years ago.
During the Thriller Bark Arc (Episodes 337-381), it was revealed that twenty years before the beginning of One Piece, Ryuma's corpse and sword were stolen when Gecko Moria ransacked his grave to reanimate Ryuma for his zombie army. Unbeknownst to Zoro, he briefly met and crossed blades with his granduncle's reanimated corpse at Thriller Bark Island. The result of their battle ended with Ryuma bequeathing his sword, Shusui, to Zoro, who eventually returned it to its rightful place in Wano.
Another fun fact about Ryuma is that he is said to be the main character in Eiichiro Oda's one-shot series, Monster, which is set to get an anime adaptation.
From Pirate Hunter to Pirate
Roronoa Zoro's adventures as a pirate hunter began after he left his hometown of Shimotsuki Village. Before joining the Straw Hat Pirates, Zoro was known for his reputation as a skilled and determined pirate hunter, driven by his sense of justice and goal of becoming the world's greatest swordsman. Fueled by his strong passion for swordsmanship and his ambition to achieve mastery, he took up the job of a pirate hunter, dedicating himself to tracking down and challenging pirates who threatened the seas in hopes of finding suitable opponents to test his skills against.
One day Roronoa Zoro intervened in an altercation where a wolf attacked a young girl. The wolf belonged to Helmeppom, the spoiled son of a Marine Captain that would use his father's status to threaten others. Helmeppo had Zoro arrested and his swords confiscated and planned to execute him after breaking his deal to grant a full pardon if Zoro could survive a month detained without food. Upon learning of his execution at the hands of the Marines, Zoro realized his best chance of surviving and achieving his dream would be to accept Luffy's offer to help him escape and join his crew. Additionally, Zoro recognized Luffy's potential and shared the dream of conquering the Grand Line. Luffy's unwavering determination and refusal to back down resonated with Zoro.
Powers & Abilities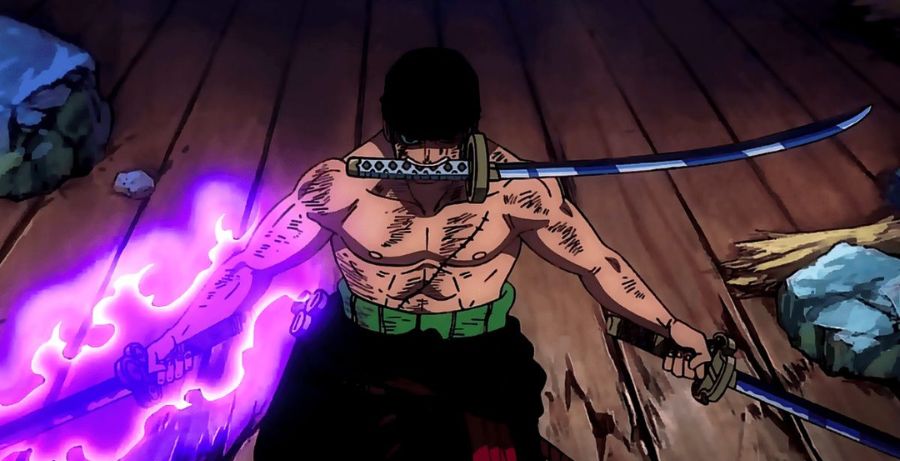 He stands amongst the strongest fighters in the crew. Alongside Luffy and Sanji, the three are known as the "Monster Trio," A name that recognizes their exceptional combat skills and monster-like strength. Most notably, Zoro's expertise in the Three Sword Style further amplifies his combat capabilities, solidifying his status as one of the crew's most formidable assets. Zoro trains daily, pushing his entire body and mind to new limits to be the best swordsman to aid Luffy in his goal to become king of the pirates. Zoro's training has resulted in him developing exceptional durability, endurance, and strength. He has been shown to possess enough strength to cleave massive objects in half and take on ginormous opponents.
Roronoa Zoro's capacity to withstand pain and push through obstacles contributes to his reputation as a fearsome warrior. In addition to his mastery of the three-sword, Zoro has proficiency in two types of Haki: observation and armament. Observation haki allows Zoro to sense the presence and emotions of others, making him more adept at anticipating attacks and reading opponents' intentions. In comparison, his armament haki allows him to imbue his swords with haki, allowing his attacks to bypass the intangibility of Logia-type Devil Fruit users and deal direct damage to them.
Dreams & Childhood Promises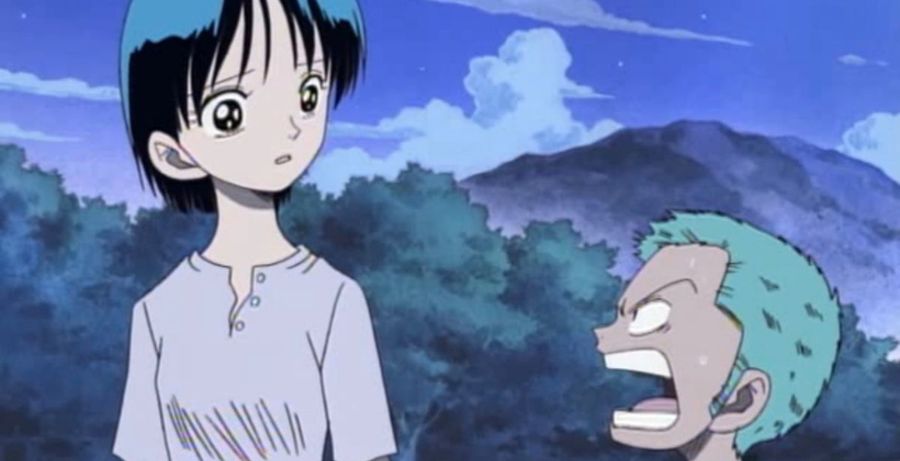 Roronoa Zoro's unshakable dream of being the world's best swordsman does not come from a selfish or arrogant place. His dream represents his commitment to honor a promise from his past. From a young age, he was inspired by his childhood friend and rival, Kuina. Kuina was a young girl and daughter of Zoro's master, Shimotsuki Koushirou. However, Kuina was the strongest student and dreamed of being the strongest swordsperson in the world as well. Her father doubted her ability to become the strongest, given that she was female, and believed that male students would eventually surpass her with time.
Kuina's father's comments sowed anxiety and resentment toward her body, believing that she would not be able to achieve her dreams. Nevertheless, Zoro encouraged Kuina to continue pursuing her dream, and the two promised each other they would become the best swordsman in the world. Kuina's untimely death shook Zoro to his core but drove much of his ambitions to be the great swordsman he is today.
Undying Loyalty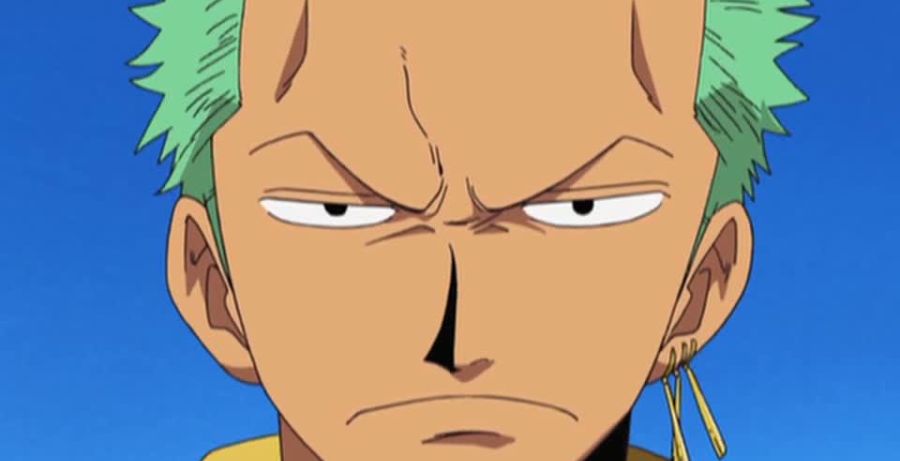 Although Zoro's dream is of the utmost importance to him, he is willing to give that up for Luffy. Proving that Zoro's loyalty to Luffy is unshakeable. Over the course of the series, several accounts highlight Zoro's commitment to Luffy and helping him become King of the Pirates. One moment in particular that speaks volumes about Zoro's loyalty is when he saves Luffy from Bartholomew Kuma at the end of the Thriller Bark Arc.
The World Government sent Kuma, one of the most vicious pirates in the world, to assassinate Luffy. At the time, Luffy was exhausted from a recent battle that left him extremely vulnerable. In the face of overwhelming danger, Zoro offered to take to Bartholomew Kuma in exchange for sparing Luffy's life. This selfless act emphasized how much he valued his captain's well-being and life over his own.
Plus no one is closer to Tony Tony Chopper than Zoro.
Unofficial First Mate
Zoro possesses a lot more depth and wisdom to him than others think. To some people, he comes off as a directionally challenged meathead who only trains, drinks booze, and sleeps all day. And while those things are true, Zoro's role as the undisputed first mate is rooted in several factors. Among these, one stands out: his unique loyalty and respect for Luffy, setting him apart from his fellow crewmates. Despite recognizing Luffy's quirks and reckless nature, Roronoa Zoro trusts and reveres him as their captain, a sentiment he expects others to share.
A pivotal quote by Roronoa Zoro encapsulates this principle: "A crew with no respect and a captain that doesn't demand it are destined to fall apart quickly." This quote illustrates Zoro's understanding of the critical interplay between respect, leadership, and unity, reflecting his role as the first mate who ensures the crew's cohesion under Luffy's captaincy. Ever since Dracule Mihawk left scars on Zoro's body, he's a staw hat.
---
Roronoa Zoro's backstory, swordsmanship, and dream create a captivating character in the world of One Piece. As One Piece unfolds, Zoro's role continues to evolve, captivating audiences with his unwavering resolve and unwavering bond with the Straw Hat Pirates.