Having buried the hatchet with Linia (Fairouz Ai, Power in Chainsaw Man) and Pursena (Minami Tanaka) after the events of the last episode, Rudeus is soon confronted with a pair of unexpected challenges. When he finds himself caught up in the love lives of others, Rudeus faces some unique difficulties set before him in Mushoku Tensei Season 2 Episode 8, "The Fiancé of Doom."
The opening half of this episode sees Rudeus receive an unexpected request from his classmate Cliff. If you're not sure who that is, it's understandable. Up until now, he has mostly just been a background character. But after Rudeus intercedes on his behalf when he is getting bullied by a group of students, Cliff summons the courage to ask him to introduce him to the girl of his dreams, Elinalise (Rie Tanaka). Rudeus is concerned for Cliff, as Elinalise's curse makes the prospect of her being in a committed relationship hard for him to picture. Worried about whether or not introducing the two is the right thing to do or if it will just lead to Cliff unnecessarily getting hurt, he searches out the advice of Fitz/Sylphiette (Ai Kayano).
With the last couple of episodes showcasing the less-than-great sides of Rudeus' character, Mushoku Tensei Season 2 Episode 8 reminds the audience that he has positive qualities too. His coming to Cliff's aid in the first place was nice, especially given how his previous life had played out. His further concern for Cliff's feelings when Elinalise doesn't end up being who he envisioned her shows a level of concern that hasn't been seen by the character in a while.
The other strong element of Rudeus' struggle with what to do is Fitz's advice. While she sees his concern as touching, she reminds Rudeus that it isn't his place to shelter Cliff from his feelings. He has no idea whether or not Cliff and Elinalise could work out as a couple, and it isn't his place to deny them the chance to find out. If it all ends in pain, that is for them to face, not for him to prevent. This argument proves convincing, and Rudeus ultimately brings Cliff to meet Elinalise.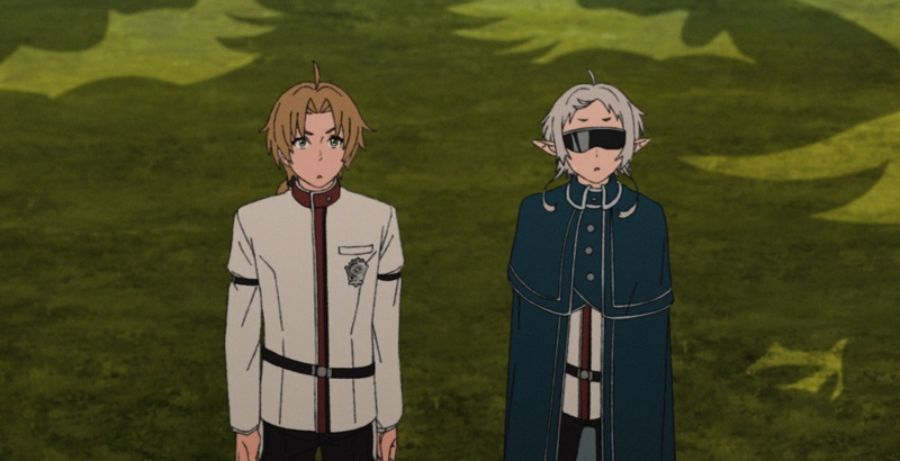 The following introduction comprises my favorite moment in Mushoku Tensei Season 2 Episode 8. When Elinalise sees this earnest young man making a heartfelt declaration of affection for her, she is initially filled with panic and anger at Rudeus. Concerned about his decision to bring a naive boy to her, her initial attitude towards Rudeus introducing Cliff to her mirrors many of his concerns.
As one of the few moments where we see Elinalise project an emotion outside of horny, this moment showcases that her endless appetite for men isn't the driving influence in her life as it often appears to be. It would've been easy for the series to have her view Cliff as simply another suitor who, if he gets hurt when she moves on to the next warm body, is not her problem. The decision to have her be aware of Cliff's feelings and the potential for hurt towards them if he gets involved with her shows a depth to the character that hasn't been there.
When Rudeus arrives at class the next morning, he is surprised to see the pair sitting together acting lovey-dovey. It turns out that Cliff's heartfelt affection for her has won her over, and the two have entered into a relationship. Elinalise even intends to curb her sexual adventures for Cliff's sake, as much as the curse will allow, and Cliff swears to find a way to break the curse for her.
The back half of Mushoku Tensei Season 2 Episode 8 sees Rudeus caught up in a fall custom of the beast people. Turns out, the fall is a time for challenges that result in marriage bonds and shifts in clan leadership. To avoid the endless challenges they would face as princesses of their people, Linia and Pursena elect to stay hidden away in their dorm for the duration of the challenges. Moreover, as they recognize Rudeus as their "boss," they direct any challenges to him rather than have people banging at their door constantly. Given Rudeus' power level, I'm sure the pair figured no one who could reasonably challenge the accomplished mage would show up.
This plan seems to go along fine until a Demon King appears to challenge Rudeus. This escalation in power sees Rudeus face a threat he clearly wasn't expecting, and the outcome of their short confrontation is excellently handled.
This moment of magical conflict delivers a piece of superb animation and camera work for the episode. As Rudeus powers up a single shot to bring down his foe, the visuals build the tension of the moment as the gathering mana and rapidly developing spell take shape before the viewer's eyes.
All around, Mushoku Tensei Season 2 Episode 8 delivers an entertaining episode that showcases many of the best elements of the series. Awareness of its cast's feelings, how it plays out the emotional moments, and a dash of well-orchestrated combat give this episode the perfect blend of the series when it's at its best.
Mushoku Tensei Season 2 Episode 8 is streaming now on Crunchyroll.
Mushoku Tensei Season 2 Episode 8
TL;DR
All around, Mushoku Tensei Season 2 Episode 8 delivers an entertaining episode that showcases many of the best elements of the series.