Mel Blanc was a voice-over legend, originating and playing, for decades until his death, the voices of all the Looney Tunes characters and many more for Warner Brothers. When he passed away in 1989, another voiceover actor would rise to continue his legacy. From Bugs Bunny, Daffy Duck, Marvin, the Martian, Porky Pig, Elmer Fudd, Sylvester, Tweety, and so many more icons of animation, legendary voice actor Jeff Bergman has voiced them all in TV and film from the late 80s to today, along with other Looney Tunes voice actors like Eric Bauza. Fans may know Jeff Bergman from such hits as Tiny Toon Adventures (and its upcoming reboot Tiny Toons Looniversity), Who Framed Roger Rabbit?, The Looney Tunes Show, Space Jam: A New Legacy, Looney Tunes Cartoons, and much more.
We had the privilege of speaking with Jeff Bergman at SDCC 2023. We spoke about his career, the legacy he carries in animation and specifically for Looney Tunes, and the importance of the Actors Strike and what it means for voice actors. We also get a message from Bugs Bunny!
This interview has been edited for length and clarity.
---
BUT WHY THO: Once again we are live from SDCC 2023. And we are sitting with voice actor legend, Bugs Bunny himself. Jeff Bergman. Mr. Bergman, thank you so much for being with us. How are you today?
Jeff Bergman: [Bugs Bunny voice] It's true, Doc! I'm a rabbit, alright!
BUT WHY THO: I'm a lifelong Bugs Bunny fan. You're one of the pillars of my childhood and so many other people's childhood and I really just can't thank you enough for the life you bring to bugs. And in general, I have to ask you, what's it like to be the voice of this beloved icon?
Jeff Bergman: Well, it was in 1989 that Mel Blanc passed away. And I was very fortunate enough to meet him about eight years before he passed away. So to be the first person to succeed him after that, I mean, there are big shoes to follow. He's the godfather of animation voiceover. It's incredible because of the legacy that he has left. Thousands of cartoons. So it's more than an honor. It's a lifelong responsibility, I think, to continue because it's everyone's childhood. It's like The Wizard of Oz. Everyone grows up with it and they have their favorite character. So I try with my very best to do the most authentic representation of what we remember of those characters.
BUT WHY THO:Totally. I will say one of the unique depictions of Bugs Bunny you've given has been in The Looney Tunes Show from 2011- 2015. I really love that show and the humor in it that was sort of more adult. So what was it like voicing Bugs, Daffy, Sylvester, Tweety and the rest with this newer sense of humor?
Jeff Bergman: I'll tell you what, the Looney Tunes Show was one of my all time favorite shows I have ever done with the Looney Tunes, because it was so different. The characters, they were still the same. They still had all the same essence. Daffy was definitely jealous and self-aggrandizing, but they were the same characters. Yet it was like the odd couple or Seinfeld. [Bugs and Daffy] both live together in the suburbs, and I loved it. I just love that brand of humor.
BUT WHY THO: Yeah, it's so laugh out loud funny. And I think a really great reflection of the time that it was coming out. I'm also a huge fan of Tiny Toon Adventures from when I was a kid. I was absolutely obsessed with that show. And you were Bugs Bunny on that and you're coming back as Professor Bugs for Tiny Toons Looniversity. Is there any thing you about the project you can talk about? Is there anything maybe you could tease at all?
Jeff Bergman: Well, I'll tell you what, I was so excited to be a part of this. Because, prior to doing Tiny Toons in 1989, we literally had just come off of Who Framed Roger Rabbit with Bugs Bunny, Mickey Mouse, Daffy and Donald Duck. So I was right at the beginning of the animation revolution that happened in the 90s. And so being Bugs and Daffy and Sam and Sylvester and Tweety and then we find out that there's going to be a new iteration 33 years later was so was so exciting. And the theme song puts you right back. Right? We've all heard it, we know that. I put you right back there. And then having to be back at Acme Looniversity was great and the show is gonna have a feeling it's very nostalgic, but yet the storylines are very kind of today very hip and, and enough today. So that's what I love working on the show. I I would do that show again. And I love our director, and the writing for the show is really great. So I can't wait for everybody to see it.
BUT WHY THO: I am so incredibly excited ever since I heard the announcement about it. Another project you've done is Looney Tunes Cartoons, which is interesting in that it's taking. I remember watching interviews with the creators of it. They're taking the format of traditional Looney Tunes and presenting it to an audience today. So what was it like to make Looney Tunes that harken back to that original format for today's audience as well?
Jeff Bergman: I loved working on the scripts because they really honored the original format, the Looney Tunes cartoon show with that seven minute cartoon formula. So they were all five, six and a half, seven minute cartoons and they're very reminiscent of the 40s and late 40s. I loved it and then when I saw the look of it the item the animation style of it, I thought "Wow, if you're walking by a television set, you you might not even know that it was current. You might think it was from the late 40s." So I was thrilled to be a part of that.
BUT WHY THO: I gotta tell you about one of my favorite episodes where you voice Elmer Fudd in this series, and it's where Bugs tricks Elmer into [thinking he's in] virtual reality. That was laugh out loud hilarious. What was it like recording that episode?
Jeff Bergman: Well, look, I love Elmer Fudd. Because as much as I don't want to say it, it's the truth. Elmer Fudd is duped into everything. So he always falls for everything. And so it's so much fun to have Elmer be the fall guy. Because he's, but ultimately I love Elmer when he's sweet too, you know? So, yeah. But I love playing Elmer in Looney Tunes Cartoons.
BUT WHY THO: You also reprise your voice out over as Bugs, along with Sylvester and Yosemite Sam, in Space Jam: A New Legacy. So what was it like to be part of that new legacy for Space Jam?
Jeff Bergman: Well that was really special because I remember the first Space Jam they came out and we were talking for years whether this was going to happen again. And so when it finally did, they held auditions and to be able to be Bugs Bunny and then finally to meet Lebron James. Oh my god. It was incredible. It was unbelievable. And we didn't know. We thought that maybe Michael Jordan was going to be in the film.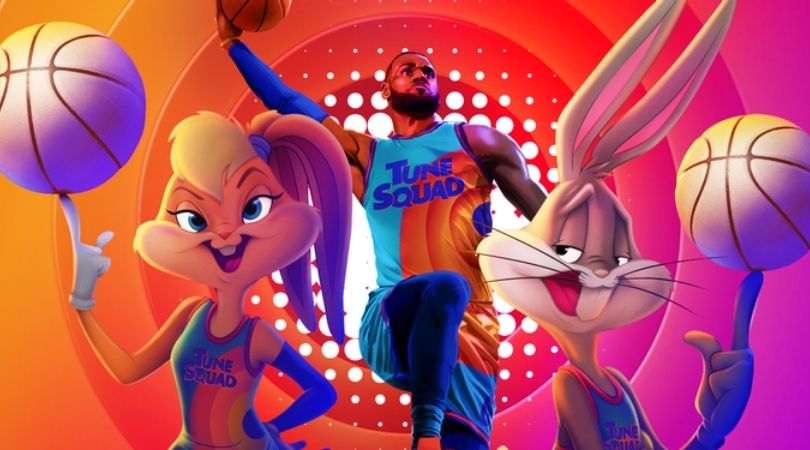 BUT WHY THO: Well, you did have another "Michael Jordan." [Laughs]
Jeff Bergman: Yes! And when we all found out about that, we were sworn to not say it was going to be Michael B. Jordan. So yeah, we should be really careful about that.
BUT WHY THO: I just wanted to say for the record, as a critic myself, other critics were, in my opinion, unfairly harsh, and I thought A New Legacy was hilarious. You were hilarious in it. I loved it. So bravo to you and all the other actors and animators, and it was really a great job.
Jeff Bergman: Thank you so much. Yeah, it was a pleasure. Because there was also a story about a father and his son and reconnecting. Just really getting to see what his son really wanted to do with his life, and I think that was beautiful.
BUT WHY THO: Yeah. 100% agreed. So, obviously, we're in a pivotal moment for the industry as a whole with actors and writers in the strike they're picketing in front of the studios. You're part of the Animation Guild and as well as SAG-AFTRA, and the Animation Guild is not on strike, but has voiced so much support for the strikes. And I saw there's a unionization effort at Cartoon Network and Warner Brothers Animation. So, if I may ask you, what are your hopes not only for how the strikes may resolve in general but for voice artists in particular? And for animation workers to be treated better in the future as well?
Jeff Bergman: It's a very important question, and I'll tell you something, I've been a SAG-AFTRA member since the early 80s. So I am very fortunate to have been able to work in the industry since 1983. This will be my 40th year, and I haven't had to take non-union work. I've never done it. And so I'm very proud of that. And I'm proud of our unions, but this is a bigger thing than just actors having their images protected, and writers having their work protected. Artificial intelligence is here. And now we're faced with this as humanity because it's like we're putting ourselves out of competition. So unless there's something regulatory to happen, and I don't know where that how that happens, whether it's the federal government or state, local or wherever, but it's all of us, everybody's going to be faced with it. Executives, CEOs, we're all going to be dispensable. So I think that people are watching to see where this is going to land and pan out. So I think this is something for humanity.
BUT WHY THO: Absolutely. I just want to ask a request. Can you give a message to our But Why Tho? audience from Bugs Bunny at all, if at all possible?
Jeff Bergman: [Bugs Bunny voice] Well, I'm just glad that everybody's here at Comic-Con, and we can all celebrate together Doc!
BUT WHY THO: Bugs Bunny and so many more. Jeff Bergman thank you so so much for being with But Why Tho? today and I hope you have a great rest of your con!
Jeff Bergman: [Porky Pig voice] I don't want to say it but That's All Folks!
---
It was surreal and amazing to speak to such a voiceover legend for one of my favorite all-time characters. Jeff Bergman is as down to earth as our favorite cartoon rabbit , and a delight to speak with. To hear more of our conversation and his voices, check out our podcast of this conversation!