Having departed with Soldat (Kôsuke Toriumi) for new lands, Rudeus (Yumi Uchiyama) continues to adventure and make a name for himself. But when he is approached by Elinalise Dragonroad (Rie Tanaka) with news of his family, the direction of his life begins to shift in Mushoku Tensei Season 2 Episode 4, "Letter of Invitation."
This week's episode opens with Soldat's adventuring company, joined by Rudeus, out in the field as they are about to engage a pack of monsters. The tension in these opening moments caught me off guard. As the combat builds, we see Rudeus playing the part of the mage, supporting Soldat's company skillfully. But the real fight begins when an errant red dragon appears, and the company is forced to scatter. Rudeus is forced to take on the rampaging beast solo but adapts to the beast's surprising arrival with quickness and ease. The animation here conveys the power Rudeus wields excellently. The scale of both his opponent as well as his spells is delivered with a force that has the viewer feeling each impact. The points of view chosen for the shorts during this confrontation only add to the impressiveness of Mushoku Tensei Season 2 Episode 4 opening moments.
Once back in town, Soldat extends to Rudeus an invitation to join his adventuring company on a permanent basis. Politely rejecting the offer, Rudeus is still determined to move on from here, building a name for himself in various regions in the hopes that it will facilitate his search for his mother. This re-establishment of his goals is timely, as it comes just before a shift in his priorities.
From here, Mushoku Tensei Season 2 Episode 4 sees Rudeus having a bite to eat by himself when he is approached by Elinalise, whose appearance was hinted at in the end of the last episode. Elinalise gives a strong first impression. Not shy about physical contact, she quickly cozies up to Rudeus, clearly trying to appeal to his more carnal appetites. However, her attitude towards him quickly shifts when she discovers an item he keeps on his person. This shifting attitude seems to imply a complex personality and motive to the character. Who she is and who she presents herself as being maybe two different things.
The conclusion of this meeting sees Elinalise impart news about Rudeus' father, Paul, Zenith, as well as his mentor Roxy to him. Finally, getting some information about some of the people he had lost track of lifts Rudeus' spirits a bit. Especially since it now gives him a clear direction to travel in.
From here, Mushoku Tensei Season 2 Episode 4 goes on an extended sequence exploring Elinalise's sexual proclivities and the impact they have on Rudeus as their bedrooms share a wall. Still suffering from his erectile dysfunction, hearing Elisalise's adventures in the next room takes a measure of toll on Rudeus' mental state. Wishing he could potentially participate, he doesn't dare as he fears it would end in nothing but more embarrassment. This sequence makes use of Elinalise's sexuality in a way that feels pertinent to the story, as it impacts Rudeus and the decisions he will make in the episode.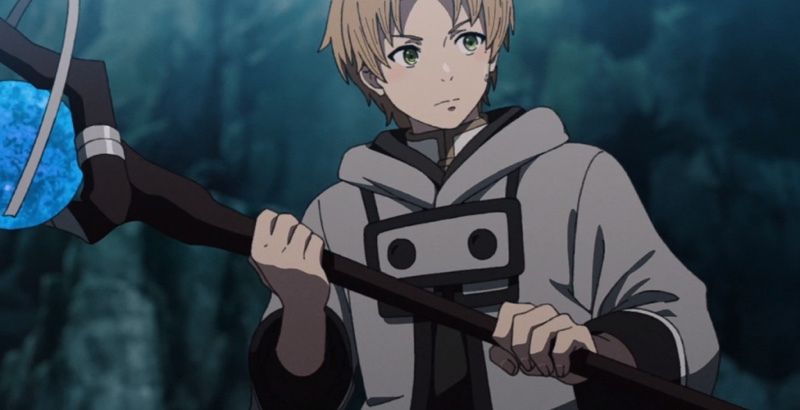 As this sequence opened, I was worried that I was going to take some offense with how Rudeus was going to be portrayed in dealing with Elinalise's character. Initially referring to her as being "slutty as hell" during an internal monologue, I was worried that he would hold her openness towards sex against her. I was, however, pleasantly surprised to see him do no such thing. He treats her with the same respect he does anyone else, never going beyond what appears to be a bit of playful banter with her in regard to her personal activities.
The final portion of this episode sees an unexpected letter arrive for Rudeus from the University of Magic. Having heard of his exploits, the school gives him an offer to participate in special studies there. There would be no requirement for him to attend classes, but their library and faculty would be open to him. This obviously presents a huge opportunity for Rudeus to learn more about magic and elevate his craft, but with recent news concerning the whereabouts of those he has been seeking for so long, he struggles with where he should go next.
Where Mushoku Tensei Season 2 Episode 4 wraps up its narrative sees Rudeus, with Elinalise, strike out on the next leg of the journey. With this episode crafting an interesting dynamic between the two, I look forward to seeing how the duo's interactions may evolve as they face whatever the series will throw at Rudeus next.
Mushoku Tensei Season 2 Episode 4 is streaming on Crunchyroll.
Mushoku Tensei: Jobless Reincarnation Season 2 Episode 4 — "Letter of Invitation"
TL:DR
Where Mushoku Tensei Season 2 Episode 4 wraps up its narrative sees Rudeus, with Elinalise, strike out on the next leg of the journey.