Full Circle is a new noir thriller from director Steven Soderbergh and writer Ed Solomon on HBO. Having known nothing about this show except for its star-studded cast, I went in blind and was surprised to find an intriguing yet bloated drama. Following the lives of multiple characters, this is a noir thriller that burns slowly and rewards viewers who want to spend their time on this journey.
There's a lot of information thrown at the viewer in the first 20 minutes of Full Circle Episode One. There's a wealthy affluent family whose son is being stalked. A different set of characters affiliated with a crime lord with a knack for human trafficking who experienced a death in their family. Zazie Beetz has her subplot as a U.S. Postal Service detective. The last set of characters we follow are immigrants from Guyana. It's unclear who our main characters are as we bounce back and forth to story plots that aren't yet covered.
This show feels too big for being restricted to only six episodes. It's apparent with the way the story beats play out. The crime lord that threads the story of Full Circle Episodes One and Two is CCH Pounder's character Mrs. Mahabir. Spiritual yet cruel, she preys on young Guyanese immigrants to come to America and wrangles them into committing crimes from killing homeless people to kidnapping children. Her team catches the eye of Harmony (Zazie Beetz), who goes rogue to keep track of this family's crimes.
Mrs. Mahabir's actions lead us to Sam (Claire Danes) and Derek (Timothy Olyphant), as we analyze how their picturesque, perfect life is about to crumble. I do not mind the intricacy of these characters and their lives. However, it is messy in its execution. The writer is not coherent enough for a viewer to really care about these story plots. Sure, it may be shot well with Soderbergh's keen eye for visual detail. Stripping narrative structure for visuals can pay off. Instead, we are left with an uneven plate to eat off.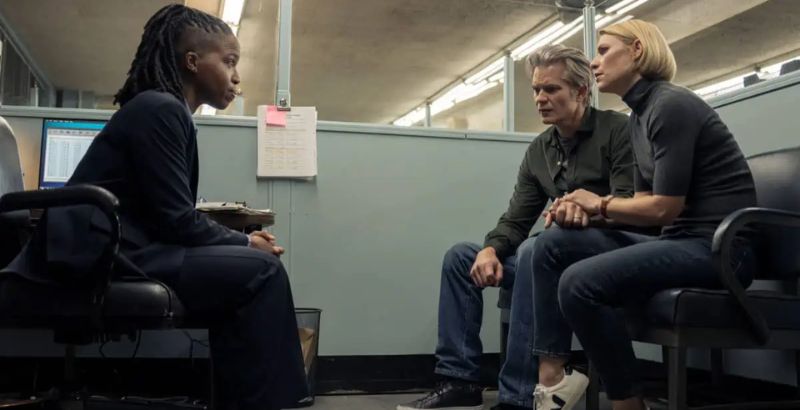 By the time Full Circle Episode Two comes around, there is some clarity on what's occurring, but there is an alarming lack of substance to it. With such a large cast of characters, viewers get to peer into the lives of people with different racial, economic, and sexual backgrounds. Reading between the lines doesn't have to be a barrier to storytelling. However, many aspects of these key features of each character feel like stickers imposed on them. So far, Harmony suffers the most with her lack of purpose and confusing job.
Harmony is a disgruntedly detective tired of the bureaucracy surrounding investigating the crimes she's interested in. We aren't clued into any of her motives. Her partner, Carol (May Hong), accompanies her on-screen throughout most of Full Circle Episodes One and Two. Most of their dialogue centers on how unhappy Harmony is with her boss and her job and how she thinks crimes are occurring because of Mrs. Mahabir. It's enough to string pieces of the narratives together slowly, but it's very shaky ground.
Despite these narrative flaws, Full Circle Episodes One and Two do a phenomenal job of keeping viewers engaged. While the lack of substance is frustrating, it makes up for it in its atmosphere and general premise. As the story furthers, Derek and Sam's son, Jared (Ethan Stoddard) falls prey to a parasocial friendship. Jared exchanges videos and messages with a boy who has been stealing his items for a while now. This escalates towards Jared meeting this boy. While this is occurring, Mrs. Mahabir is enacting a plan that requires her men to find and kidnap Jared.
When they do so, they kidnap the wrong boy to Jared's parent's knowledge, and viewers witness their family deal with the stress and horror of trying to save someone else's child. It's both innovative, shocking, and thoroughly engaging. Sonderbergh's direction and visual representation of Derek and Sam's anxiety are reflected in close, handheld tracking shots. There's a claustrophobic, invasive feeling to bearing witness to this affluent family play with the life of a child that isn't their own.
Another feature of the Full Circle that draws viewers is Mrs. Mahabir's interest in spirituality. The crimes she is orchestrating revolve around breaking a familial curse. As the matriarch of this crime organization, I always am, intrigued by horrible female characters. With so much crime and noir being male-focused, it's always refreshing to see how certain troupes and characterization could be altered. While more supernatural elements may take some viewers out of Full Circle, the way it's integrated into Derek and Sam's narrative is phenomenal. The ritual that occurs is broken because of how Sam and Derek cross paths with Mrs. Mahabir's organization. When this moment occurred, I got sucked in despite being on the fence about this show.
Full Circle has a riveting and interesting premise built on a weak foundation. The atmosphere is drenched in tension, anxiety, and confusion, all my favorite aspects of a noir. This show has a clear vision that falters at times but the performances from specifically Claire Danes and Timothy Olyphant make it a worthwhile watch. While it is uncertain whether or not Full Circle can keep this momentum up in the next four episodes, Episodes One and Two offers will feel exciting to fans of the genre.
Full Circle is now streaming on Max on Thursdays.
Full Circle Episodes 1-2
TL;DR
Full Circle has a riveting and interesting premise built on a weak foundation. The atmosphere is drenched in tension, anxiety, and confusion, all my favorite aspects of a noir.