Making action explosions unique isn't easy, but Shaw Entertainment's Decibel manages to do just that. Directed by In-ho Hwang and written by Hwang and Jin-hoon Lee, Decibel centers on sound-triggered explosions with an emotional twist that adds surprising depth to a simple premise.
In the film, Kim Rae-Won stars as Commander Kang Do-Young, a former navy commander honored by his country for saving 22 of his 44-person submarine crew after a harrowing explosion threatens them. After he receives recognition for his leadership in a time of peril, Commander Kang receives a phone call from an anonymous man who claims to have placed bombs in locations filled with as many people as possible, including a soccer stadium and a water park. But with people comes sound, and that's the trigger. Each hidden "sound bomb" will detonate when nearby ambient sounds surpass 100 decibels, an easy feat for the locations chosen. As Commander Kang tries to desperately stop the terror attacks, the connections to his past stand harder to reconcile than finding the bombs themselves.
The first time I saw Lee Jong-Suk on screen was as the male lead in While You Were Sleeping, and from there, I engrossed myself in his filmography. In his first major role after enlistment, actor Lee is a force in Decibel. As an antagonist, he is intimidating in silence but even more so when he speaks. The tenor of his voice commands any scene when he raises it. That said, there is a loneliness and somber approach with which he brings Captain Jeong Tae-Seong to life.
Broken by the weight of his survivor's guilt and filled with complexity, Jeong Tae-Seong steals the show. While you're never rooting for him, you do at least understand what broke him and why his dance with Commander Kang has so much meaning. The reasoning behind the terror makes the film work, even when some plot elements become too convoluted.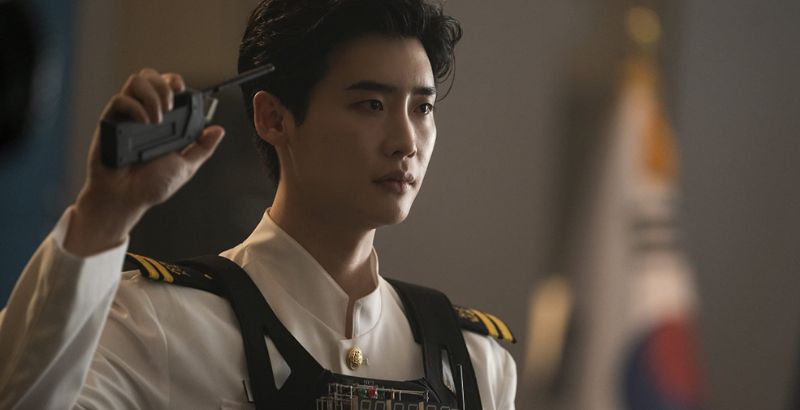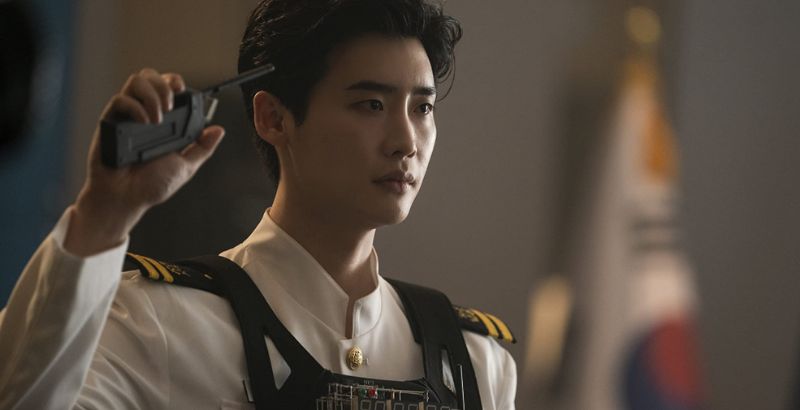 The choice to weave the past into the present is the strongest element of Decibel. It allows the mystery to unravel slowly over time and makes each explosion end more and more important. Decibel manages to be interesting in both the past and the present. In the past, audiences see an increasingly emotional story that builds with each new decision. This is where we see Tae-Seong excel in how he connects to others and the fierceness he shows to protect his brother Tae-Ryoung, played by Cha Eun-Woo. The two have a chemistry that is heartbreaking by the final act but is acted with such authentic intensity that they stand out amongst the large ensemble.
And while the Joeong brothers are the strongest component of the flashbacks in the film, watching the complexity of Kang Do-Young develop in layers from the past to the present is critical in making the narrative succeed. Seeing where Commander Kang has come from and how it weighs on him is essential to understanding why he throws himself into saving people. Every choice he makes is an attempt to undo what he sees as a moment of shame.
While Tae-Seong is dealing with his own survivor's guilt, so is Commander Kang, only, he also carries the guilt of being the reason for the loss of life. This difference in the two and how they react to the trauma is what makes a balanced protagonist and antagonist. They revolve around the same event, both shaped by it in vastly different ways. Ultimately, this balancing act and their cat-and-mouse dance is what makes the film more than just the action archetypes it employs.
But Decibel isn't without its faults. The film may tread a well-worn path in action films, using increasing casualties and mysteries to imbue enough tension into a budding terrorist plot. And while a bomb set off by sound is intriguing, there are some gaps in logic necessary for making the trigger work. But those small plot holes mean nothing in the grand scheme of things, thanks to the emotion baked into every decision in the film. The complex emotional situations and the lead actors are why Decibel stands apart from an increasingly crowded action field.
Decibel is an action spectacle made infinitely better by its attention to building characters as large as its explosions. As the pair pushes the film, Kim Rae-Won and Lee Jong-suk are a fascinating and emotional duel to watch unfold.
Decibel is available now on VOD via Prime Video, Microsoft, YouTube, Google Play, and Vudu.
Decibel
TL;DR
Decibel is an action spectacle made infinitely better by its attention to building characters as large as its explosions. As the pair push the film, Kim Rae-Won and Lee Jong-suk are a fascinating and emotional duel to watch unfold.