The persistent cycle of self-healing and growth continues in The Bear Season 2. Jeremy Allen White returns as Carmy, the genius chef who returned home following the death of his brother to help run his restaurant. Following the events of the Season 1 finale, Carmy and the rest of his crew, including sous chef Sydney (Ayo Edebiri), are in a race against time to gut the existing establishment to build into their new business venture. This task is as formidable as any night of working the line as the unknown faces them. While the ten-episode season may lack the acute level of stress and urgency that energized the first season, it makes up for it with a simmering case of melancholy as the characters face an awkward standstill, constantly reminded of an unmovable deadline but with more time to reflect on what got them to this moment and what they mean to do with the result.
As the group of characters works to turn the restaurant known as "The Beef" into the new and improved "The Bear," supporting characters are allowed to flourish. One of the greatest strengths of The Bear Season 2 is the freedom of allowing episodes to fully invest in one or two characters, such as Episode 4, "Honeydew," directed by Ramy Youssef, and Episode 7, "Forks," directed by series creator Christopher Storer.
In "Honeydew," we travel with Marcus (Lionel Boyce) to Copenhagen to train with Luca (Will Poulter), a skilled pastry chef. Adopting a subdued tone, aided by the nighttime strolls Marcus takes to and from his lessons with Luca, the episode strikes a delicate, rhythmic balance of Marcus's continued perseverance in trying to complete his task of developing three unique desserts for The Bear while also naturally investigating the interiority of this character. His gentle nature is further elaborated on without fully spelling it out as we witness the caretaking he provides for his bedridden mother, and it's further illuminated in the bond he and Luca begin to form. Boyce and Poulter share an electric chemistry that breathes light into their camaraderie, despite their brief interactions.
"Forks" strikes a similar tone but with a greater sense of sadness that permeates throughout. Ebon Moss-Bachrach delivers a superb performance as Richie, a character we should — and often do — find insufferable and has also managed to dig his way under our skin so that we can look for him and empathize. While many of his hardships are of his own making, they're so human that we extend sympathy anyway, and this is especially true when we watch as he puts the work in. Having been sent to an upscale restaurant by Carmy, he first believes it's an act of punishment, a way to humiliate Richie further as he continues to crumble under the weight of having no direction. However, he soon comes to love the restaurant's energy and brings the lessons he learns to The Bear.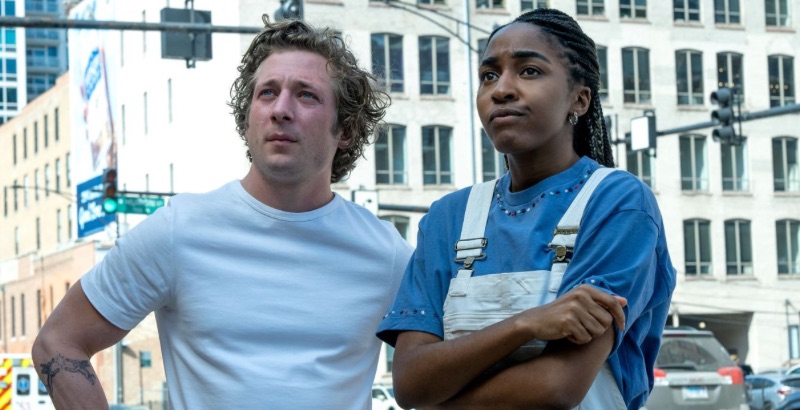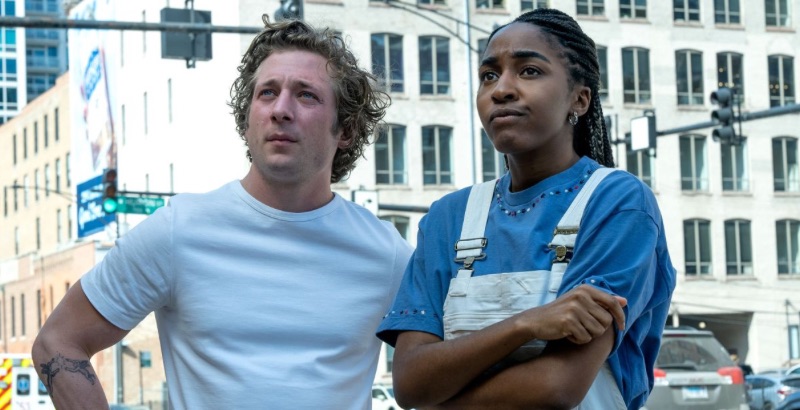 Olivia Colman is yet another guest star, and her scene with the head chef who speaks with Richie is yet another brief yet powerful display of two unlikely humans finding kinship through similar attributes. Richie has spent so much of the season spiraling, and it all amounts to him finding his own small victory and hearing of another person's journey of self-discovery despite facing numerous setbacks.
It's a theme that perseveres throughout much of season two, the idea of career setbacks and the insatiable need to keep going no matter the odds because of sheer love of the craft. Because otherwise, why put yourselves through the pain and exhaustion and endless shifts of running a restaurant where the likelihood of success is microscopic if not because you can't imagine doing anything else? It's an idea that plagues Sydney, as she visits multiple restaurants in Episode 3 to reset her taste palette. She's told multiple times that the venture she and Carmy are setting off on will be difficult, and some chefs she speaks to have their restaurants shut down partly due to COVID by the season's end. Things are bleak in the food industry, and The Bear doesn't shy away.
But along with the business difficulties, the personal ones continue to hinder their progress. From Carmy's inability to communicate with Sydney and the latter's mounting frustration hindering her own, as well as Richie butting heads with anyone who tries to belittle his experience, the characters are under tremendous pressure. But while the first season captured that tension through the onslaught of a busy kitchen, Season 2 manifests it through smaller details, such as a clock that is almost always in frame, or at least always setting a sequence, to remind us of how little time they have before they need to be fully up and running. It comes down to the wire even, as Carmy and Sydney slide under one of the dining tables right before opening to tighten some loose screws, a visual metaphor for their bond that also needed a little tweaking, as one holds up the other side as the other works the screwdriver.
The lack of obvious visual strain is perhaps why "Fishes," the standout sixth episode, is such a tremendous feat of filmmaking because it also recaptures that Season 1 energy. A flashback to a disastrous holiday gathering with Carmy's family, which includes guest appearances from Jamie Lee Curtis, Bob Odenkirk, John Mulaney, and Sarah Paulson, along with the return of Jon Bernthal's Mikey, the episode is a cacophony of chaos. Storer directs the hell out of the episode as the family's tempers rise and increase the level of claustrophobia the episode creates.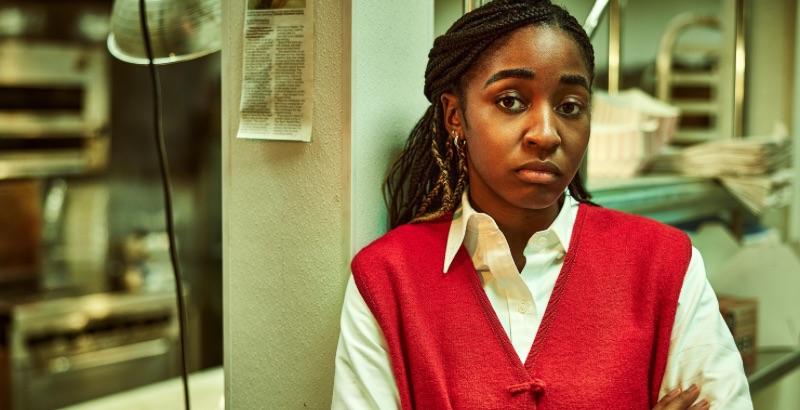 Surprisingly, the major flaw of the season is partly due to Carmy himself, but mainly the writing that seems to believe he needs a romantic interest of any kind. There's truth to the character needing something that untethered him from the restaurant, but it's not as interesting as a character device. And unfortunately, Claire is not a good love interest. Despite Molly Gordon's best efforts, Claire is the epitome of the type of character who isn't so much of a "manic pixie dream girl" archetype but certainly isn't far off. Saddled with ludicrous, nonsensical dialogue, their scenes are out of another show entirely. Their dynamic is muted, especially compared to the vibrancy of all the other relationships on the show.
White does, however, get a moment to shine in the season finale, fully living up to his nickname "Bear" as he demonstrates his considerable physicality. The finale demonstrates the show's greatest strengths and delivers the main message of the season. To be in this business, there must be a love for the craft, an expectation for inevitable resets, and the hard truth that life will continue outside the kitchen no matter the triumphs. Time doesn't stand. Still, calls will be missed, relationships lost, and not every win will be spot free and seamless. Humans have a penchant for error which will undoubtedly rear its ugly head. Sydney gets her successful opening night and celebrates it by vomiting in the back alley due to her stress.
The Bear Season 2 is in many ways better than the first as it digs deeper into the characters and their lives as they try and contend with what they want from their careers and what their means of making a living offers them. With thoughtful direction and beautiful, lived-in performances that build formidable chemistry between the entire cast, The Bear remains one of the most dynamic comedies on television and excels in its ability to take visual and narrative risks.
The Bear Season 2 is available now on Hulu.
The Bear Season 2
TL;DR
With thoughtful direction and beautiful, lived-in performances that build formidable chemistry between the entire cast, The Bear remains one of the most dynamic comedies on television and excels in its ability to take visual and narrative risks.