HBO's Barry Season 4 may not have lived up to the anxiety-inducing masterclass that was the series' third season, but the final eight episodes remain strong reminders of Bill Hader's brilliance behind the camera for this final season. Greater still, while Hader himself at times took a backseat to some of the more emotionally gripping sequences of the season, in return we were given greater moments with the rest of the cast, with Anthony Carrigan in particular delivering multiple show-stopping moments. The greatest of which takes place in the final episode, as the entire series thesis is laid bare by Fuches of all people, in a standoff less about physical power and more about the incessant need for others to know they aren't any better for denying the truth. Because Barry, in its humor and horror, has held steady in a belief system that's traced the entire series.
There's no running from yourself. To try is to fail, something that Barry Berkman, NoHo Hank, and Sally (Sarah Goldberg), the love of his life, all must face, their fates tethered to their ability (or inability) to own up to the monsters they harbor, and the demons that haunt them. It's partially why Fuches (Stephen Root) seemingly gets the best outcome. As the "Raven," Fuches has become his most authentic self, for better and worse, by taking the dirty work into his own hands. He even has a moment of self-reflection, standing in front of Hank, admitting that he used to be able to deflect by labeling himself a "mentor" to those like Barry who he would foster and draw out their "natural abilities" in killing.
He's slimy and callous, having spent the majority of the series utilizing any and all tricks to stay alive, the biggest cockroach of them all. And yet "Wow," the series finale, allows him these moments of, maybe not reckoning, but introspection that sees him performing some of the most selfless acts of kindness he's ever done. This is most obvious when, following an eruption of gunfire, he jumps on top of Barry's son, John, to protect him and then, once it's over, covers the child's eyes and ears as he guides him outside, into Barry's embrace, before running away. It's not his letting Barry live that shines, but his protectiveness of the child. He's condemned to a life of violence — maybe this was his moment of allowing a different outcome for one not yet touched by the same brutality.
Hank, meanwhile, was also given a moment of absolution from Fuches, who offered to let him go if he would only admit that Cristobal's (Michael Irby) death was his fault. But Hank, ever image-obsessed, can't do it. Not just because of the ruse he's built for himself, but also because by admitting it he'd need to admit his weakness, and then admit that he made a mistake because of it. Carrigan has been superb all season long, his reaction to Cristobal's death visceral in his physicality, his body and face contorting through his hyperventilation. He builds off of this breakdown for the rest of the season, the version of Hank we meet after the time jump offering just a touch more steeliness in his gaze. It's a subtle shift, but a significant one, making his and Fuches's multiple standoffs greater due to the tension of two remade men trying their hands for unearned power.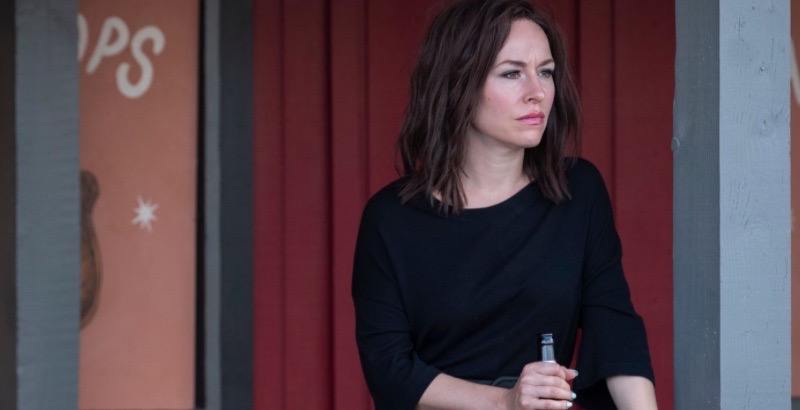 But it's the episode "the wizard" that does the best job of visually manifesting the lingering pains of trauma, and how sometimes we aren't able to awake from a nightmare. Left alone to parent John, Sally becomes lost in her own thoughts until the camera pans and we see a nameless, faceless man, dressed in all black, hovering behind her. Hader — who directed all eight episodes of the season — creates such suspense in these moments, as Sally hears the last words of the man she killed through a closed door, as her house is rocked and pulverized by some unknowable force. She survives, but she once again chooses to run, continually faced with the man she killed and the abuse she's suffered over the course of her life.
Barry Season 4, for all of its tension and moments of heart-in-your-throat stress, somehow manages to maintain its comedy status — possibly the funniest TV season of the show, period. There's a lightness to the writing that, if not playful, is jaunty, Hader and co-creator Alec Berg retaining their deft hand with witty one-liners and wicked observations. Barry, despite being the impetus to so many deaths, is so drawn into his own head, so convinced of his nobility and ability to change, to the point where he's deluded himself into believing that by finding God he's absolved himself. It's hilarious and a continuation of one of the major threads of the series, as Barry continues to believe that if he could only find the right path he could atone. From soldier to hitman, wannabe actor, devoted boyfriend, and, now, a pious father, Barry has sought any means to make himself feel important.
This in part makes for one of the greatest gags of the series, a continuation of the show's ability to mold comedy with the most upsetting drama. Barry has finally agreed to turn himself in following Gene (Henry Winkler) being framed for Janice's (Paula Newsome) murder, only for Gene to shoot him dead using Rip Torn's prop gun. The perfect comedy of errors.
Barry's fourth season may have alienated some fans of the series, mainly due to the divisive time jump, but it possesses some of Hader's finest directorial work to date. Taut, and tightly wound, the series ends on a note of contemplation and dark comedy. Barry shouldn't have worked with a premise that suggested a need for forgoing reality and or drama for the sake of high comedy. Instead, Hader and company achieved the balancing act with intricate character building and thematic tones that permeated throughout all four seasons. Hader is a tremendous talent and force to be reckoned with behind the camera, and he has been since the first season. If nothing else, we can't wait to see where he directs his attention next because, no doubt, the result will be extraordinary.
Barry Season 4 and all previous seasons are available to stream on Max.
Barry Season 4
TL;DR
Barry Season 4 may have alienated some fans of the series, mainly due to the divisive time jump, but it possesses some of Hader's finest directorial work to date. Taut, and tightly wound, the series ends on a note of contemplation and dark comedy.