Reading Time:
2
minutes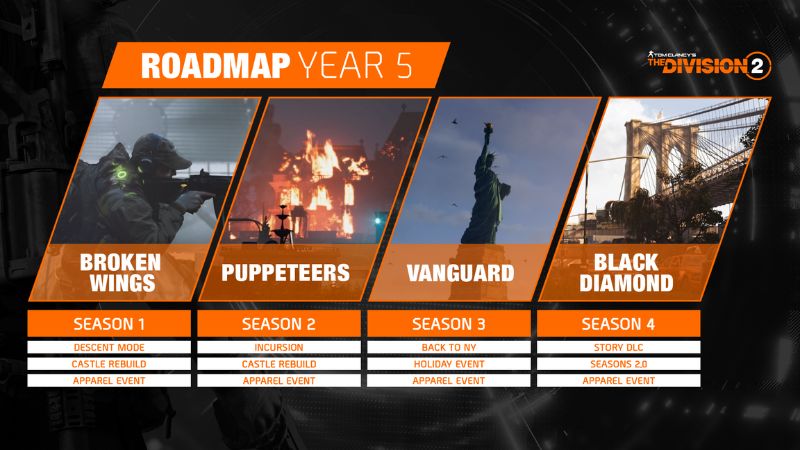 During Ubisoft's Division Day stream, celebrating seven year of the Tom Clancy franchise, the studio also shared what The Divsion 2 Year 5 will look like for fans of the game. With The Division 2 Year 5 roadmap, Ubisoft is introducing a new game mode and, of course, some stellar crossover cosmetics too.
The Division 2 Year 5 will kick off in June, but players can already get their hands on an upcoming new mode, Descent, by participating in a public PC test server available tomorrow, April 21. From April 25 to May 9, the Resident Evil Leon Kennedy RPD outfit will also be available to all players who log in.
For a full breakdown of content check out the bullet points below, provided by Ubisoft.
Season 1: Broken Wings (June): This new season brings a new twist on Manhunts and introduces a new game mode titled Descent, a rogue-lite mode available for free to all Division 2 players when Year 5 begins. Players will also see the continuation of a multi-season rebuild of the Castle Settlement that will bring the devastated landmark back to life with a renewed purpose. As a part of the premium pass for Season One: Broken Wings, players will be able to unlock pieces of a Splinter Cell-themed outfit to help Fifth Freedom their way throughout DC and NYC.
Season 2: Puppeteers: A challenging new Incursion will take Agents on a venture out to the Meret Estate for another confrontation with the Cleaners.
Season 3: Vanguard: Agents will go back to New York City for the holidays and discover new revelations about Aaron Keener and his Rogues.
Season 4: Black Diamond: New story DLC will be available that adds new zones, new main missions, and a whole new endgame structure.
Each season will also continue introducing new Manhunts, Leagues, and Events. Players will need to own the Warlords of New York expansion in order to access all of the new content aside from Descent mode, which will be open to all The Division 2 owners.
Operators will get access to The Division 2 Year 5 starting this June.