Reading Time:
4
minutes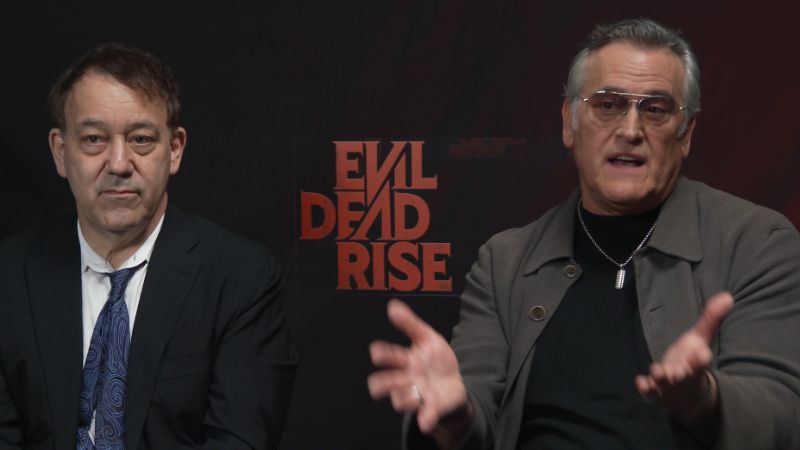 Evil Dead Rise is a passing of the chainsaw to a new generation of not just actors, but creatives. After the film's premiere at SXSW, we got the chance to speak to Executive Producers Sam Raimi and Bruce Campbell—or you know, the two horror legends who first brought Evil Dead to life. We discuss passing the torch, what it was like to experience of the loudest crowds of SXSW 2023, and what they hope audiences take away when the credits roll on Evil Dead Rise in theaters.
As a film, Evil Dead Rise is mean, and it's right to the point at a solid 90 minutes, but more importantly, it captures the franchise fantastically. But with a new take on an icon, there can be some trepidation from fans. Still, it's important for those fans to know that the men behind the franchise don't have any reservations themselves. Sam Raimi explains what passing the franchise on means to him, which was linked to finding the right director.
Raimi explains, "And for me, it was great finding a craftsman-like Lee, who could take our much-beloved series and take it to the next logical step. We knew how much directors and actors need to be protected, supported, and criticized when necessary, but a challenge, challenge us for the good of the project. A creative conversation is filled with so many different points of view, you really want to find the truth or the best way to do things. And that's done through discussion and exchange of ideas. But it felt wonderful, knowing that we had a great craftsman like Lee at the helm."
---
---
And for Ash, handing his chainsaw off to Lilly Sullivan wasn't a hard decision. "In my case, I was delighted to pass the mantle on to a younger, supple generation than myself. And the trick is to find actors who are committed. That's the trick."
Choosing Lee Cronin as director and Lilly Sullivan and Alyssa Sutherland as the leads of Evil Dead Rise paid off with one of the most involved crowds I've ever had the pleasure of being a part of at Austin's Paramount Theater during SXSW. Campbell explained how he felt getting to witness the premiere of the film with the crowd, "Well, being in the middle of it, for me was a massive relief as a producer. Because we've seen this movie in little bubbles. We've seen it in little studios, little editing suites, and occasionally in a theater with a test audience, but they're not even really Evil Dead fans."
He continued, "[SXSW] was the truest test of the real fans in a beautiful theater, with incredible technical specs that matched the majesty of the theater we wanted for the film. So you couldn't really have had a better scenario. This is the best place to have shown it because Austin is a movie-loving town as well as a music-loving town. So it's a big relief to go. Oh, okay, it's working. And it kept working throughout the whole film"
Sam Raimi added, "For me, it was the same thing. I was just happy that the audience was so into it. It was like being in the middle of a rollercoaster ride and seeing them scream and then all get quiet together. And the occasional person shouting, 'Get away from that!' It was fun."
---
---
When it comes to bringing the franchise to life again, Sam Raimi and Bruce Campbell may only be in the proucers' seats, but they still helped influence the final product. Campbell explains,  "We were involved in casting and script early on Rob Tapert, our partner is the nuts and bolts producer who will put the crew together and really do a lion's share of the producing work. And then we'll come in after we see the versions. I think one thing that the Evil Dead movies are never long. And I think part of it was encouraging Lee to get at it, keep it tight, and keep it moving. It's one of the longest of the Evil Dead movies, ironically. And so part of that was encouraging him to move it along."
But the question that we really wanted to ask was what this iconic duo wanted the fans to take away the moment they walked out of the theaters after the credits roll. Sam Raimi responded first,  "I want them to go to the movie with their buddies, hoping to have a great time and then screaming and clutching each other's hands and then shouting back at the screen, just like we saw at last night's world premiere at Austin."
For Bruce Campbell however, he wanted to welcome new fans into the decades-old fandom. He said, "Well, I hope that [Evil Dead Rise] might actually lead them to the past. Because not everyone has seen the Evil Dead movies. Not everyone, you know, cares about or even likes horror movies. And hopefully, somebody will see this one and go, 'Oh, there's more of these!?' and find it retroactively. You know? So the modern movies can sometimes help the old geezer movies. You know, it props them up a little bit."
And there you have it from the great themselves, Evil Dead Rise brings in a new generation and props up the franchise. Evil Dead Rise is in theaters now and is written-directed by Lee Cronin and stars Alyssa Sutherland and Lilly Sullivan as the film's leads.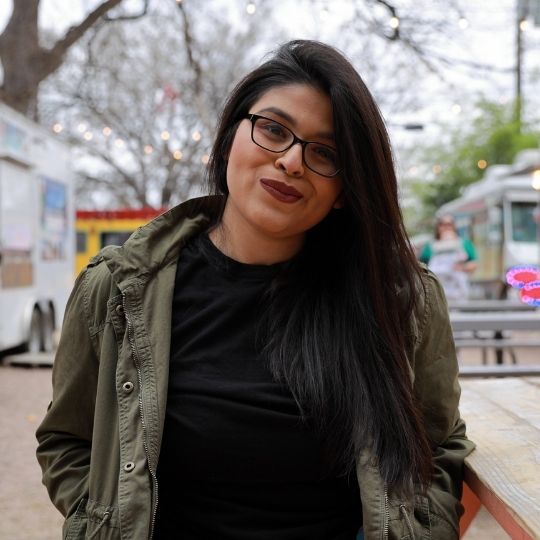 Kate Sánchez is the Founder and Editor-in-Chief of But Why Tho? A Geek Community. There, she coordinates film, television, anime, and manga coverage. Kate is also a freelance journalist writing features on video games, anime, and film. Her focus as a critic is championing animation and international films and television series for inclusion in awards cycles.