There are so, so many amazing short films set to feature at Outfest LA Film Festival 2022. Animated shorts, stage play adaptations, and so much love of all kinds make these 10 Outfest LA shorts stand out. Laugh, cry, and question so much about gender, sexuality, and love in short bursts with these early short favorites.
The Bower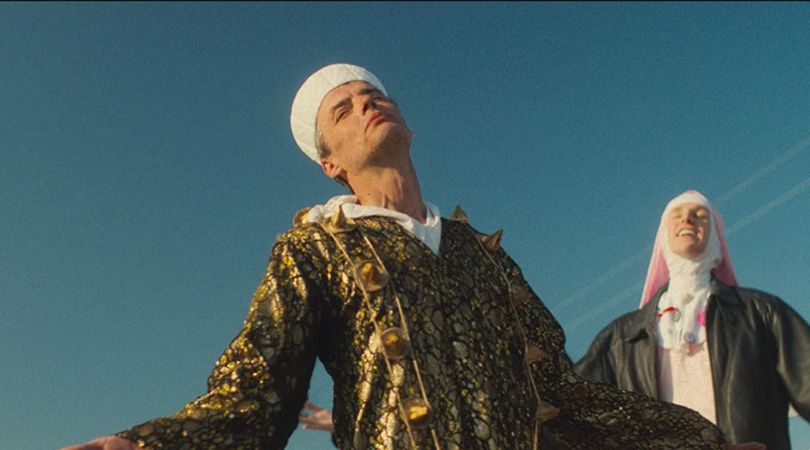 The Bower, directed by Marco Alessi, is an instant heart-wrencher coated in the sweet salve of queer community and joy. In the past, Seb and Terri bear witness to Derek Jarman's canonization at his cottage. In the present, Jude is lat to work again at Terri's flower shop, but when she discovers he just found out he's HIV positive, Terri takes Jude along with her to Derek's cottage. It's one of the longer Outfest LA shorts so far, and it uses every second perfectly to portray grief, joy, exasperation, fear, and guilt at once. Where it brought me to tears, though, was where it decides to linger on hope in a few beautiful long takes.
Catalina
Tyler Rabinowitz directs Catalina, a short film about three childhood best friends reuniting for the first time in a long time. Only one of the three left town after high school, and he's gone on to discover himself, come out as gay, and in a lot of ways, leave his friends behind. But in this pretty film, time melts away for the reunited brethren, and it's like no time has passed. Some turns are taken, choices are made, and the emotional vulnerability and physical closeness of these male friends made Catalina an early favorite among the Outfest LA shorts.
Firecracker
Firecracker is the story of a couple on their anniversary day struggling to define their relationship and how they want to live their truths. Directed by Caroline Guo and coming soon to Netflix, this short quickly hit my list of favorite shorts so far on account of its intimacy and heart. The two main characters have just enough of a language barrier, one not being a native English speaker, which leads to miscommunication in both hilarious and serious moments. I was instantly transported to difficult conversations of my own and just as instantly gratified that they offered a different blueprint than perhaps the way some of mine have gone. It's the kind of short you're left wanting so much more of the second it ends, with how quickly you grow to love the characters and their relationship.
Foreign Uncle
Foreign Uncle by Sining Xiang is the most adorable of the Outfest LA shorts so far. When a gay couple travels to China to visit with one of their family, they have to pretend to be only best friends. But to the young Naonao, it doesn't matter who they are to one another whatsoever. He just knows that his foreign uncle Patrick is having a hard time being abroad and sets out to make sure that he's looked after and having a good time. It's truly a special little film displaying the innocence and openness of youth. This dynamic will quickly have you forgetting there's an entire first half to the movie about the couple's struggle remaining in the closet—Naonao is just that wonderful.
Foster
Foster is a Dutch-language Outfest LA short by Jordi Wijnalda about the last morning in a foster family. It's cruel, depicting the absolute injustice of the foster system taking a child away from a loving home to suddenly and crudely go live in another one. There's never a reason given for why the family can't just adopt the boy themselves, though there's certainly an implication that it has to do with their having two dads. The boy's brother gives him one last great day together in an unexpected and moving decision, and the rest is just a tearful, beautiful few moments before the inevitable.
The Last Human Person on Earth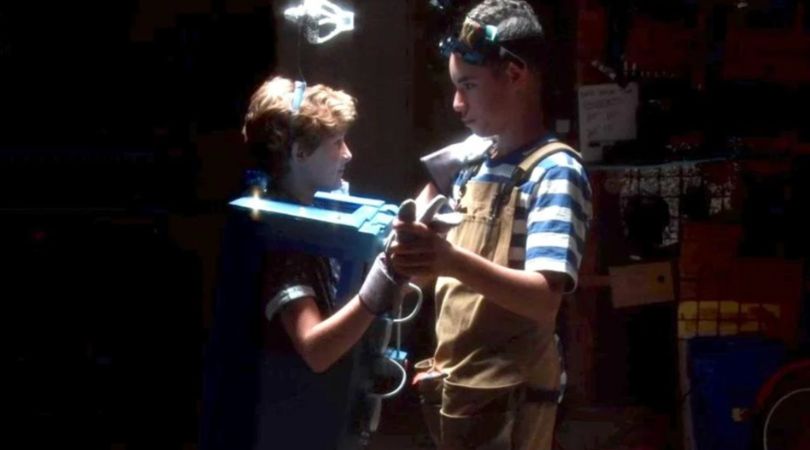 Directed by Ryan Hoskins and adapted from the play by Briandaniel Ogelsby, The Last Human Person on Earth is a short story of two young boys playing make-believe in the garage. It's a lovely look at youth unhindered by the same compulsory heterosexuality that would have prevailed over them even so long ago. They're free to flirt, see what feels right, and better yet, not be completely erased by an insensitive older sister. It's 90 percent pure joy and 10 percent longing and entirely precious.
Men In Blue: 12 Stories
This French-language Outfest LA short asks 12 men of all different backgrounds and experiences what it means to be a man while stripping naked for the camera and being rotoscoped into animation with blue ballpoint pens. Some of the men are old, some are young, some are trans, some are disabled, and all have unique perspectives on what masculinity is. But all of them have an underpinning of dissatisfaction with the general consensus they believe society has come to: rouged, emotionless, detached. There's a yearning for something deeper and more fulfilling; even if they've found it for themselves, they want it for every man. But there's also a joy in being able to find comfort in their own skins, even if that journey isn't complete yet and not everybody has found themselves on it yet.
New Moon
New Moon is a reminiscence of a mother through music, summer air, and the faint light of a new moon. Written by and starring the voice of Colman Domingo, based on his play "A Boy and His Soul," this beautifully animated piece is a poetic missive to time and a mother's past. It's quite simple in its presentation, a bit complex in its language, and beautiful in its whole. The blue tone accentuates a moon-lit atmosphere that instantly recollects whatever your version of a pocketbook full of good tidings during hard times may be.
Tank Fairy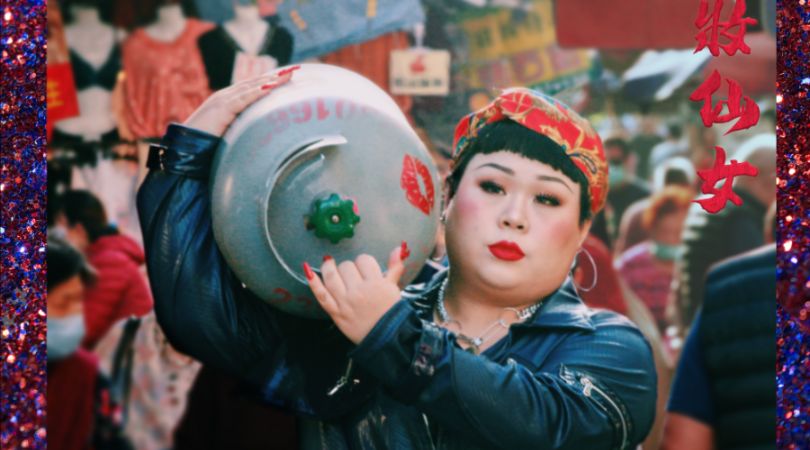 What a blast this one is. Directed by Erich Rettstadt, Tank Fairy is a short romp starring titular gas tank delivery fairy Marian Mesula as she awakens something in Jojo (Ryan Lin). Her flamboyance inspires him to adopt a kind of drag that terrifies his mother, garners jeers from his peers, and gives him complete and utter joy. All set to "I Need A Hero," it's a colorful and fabulous piece that may well leave you wishing for the Tank Fairy to come your way next.
Warsha
Warsha is too special to ruin by giving much of a synopsis. It's an Arabic-language short by Dania Bdeir about a Syrian migrant worker on the most dangerous crane job in Lebanon. The first half isn't especially remarkable, but its dazzling and beautifully shot second half requires the mundane first half to really make it shine. One man's dreams are on glorious display here, and the music accompanying it is absolutely everything in this short film.
---
Outfest LA Film Festival 2022 is taking place from July 14-24, with many of its films available for a limited time virtually. Follow all of our Outfest LA coverage.