Drama with a capital "D," manipulation, intrigue, meddling mothers, love pentagons, and revenge, Remarriage & Desires is the latest Netflix Original Korean Drama and it's well worth a watch —no, it's well-worth an immediate binge. The series centers on a matchmaking company named Rex. Existing solely for the wealthiest members of South Korean Society, every potential match comes with a hefty price tag, each defined by a hierarchy attached to their wealth.
While Rex's male clients are all ranked in order of their income and standing in society, the agency's female clients are all looking for ways to jump up the rungs in society as defined by the patriarchal structure that affords them status only through a man, be that father or husband. While the agency is all about marriage, it's also about remarriage, and one of the easiest ways for the affluent to "date their own" and avoid other avenues.
But Remarriage & Desires is more than its matchmaking setting. The series follows Seo Hye-Seung (Kim Hee-seon) as she attempts to get revenge on a woman who destroyed her life. Through Hye-Seung, we see connections with Hyung-Ju (Lee Hyun-Wook), the CEO and client that every woman is vying for; Professor Cha Seok-Jin (Park Hoon), Hye-Seung's old friend and maybe a little more; and Jin Yoo-Hui (Jeong Eu-Gene), the woman Hye-Seung is desperately seeking to punish.
With all of this pretty and all the petty, here are 3 reasons you should run to Netflix to watch Remarriage & Desires for a great binge.
One Word: Mess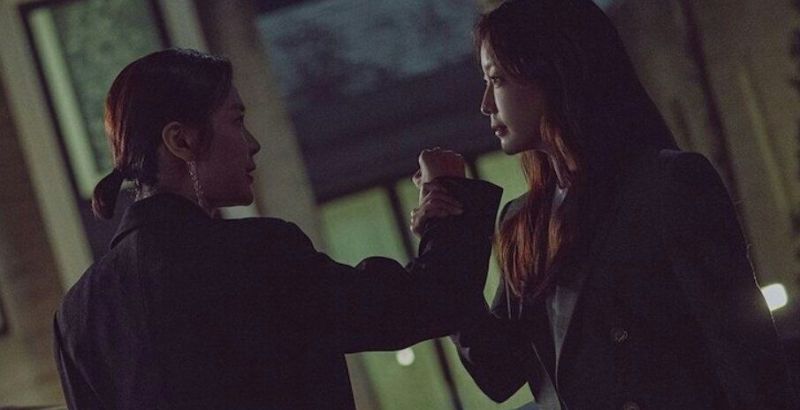 I keep trying to think the best way to sum up Remarraige & Desires and "mess" is all I can think. This series uses every melodramatic element you can think of. Parents try to pay off potential suitors to stop seeing their child or are under their child's thumb to use their power to secure the marriage they want. Companies are at risk and money is laundered. There are murder plots, a suicide driven by an affair turned bad. A plot for revenge that pulls everyone into its vortex. And of course, a love pentagon that keeps oscillating depending on the episode.
I don't use "mess" in a bad way, quite the contrary. It's engaging and with a cliffhanger episode, you're pushed to watch the next one. As the anger and resentment festers and wounds created by our two warring women, Hye-Seung and Yoo-Hui grow deeper, you can't help but be sucked into the series more and more. Through the eight episodes, viewers get pulled further into the plots and their consequences, intended and otherwise. One of the most twisting series I've seen in a long time, the manipulation and the intrigue is anything but basic.
Seo Hye-Seung & Jin Yoo-Hui
Never petty and always going for the throat, the rivalry between Hye-Seung and Yoo-Hui is terrifying. Hye-Seung is a dedicated mother who has her mind set on getting revenge for her husband's suicide. She plots by looking at every person on the chess board, often working with her back against the wall, she finds a way to survive. While there are moments that showcase that Hye-Seung is one of the few "good" people in the show, her dedication to her daughter helps drive her past that moral line in the sand. But Hye-Seung is up against a chaotic mastermind of a rival.
Yoo-Hui is narcissistic, self-serving, and completely apathetic for the bodies she leaves in her wake as she rises to the top. Yoo-Hui is evil, make no mistake, but the way she manipulates every single apparatus and man at her disposal makes her one of the strongest female villains I've seen in a TV series in a long time. Every time Hye-Seung begins to pull ahead, Yoo-Hui rises from the grave that was dug for her and hits harder. She embodies a callous and calculating persona with a lack of empathy we often only in men. While her mind is focused on marrying the man that has fallen in love with Hye-Seung, it's not because of love or a petty greed, it's not even to be a trophy wife, it's to have her trophy husband and solidify the plan she has had to succeed in society.
Both women use the men around them to get where they need to be. Not out of a misogynist plot, but out of a society that vests all interests in husbands and not wives. But even with this, Remarriage & Desires manages to keep the women as the focus, showcasing how these women play the systems created to keep them stifled. They both take on powerful men without hesitation. And while they both have the focus to destroy the other, it's everyone else that becomes a pawn for one or the other.
Mystery
Look, everyone in Remarriage & Desires is attractive…like very attractive. And these beautiful rich people have secrets as deep as their pockets. With beautiful gowns and suits all worn by the richest and most attractive of Korean society and with that comes a script and visuals made to highlight mystery. From the on-set, the series is focused on cloaking things in secrecy, allowing it all to unfold over time. Just when you think you know every connection and plot, another bomb goes off in the story. This surprise kepes you on your toes as a viewer and never lets you exhale.
We learn a lot about each character over time but even when the final episode starts, there are still more questions than answers. While this messiness leads to elements of confusion, as each mystery is solved, the series' pieces fall into place in a rewarding way. There is a lot to question in Remarriage & Desires, and there is, even more, to try to solve only to be completely wrong when the series makes a pivot. And that's how make sure mess pays off.
---
Remarriage & Desires is a thrilling ride with eight episodes that push the pedal to the floor and never lets up. Every single woman in the series gets their due, and show how they have power even when the men in their lives should be the ones calling the shots by society's standards. The drama is intense, but the women at the end of each narrative thread not only sell them moments, sure that every minute you spend watching the series means something.
Remarriage & Desires is streaming in its entirety now exclusively on Netflix.