Reading Time:
3
minutes
Dinner in America is written and directed by Adam Carter Rehmeier and had its world premiere at 2020's Sundance Festival. Simon (Kyle Gallner) is a member of the punk rock band known as PsyOps. Multiple issues, including his temper and pyromania and dealing drugs on the side, have left Simon at odds with his bandmates and on the run from the law. And that's when he encounters Patty (Emily Skeegs). Patty is a shy, awkward girl with a burning desire to see PsyOps and a crush on their masked lead singer John Q Public, who, you guessed it, happens to be Simon. Simon and Patty end up on a series of misadventures, with Patty gaining more confidence and Simon opening up to her.
The inspiration for the film came from two sketches that Rehmeier wrote in the early 2000s. He decided to mix both sketches, and the result is darkly hilarious. In the movie's opening minutes, Simon proves himself to be quite the anarchist: after leaving a clinical trial, he hitches a ride with a girl and has sex with her mother (played by Back to the Future alum Lea Thompson in a winning cameo). Then when caught by her husband and son, he slaps the son in the face with a whole roast turkey and lights their shrubbery on fire. And that isn't even the most bonkers thing that happens throughout the film.
But Dinner in America slowly starts to peel back its layers over time, especially when it comes to its leads. Gallner delivers a tour de force performance as Simon. Every other sentence out of his mouth contains a curse word, and he has no filter, but over time he starts to reveal a gentler side when he interacts with Patty. I was first introduced to Gallner as an actor when I saw him as Bart Allen/Impulse on Smallville, and it's a testament to his talent that he can make a hyperactive speedster and a rebellious punk rocker into such distinct characters. As Patty, Skeegs is endearingly sweet: she weathers verbal abuse from nearly everyone in her life and seems to be the one person who isn't fazed by Simon's behavior. In fact, she comes alive when listening to and dancing to punk music, which, alongside Simon's encouragement, helps her come out of her shell.
A large part of what makes this movie work is the chemistry between Gallner and Skeegs. Great chemistry is integral to every romance, whether it's straightforward (like SXSW's hidden gem Stay the Night) or genre-based (like Needle in a Timestack or The Haunting of Bly Manor). This romance runs the gamut of feelings from shock (Simon's reaction to Patty's fan mail, which contains some explicit Polaroids, is to run away) to acceptance (the two craft a song  after spending the night together, one of many catchy tunes that come from John Swihart.) Rehmeier's script, combined with his steady hand behind the camera, also helps make the romance feel natural; it's never too rushed or too slow.
And true to the film's title, the best scenes come over dinner. There are four dinner scenes throughout the film, and throughout each one, more about Patty or Simon is revealed. The dinner with Simon's family is perhaps the most important, as it shows why he acts out and cements Patty's feelings for him. Cinematographer Jean-Philippe Bernier chooses to shoot these dinner scenes with flat lining and shots that center characters as if to represent the prison of middle upper-class life closing in on the protagonists. It's a bold and very subtle visual choice.
Dinner in America is an anthem to the tenets of punk rock, with a surprisingly moving message at the heart of its rebellious fury. I suggest making a double feature of it with Napoleon Dynamite, as both films tackle similar subjects but are on opposite ends of the spectrum. And who knows, maybe viewers will better appreciate punk rock after watching.
Dinner in America will premiere in select theaters on May 27 and will be available on video-on-demand on June 7.
Dinner in America
TL;DR
Dinner in America is an anthem to the tenets of punk rock, with a surprisingly moving message at the heart of its rebellious fury.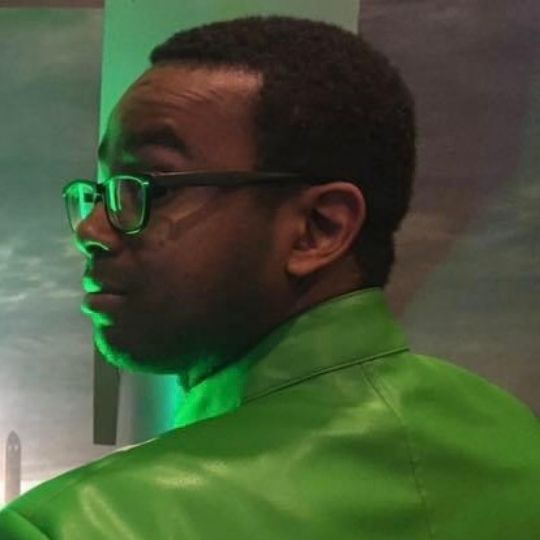 Born and raised in Texas, Collier "CJ" Jennings was introduced to geekdom at an early age by his father, who showed him Ultraman and Star Trek: The Next Generation. On his thirteenth birthday, he received a copy of Giant Size X-Men #1 and dove head first into the realm of pop culture, never looking back. His hobbies include: writing screenplays and essays, watching movies and television, card games/RPG's, and cooking. He currently resides in Seattle.