It's a new year, which means a new season of film festivals, and the first one this year is the Sundance 2022, I was once again excited to watch what new films creatives from around the world had to share, and I wasn't disappointed. There were great Sundance 2022 films in various genres that tackled many subjects from the horrors of racism to how the film industry itself perpetuates sexism and misogyny, and films that in turn serve to remind and reaffirm women that we're beautiful at any age.
Films in this Sundance 2022 review round-up are listed in the order they were viewed during the festival and are not a ranking.
Emergency
I started Sundance 2022 with Emergency by Carey Williams is intense and enraging because it realistically shows how a day that begins with laughter and promise, can turn into a nightmare for Black and brown people living in North America. Starring RJ Cyler, Donald Elise Watkins, and Sebastian Chacon as three college friends, they end up going on an unexpected and increasingly terrifying journey as they struggle with the decision of whether or not to call the police when they find a drunk white girl passed out in their living room.
The tight pacing, editing, and cinematography work perfectly to keep the film from veering too far off course. Williams's writing and the impressive performances from the leads evenly balance the comedic moments with the fear, anger, and frustrations of the characters as they know the situation could be potentially fatal for them. Like Sean, Kunle, and Carlos (Cyler, Watkins, and Chacon respectively), every day Black people have to weigh the pros and cons of situations, trying to anticipate outcomes all of the time, and there's nothing funny about that.
Jane
In Phylis Nagy's film Call Jane, women's struggle to hold onto our rights of bodily autonomy is portrayed through the Jane Collective, a group of women who honored those rights by providing abortions to those in need, from the late 60s to early 70s. Elizabeth Banks gives a solid performance as Joy, a woman who turns to the Jane Collective as a last resort when she realizes that the medical system is just at patriarchal and dangerous for women, as with every other system. In this group of women, Joy – and many others – find understanding, sisterhood, and a new path for herself.
Wunmi Mosaku and Sigourney Weaver are great in supporting roles as members of the collective who work to provide care and support for the hundreds of desperate teenagers and women in search of help. But one critique I have is the film is extremely white. Apart from Wunmi, there are only two other Black women shown that I can recall, and they don't have any lines. It would have been nice to see more of her perspective, and that of the Black women who went for help.
Speak No Evil
Speak No Evil by Christian Tafdrup is upsetting. What starts out as a drama about a couple enjoying regular everyday life, turns into an unsettling, and progressively disturbing horror that frustrates and angers. When Bjørn (Marten Burian), his wife Louise (Sidsel Siem Koch), and their daughter Agnes (Liva Fosberg) accepts an invitation for a family getaway from a couple they met in Tuscany, the family had no idea it would be an ill-fated trip. But it is. One that turns into an unsettling, and progressively disturbing horror that frustrates and angers
Speak No Evil i is a cautionary tale about trusting strangers, and the dangers of ignoring your gut telling you when things aren't quite right.
Good Luck to You, Leo Grande
Directed by Sophia Hyde and written by Katy Brand, Good Luck to You, Leo Grande is funny, sexy, smart, honest, and inspiring. After years of unsatisfactory sex and insecurities, retired teacher and widow Nancy Stokes (Emma Thompson) connects with Leo Grande (Dylan McCormack) a sex worker, to help her discover a new side of her.
Thompson and McCormack were perfect casting to play these two endearing and charming people who open up to each other in ways that I wasn't expecting. The last 20 minutes are fantastic as Thompson bares Nancy's soul to herself, and the audience. Hyde did a stellar job showing the insecurities women have about sexuality, aging, femininity, and worth, and the ways men can relate to these themes in their own way.
Honk For Jesus, Save Your Soul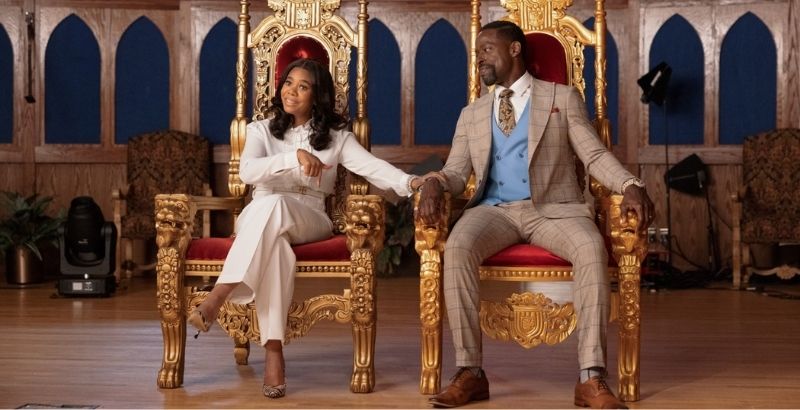 Honk For Jesus, Save Your Soul by Adamma Ebo brings a searing critique of the hypocrisy that exists within the modern-day evangelical church to Sundance 2022. Brilliantly using the guise of parody and satire, Ebo doesn't hold back in exposing the façade leaders and their wives create to hide behind doctrines they teach but don't adhere to.
As the former Pastor and first lady of a prominent Atlanta Baptist megachurch, Lee-Curtis and Trinity Childs played by Sterling K. Brown and Regina hall, begin to realize that they themselves no to have their own "Come to Jesus moment" about the denial they've been living in about their fall from grace. Hall shows how much range she has as an actress through Trinity's battle with trying to save face during a public crisis of faith and duty. And Brown embodies the egocentric nature of many pastors that's instantly recognizable and off-putting.
Fresh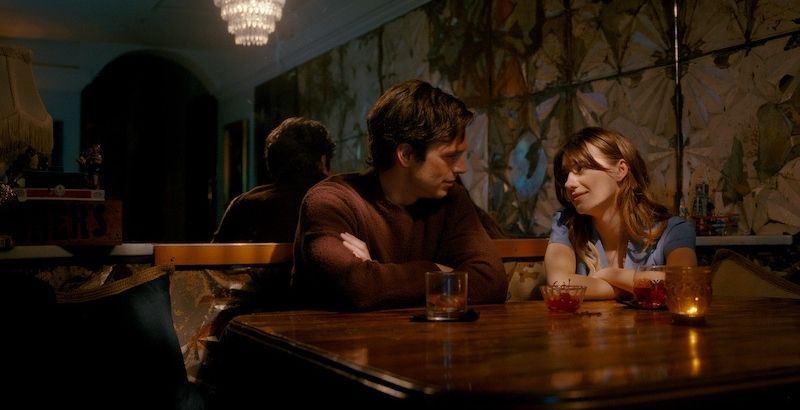 Fresh by Mimi Cave is conceptually disturbing as its main theme revolves around the commodification and desire of the female body by men who value the physical, rather than the soul and identity of women. It's uncomfortable visually as well as audibly as cannibalism and mild body horror are referenced through the dialogue and visuals.
It's very ambitious and well-executed for a first-time feature film, with impressive set designs and cinematography. The cast lead by Daisy Edgar-Jones as Noa the main female character, are all great, but I do have a problem with it falling into the 'one Black best friend' trope, and its goal of being a feminist call to action (?) are belied by the fact that we never get to know anything about the female characters as people, beyond what the men like Steve (Sebastian Stan) think about them. The narrative itself lacks depth as there is nothing substantial revealed about Noa's best friend, Mollie (Jojo T. Gibbs), and as another victim in this nightmare Penny (Andrea Bang) as people outside of the main storyline Noa's perspective.
Brainwashed: Sex-Camera-Power
If anyone ever says that Hollywood, the film industry as a whole isn't structured and built off of objectifying women, and influences and teaches how the world sees women, I'd tell them to watch the documentary Brainwashed: Sex-Camera-Power by Nina Menkes.
As I say: How we are portrayed onscreen, dictates how we are perceived in real life, and this film perfectly captures that as Menkes carefully and methodically breaks down how through the act of filming women's bodies as mere objects, and parts rather than whole, filmmakers and the patriarchal and sexist system have contributed to the objectification of women not just in North America, but around the world. This documentary is just the beginning of exploring how the film industry creates a harmful narratives about women, sex, race, and gender.
Aftershock
My next watch for Sundance 2022 was Aftershock. Directed by Tonya Lewis Lee and Paula Eisett, this film is a heartbreaking documentary that exposes the countless ways the U.S. health care system is anything but caring when it comes to the health of pregnant Black women, and their babies.
Following Omari Maynard and Bruce McIntyre, Lee and Eisett watch as they grieve for the loss of their partners Shamony Gibson and Amber Rose – who like thousands of other Black women like them – didn't have to and shouldn't have died, but they did because the system and the people who are supposed to care for patients, dismiss the pain and concerns of Black women daily. Medical negligence and systemic racism are prevalent in the American medical system, to the point they are a feature as revealed that 80% of the maternal deaths in America are Black women.
Dual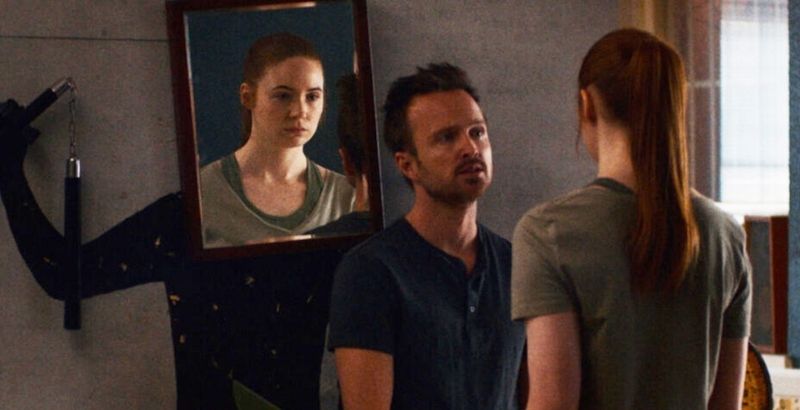 Life is weird and off-kilter in the world of Dual by Riley Stearns. What we do in the time we have left, and what options would we take if we had the chance to replace ourselves are some questions he asks, but for whom is who I'd what I'd ask, too.
Like his previous feature The Art of Self-Defense, Dual is unexpectedly violent but not as much, but it's more existential I'd say. With a performance that would make Brent Spiner proud, Karen Gillian is charming yet curious with a performance as Sara, a woman who believed she was living on borrowed time, makes the spontaneous decision to commission a clone of herself, in the hope this new Sarah, would help her family with their grief over her future passing. But, life rarely goes as we expect it to, and as such, the Sarahs are left with decisions to make.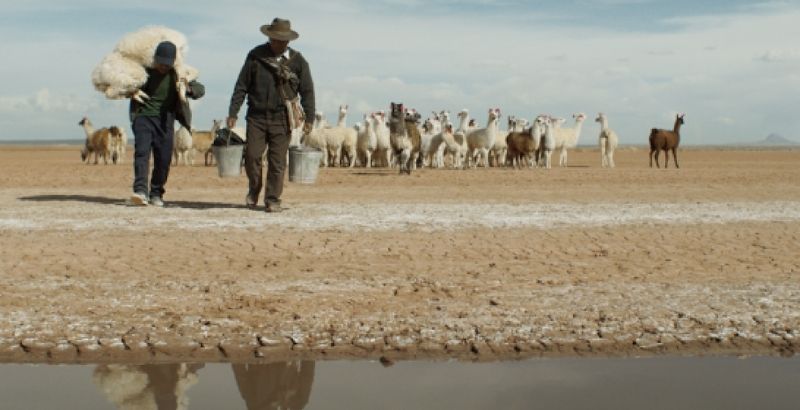 In Alejandro Loyaza Grisi's first feature film Utama, the desperation for the rain to arrive in the Bolivian Altiplano is as palpable as each breath Virginio (Jose Calcina) takes. As each breath is precious and finite, so is the water he, his wife Sisa (Luisa Quispe), and their land depends on for survival
Cinematographer Barbara Alvarez captures the beauty and scarcity of the Altiplano as it struggles not to become a desert. As much as this film is about family, it's about climate change. Like Virginio, the earth is struggling for breath.