The gift-giving holidays are just about here, and I wanted to pass along some reading recommendations for all those folks who are hard at work at finding graphic novels for readers who love stories that center girls. From the supernatural and magic to cooking competitions and fitting in at a new school, these graphic novels are appropriate for middle school-aged readers (and older!) and present some of my favorite characters that make me wish that I had all of these books when I was younger. Featuring girls learning how to navigate the world, this is a solid graphic novel gift guide with titles that will be treasured and reread for years to come!
Artie Irvin knows she's different. She's not the sort to keep her head in the clouds. Instead, she's the sort to photograph the world and develop the film that captures her life's views. She tries to blend into the background and stay out of the thick of things but fails; she sticks out like a sore thumb to the worst people in all the wrong ways. She's almost like a Black girl out of time, and she can't figure out why. This kid is always in the wrong place, and she hates it. All she's got in this world is her widowed mother.
One fateful night she spots a massive wolf―then watches it throw on a bathrobe and transform into her mom! Mom is a werewolf which means so is Artie. Mom has been waiting for the "right time" to share their family's lineage, calling for a road trip back home, a place where her mother never thought she'd return. Artie is beyond thrilled, which means there's good and bad to come. She gets to figure out her own wolf-like abilities with a community, and she also learns about the story of her late father and the big evil behind the significant trauma in her life: vampires!
Artie And The Wolf Moon is a beautiful, coming-of-age tale that we don't often see and really should see more of. If you love your stories about queer Black girls learning about the world with a heavy dose of family and growing up along with a supernatural twist—this one is for you and perfect for this graphic novel gift guide.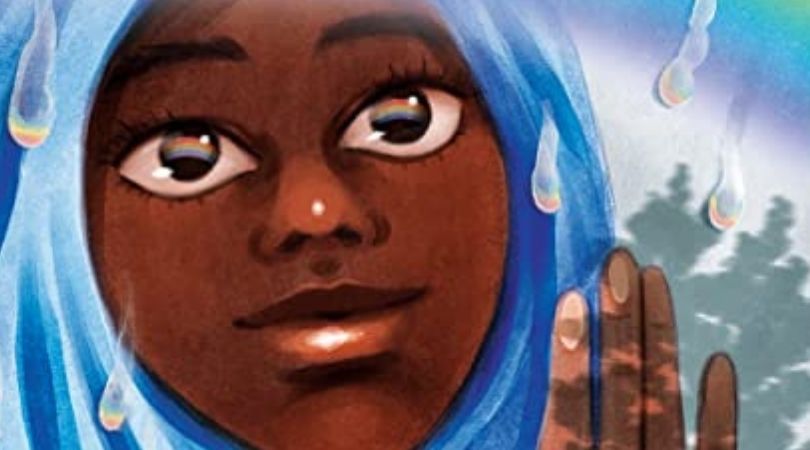 This extraordinary coming-of-age tale about a teenage girl learning to overcome the trauma in her life along with the inter-generational trauma that her family carries is an emotional and heartfelt journey that I felt so honored to be able to read. The main character is Nisrin, a 13-year-old Bangladeshi-American girl living in Milwaukie, Oregon, in the year 2002. Eighth grade is wrapping up, and she's all set to end her day on a major high after giving a well-received presentation for World Culture Day at school about Bangladesh while wearing a traditional cultural dress. Yet walking home, she, unfortunately, finds herself the victim of a hate crime when a man violently attacks her for wearing a headscarf.
As a graphic novel fan, I can still say that it is not often that I open one up that centers on a darker-skinned Bangladeshi–American girl in the early 2000s which is just one of the reasons why Piece by Piece is on this gift guide. In actuality, I can't point out too many comics and graphic novels for children that center on young protagonists experiencing the world as a Brown-skinned person in America post-September 11, 2001. Nor can I list children's media that details the struggles and triumphs of wearers of not just ornas but hijabs as well. Piece by Piece: The Story of Nisrin's Hijab is a layered story of Nisrin going from being a victim of a hate crime to not just recovering in a world that she finds to be harsh but stumbling to recover, heal, and find her voice and agency.
Measuring Up
Measuring Up is a gem of a graphic novel that features one little girl's love for her grandma. This novel stole the show for me. The person twelve-year-old Cici loves the most in this world is her A-má, her grandmother. She loves going to the market with her, telling her all about her problems and cooking with her. So it is with a heavy heart that she has to leave her behind in Taiwan when her parents move her to Seattle, Washington. America is a new place for Cici to make new friends, but there are uncomfortable experiences too, like how her usual meals from home—Taiwanese food—is ammunition for some kids to tease her. Back home, she always had someone to cook with, her A-má, but here her parents are always too busy with their new jobs. So Cici's struggling in her quest not to stand out too much and figure out what being an American girl is expected to do, say, and eat.
And she misses her A-má the most and plans to raise money for a plane ticket somehow to bring her to the States so she can celebrate her 70th birthday, a major milestone. Stumbling upon a cooking competition for children in the neighborhood is the perfect way to get more cooking experience AND win the money to get her precious grandma there. Along the way, Cici questions everything from standing up for herself, the wonderful traditions she has been brought up loving and eating, and finding her place not just in the kitchen but the world. This is a wholesome tale about a little girl who wants to prove to her new friends, parents, and everyone else that she has a voice and her heart's desires are valid. Read this graphic novel if you love reading about the complicated relationship that families have with food and learning what it means to be a good friend, especially to yourself.
Tidesong
Wendy Xu's Tidesong is a heartwarming experience of a graphic novel that gives us a tale about family, magic, responsibility, and making your own way. Sophie is a young witch whose mother and grandmother pressure her to attend the Royal Magic Academy. This takes her away from home to her great Aunt and cousin's house to prep for the entrance exam. Sophie is young, eager but untrained, and constantly stumbling to cover the basics. When a spell performed on her own goes wrong, it brings terrible repercussions: she accidentally entangles herself with the magic of a young water dragon named Lir. This book boasts beautiful artwork with big Studio Ghibli vibes and a narrative about coming clean about your mistakes, the pains of growing up, and finding people to believe in you while you find the power to do so for yourself.
All the characters build up this amazing graphic novel, from Cousin Sage and Great Aunt Lan, who are family Sophie has never met before, to The Dragon folk of the sea like Lir, the dragon prince stuck and unable to go home and the royal court clerk Jai who acts as a messenger between land and sea. Tide Song ultimately reminds us that children can serve as the vessels of change between those who have differences far and wide. Family legacies can be messy but can be worked on to be better with newer generations. And that self-acceptance takes time; one can work at it day by day.
Twins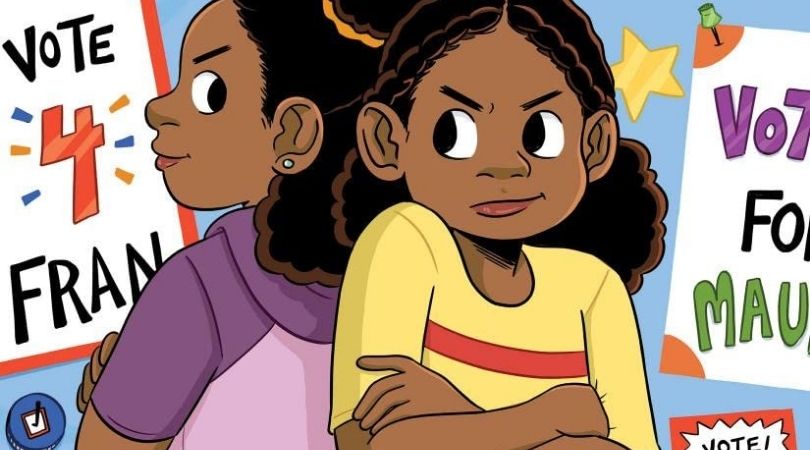 Sisters Maureen and Francine Carter are twins and best friends. They have done everything together: school projects, clubs, and have the same circle of friends. However, when the two start middle school, Maureen notices that her best friend is changing! Her sister starts branching off to do her own thing: new friends, different clubs, and even dressing differently. Worst of all, they only have two classes together! Francine is shocked and isn't taking all of these changes well as she struggles to keep up with her new life in middle school: enrolling in Cadet Corps, finding a table to sit at in the ever-busy lunchroom, and crushing on someone. The cast of background characters like the twins' parents and older brother and the kids of school make for wonderful actors in this drama-filled yet heartfelt story of two sisters learning that they always have each other even with the growing pains that come with growing up.
Equal parts about sisterhood, identity, and growing up, Twins is a show-stopper that is super relatable and incredibly layered in a narrative of two Black twin sisters that I haven't seen often enough in graphic novel territory. Both Francine and Maureen have strengths and flaws, and readers will be sure to find both girls worthy of following on the pages as they struggle and triumph over insecurities and winning moments. I especially love the connections of the support systems for the girls: loving parents that remind me of my own and different sets of friends, new and old, that add to the hilarious mix making the school life sections of the story funny and fun to read through. There are some emotional highs and lows to help illustrate that family and friendship are messy, complicated even, but worth it all in the end and that everyone has to have the courage to make their own way in the world.
---
Stories about girls will always matter, and this latest bunch of graphic novels featuring them proves that point brilliantly. Suppose you're looking for appropriate reading material for middle school-aged readers. In that case, this graphic novel gift guide will be sure to point you in the right direction with recommendations that will win you some brownie points and a place on the bookshelves. More and more comics and graphic novels are available digitally, so there is more than one way to gift since supply chain problems are hitting everyone, including book lovers and bookstores.
All titles can be found wherever books are sold.