Reading Time:
4
minutes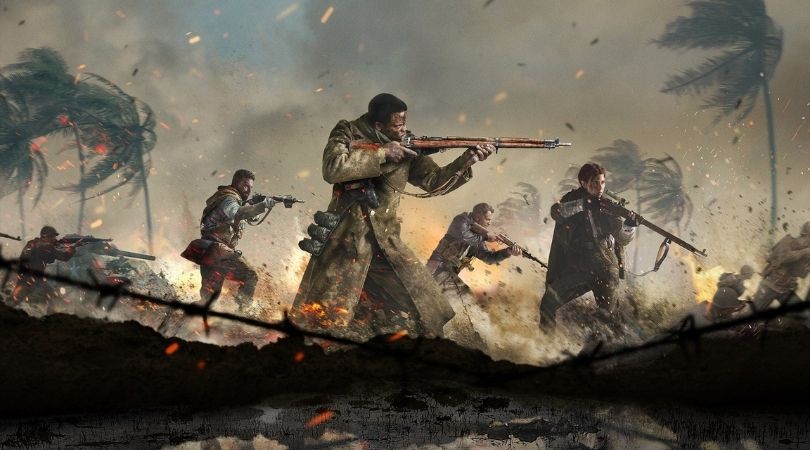 Call of Duty: Vanguard follows a team of special forces brought together to face an emerging threat at the end of WWII. The campaign itself is short but features a surprising character-driven campaign told through flashbacks that hits some great notes. Call of Duty: Vanguard is a first-person shooter developed by Sledgehammer Games and published by Activision.
Vanguard opens with a team of soldiers hijacking a train to Hamburg, Germany. Their mission is to obtain information on Project Phoenix, a secret Nazi program. However, after infiltrating a submarine, the titular squad is captured by the very man running Phoenix—Freisinger. Vanguard is shipped to Nazi headquarters in Berlin to be interrogated. But while the team is figuring a way out of their jail cell, Arthur Kingsley, the leader of the bunch, recalls the events that led each of Vanguard's members to his doorstep and why he handpicked each one.
Most of Vanguard's playtime is spent in the past, playing through flashbacks featuring each member of the titular team. Where were they before Vanguard and why were they picked? What makes them so special? It's a great story element that makes Vanguard's tale feel a bit more personal. Past Call of Duty campaigns have had trouble with making their characters matter. Players are thrown onto teams and told a story that may be grand and may provide some fun gameplay, but rarely enamor you to the characters outside some snarky, quirky dialogue. Here, we see each character in their element, getting to know their personality and motivations.
And while the flashbacks provide great storytelling, some sections are far better than others. The absolute stand-out here is Polina Petrova's story. Born and raised in Stalingrad, Polina is not a soldier by choice. After the Axis invasion tore her home apart, she used her sharpshooting skills learned from her father to fight back. Players are with Polina from the start and experience how the Nazis take everything from her. Her story is one of vengeance and retribution and it stands strongly on both its pathos and unique gameplay.
With each character comes different skills, and the story leans heavily on these differences between characters. In Polina's case, players can take advantage of her movement skill, scaling walls and ferreting away in crawl spaces to pop out behind enemies and take them down. There are also some wonderful moments that force players to use Polina's sniper, like an open expanse of snow and ruins riddled with snipers.
Potentially because this part is so well done, the other character stories pale in comparison. She's the only one we really see change or whose background we understand. The rest, in comparison, show a fragment of character growth. Nevertheless, the flashbacks and missions do shove their personalities front and center. And we see their special talents leaned into, like players able to command forces as Arthur is thrust into leadership.
From a story-telling perspective, the game is actually quite good. But its main fallthrough is how short it is. At only 5 hours, the game is mostly made up of flashbacks about how this ragtag team came to be. And while it's an interesting and fun story-telling device, with Arthur acting as a narrator here and there, the length means that we don't see as much variety in missions as there are in other games.
But beyond the story, Vanguard does provide fun gameplay. Even with how short the game is, there is plenty of diversity in the setting because the developers have strategically used the various theatres of WWII as the backdrop. From aerial dogfights of the Battle of Midway to the tropical forests of Bougainville to the tank warfare in the deserts of Egypt, you won't get bored.
Vanguard builds upon its predecessor as well, featuring similar mechanics to Call of Duty: Modern Warfare, like mounting wielded weapons onto flat surfaces and executing takedowns. But adds a few elements like climbing walls, having highly destructible objects in the environment that can easily make cover non-existent, and being able to move mounted weapons laterally. Even with these changes, the biggest difference is how the game deals with player movement. Rarely does the game ask you to stop and defend an area. The focus instead is on charging forward, moving up, and pushing ahead. It's fast-paced and rewards action over sitting back and hiding behind cover. It's a nice change that really keeps you moving through the environment.
But the absolute highlight of the game is just how beautiful the graphics are. From the very first mission on a train, with the jostling train cars, the rain bouncing off surfaces, and the rhythmic flashing as lights speed by, it's pretty impressive. Add in the adaptive triggers of the PS5, and it's easy to get immersed in this experience. Vanguard also doesn't shy away from the violence, which is not much of a surprise for the series. But the brutality will absolutely make you cringe and grit your teeth but it also makes it easy to hate the enemy (not that it's not hard to hate Nazis already).
Call of Duty: Vanguard brings a surprisingly engaging campaign and some amazing graphics. While some character flashbacks are better than others, and the length is a bit disappointing, the campaign is nevertheless a fun jot through the theatres of WWII.
Call of Duty: Vanguard is available now on PS5/4, Xbox Series X|S, Xbox One, and PC.
Call of Duty: Vanguard
TL;DR
Call of Duty: Vanguard brings a surprisingly engaging campaign and some amazing graphics. While some character flashbacks are better than others, and the length is a bit disappointing, the campaign is nevertheless a fun jot through the theatres of WWII.