Another week, another New Comic Book Day. I'm compiling a list of Marvel comics that were published on June 30th that stood out to me, whether it was the story they've been telling or if they featured a character I like. Today's list continues Shang-Chi's battle against the Marvel Universe, kicks off a new story arc for Star Wars: The High Republic, and features the Black Cat being roped into one of the most dangerous missions of her life. So without further ado, here are the Marvel comics: June 30th releases you should add to your pull list!
Creative Team: Christopher Cantwell, Josh Trujillo, Dale Eaglesham, Jan Bazaldua, Matt Milla, VC's Travis Lanham
The shield has been stolen! No one understands the value of the shield like those who've wielded it, so Steve Rogers and Sam Wilson set out on a road trip across America to chase down the thief. But instead, they find the Captains, everyday people from all walks of life who've taken up the mantle of Captain America to defend their communities. And for some reason, the shield thief wants them all dead. Can Sam and Steve get to them first? Christopher Cantwell and Dale Eaglesham lead a can't-miss miniseries to celebrate Captain America's 80th Anniversary, joined by a rotating series of creative teams to tell the stories of each new Captain—starting with Aaron Fischer, the Captain America of the railways, brought to life by Josh Trujillo and Jan Bazaldua!
Captain America's 80th anniversary is this year, and this new miniseries looks to examine why he continues to endure. The story wastes no time sending Steve Rogers and his partner/former Captain America Sam Wilson on a road trip after a mysterious superhuman steals Rogers' shield. The United States of Captain America also introduces a group of people inspired by Captain America's actions, starting with teenage runaway Aaron Fischer. I was blown away by how great the story was, and I hope the following issues continue this momentum.
The United States of Captain America #1 can be found on ComiXology and wherever comics are sold.
Black Cat Annual #1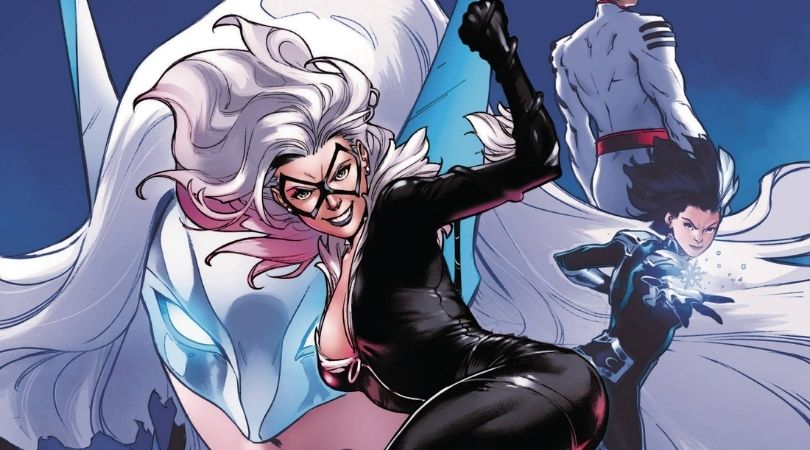 Creative Team: Jed MacKay, Joey Vasquez, Brian Reber, Juan Ferrerya
INFINITE DESTINIES" CONTINUES! Felicia Hardy's vacation is interrupted when a layover in South Korea turns into an insane caper. This caper is a deadly journey across Seoul, where she comes face to face with Taegukgi, White Fox and Tiger Division (from TASKMASTER #3)! And what does this have to do with the Infinity Stones? Find out this June! ALSO IN THIS ISSUE: Part 3 (of 8) of "Infinite Fury"!
Jed MacKay has delivered one of Marvel's most entertaining titles with Black Cat, as Felicia Hardy has continued to pull off impossible heists across the Marvel Universe. Yet when she tries to go on vacation, she is roped into a mission by White Fox and Tiger Division (from the MacKay-penned Taskmaster comic). Not only did I enjoy the Suicide Squad-esque mission (Felicia is even injected with a bomb in her neck to ensure compliance), Joey Vasquez's art is absolutely stellar. And Tiger Division is one of the most unique superteams I've seen in a hot minute.
Black Cat Annual #1 can be found on ComiXology and wherever comics are sold.
Creative Team: Gene Luen Yang, Dike Ruan, Triona Farrell, VC's Travis Lanham
SHANG-CHI VS. CAPTAIN AMERICA! There's a Cosmic Cube for sale, and everyone from Hydra to AIM to the Hand is ready to pay up for it. But Shang-Chi and his Five Weapons Society might outbid them! Unless a certain Star-Spangled Avenger has anything to say about it…Uh-oh…
Ahead of his big-screen debut later this year, Shang-Chi surges back into prominence thanks to Gene Luen Yang and Dike Ruan. The writer/artist team revamped the Master of Kung Fu's origin with a Shang-Chi miniseries last year. Now, in "Shang-Chi VS. The Marvel Universe," they explore Shang's new role as Supreme Commander of the Five Weapons Society, which pits him against his fellow heroes. This issue serves as a delightful spy romp that pits Shang against Captain America and various criminal forces for control of a Cosmic Cube. It's just as chaotic and glorious as you'd think it is.
Shang-Chi #2 can be found on ComiXology and wherever comics are sold.
Star Wars: The High Republic #6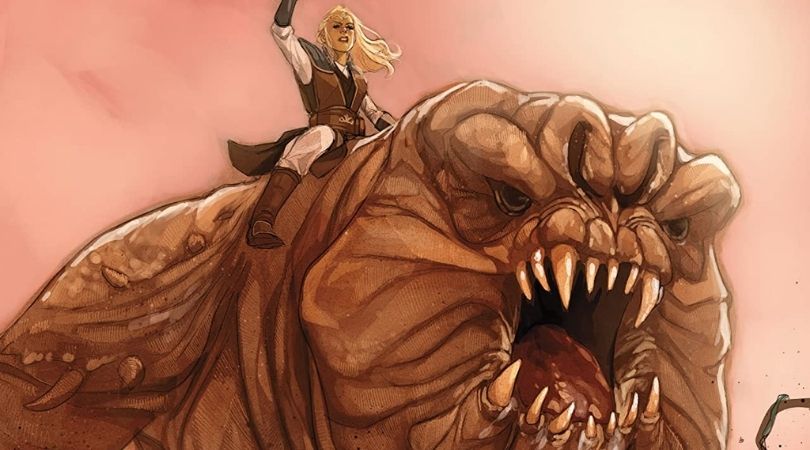 Creative Team: Cavan Scott, Georges Jeanty, Karl Story, Annalisa Leoni, VC's Joe Caramagna
THE GALAXY UNITES AGAINST THE DRENGIR. A frontier in crisis. The Jedi of Starlight Beacon have joined forces with a feared enemy to face the terror of the unstoppable Drengir Horde. While Avar Kriss and her new allies fight nightmarish creatures on the lava world of Daivak, can Keeve Trennis save her former master from complete absorption? And, who or what is the Great Progenitor?
From the minute I saw the cover of Star Wars: The High Republic #6, I thought, "this is gonna be a good one." Surprisingly, I was right! A Jedi Knight battling foes while riding a Rancor is a supremely awesome image, and the interior definitely matches the cover. "Heart of the Drengir" pits the Jedi Order against the malevolent Drengir, with Avar Kriss in the lead. Yet the creative team takes a surprisingly emotional turn at times, with Padawan Keeve Trennis struggling to save the life of her master Sskeer. This is the perfect jumping-on point for new readers and may even convince them to check out the first story arc.
Star Wars: The High Republic #6 can be found on ComiXology and wherever comics are sold.
Daredevil #31
Creative Team: Chip Zdarsky, Mike Hawthorne, Adriano Di Benedetto, Marcio Menyz, VC's Clayton Cowles
THE DAREDEVIL ISSUE YOU CANNOT MISS! Chip Zdarsky, Marco Checchetto and all their collaborators have redefined the life of the Man Without Fear. IN THIS ISSUE, they do it all over again and, what's more, they go a step further and UP THE ANTE! WILSON FISK's gambit from the past few months risks upending his life and tenure as mayor! Meanwhile, MATT MURDOCK has to fend off a prison full of inmates who all want DAREDEVIL dead…and the inmates aren't the only ones! This, as Elektra fends for herself as a DAREDEVIL all her own, fighting to protect Hell's Kitchen…and leaving herself vulnerable in the process!
Daredevil is one of my favorite characters. Chip Zdarsky is one of my favorite writers. Combining the two has led to stellar results. Still, Zdarsky and new series artists Mike Hawthorne, Adriano Di Benedetto, and Marcio Menyz take things up a notch at the beginning of the new arc "Lockdown." Fending for his life in prison, Matt Murdock decides to go on the offensive. Meanwhile, Elektra—struggling to live up to the mantle of Daredevil—must deal with the appearance of one of his deadliest enemies. Martial arts action, struggles with vigilantism, and a theme of faith running throughout makes this a great Daredevil story.
Daredevil #31 can be found on ComiXology and wherever comics are sold.
Beta Ray Bill #4
Creative Team: Daniel Warren Johnson, Mike Spicer, VC's Joe Sabino
The penultimate chapter of Daniel Warren Johnson's righteous Horse-Thor epic! When Beta Ray Bill's quest brings him and his friends – Skurge the Executioner and Pip the Troll – to the fiery realm of Muspelheim, they are quickly attacked by horrible monsters and dark beings! To save his friends, Bill must journey through a maze of his own memories!
Beta Ray Bill is one of my favorite characters in the Marvel Universe, and Daniel Warren Johnson has been doing an amazing job with his journey to find a new weapon. This issue serves as Bill's journey to discovering that he's truly worthy no matter what weapon he wields, with Johnson recreating Bill and Thor's first fight and the tragic destruction of Bill's homeworld Korbin. He also gives Bill and his spaceship Skuttlebutt a heartfelt moment together and teases a battle with a classic foe for the final issue, which I definitely don't want to miss.
Beta Ray Bill #4 can be found on ComiXology and wherever comics are sold.
---
In these Marvel comics: June 30th, new story arcs and series began, and one series is nearing its end, which is rather fitting given that we are entering the month of July this week. Next week promises to bring even more beginnings, and I'm looking forward to what the House of Ideas brings us.
Synopses for the comics featured in the titles in this Marvel Comics to Read June 30th list were taken directly from ComiXology.