You Are My Spring is one of Netflix's weekly Korean Dramas (K-Dramas) that yet again showcases how strong the platform has become when it comes to content from South Korea. With new episodes airing every Sunday, this series revolves around a murder and the mystery behind it — though you would never know from the bright and happy promotional material around it.
In the series, Kang Da-Jeong (Seo Hyun-Jin) stayed at an inn in Gangneung for a short time as a child. But after a rough family life, she grew to consider that inn as a home of her heart. Now, she works as a hotel concierge manager looking to finally plant roots in Seoul. The day before she's set to move into the Gugu Building, a man is murdered in the vacant building's third floor. Ju Young-Do (Kim Dong-Wook) is a psychiatrist set to move his practice to that same floor. Of course, the two find themselves pulled into the mystery with ties to both of their pasts. But that's not all; Chae Jun (Yoon Park), the CEO of an investment company, enters the picture suddenly, set on making Da-Jeong his.
Now, You Are My Spring may seem like your typical love triangle, but trust me, the series goes far beyond expectations, subverting all of them in the process. With four episodes out now on Netflix, it's a great time to jump in and add the series to your weekly rotation.
Balance of Light and Dark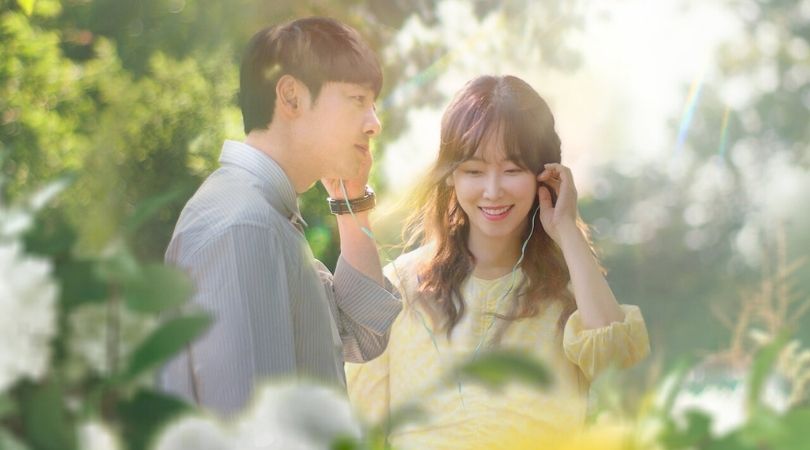 Tonally, You Are My Spring is a surprise. From promotional photos to the opening sequence, You Are My Spring seems like a typical K-Drama fair. It's light, it's cute, and there is an obvious romantic connection between the male and female lead. But from the start of episode one, it's clear that while there are romantic comedy elements to the series, the story itself is focused on trauma. There is a sharp difference between how you expect the story to go and how it does. On the one hand, all of Netflix's promotion for it makes this seem like another romantic drama with hints of comedy when in truth, this series is more a psychological thriller with hints of a cutesy romantic comedy. This sharp deviation from expectation is what makes You Are My Spring stand out.
While this isn't the only title on the platform that handles trauma and a mystery surrounding a murder — thank you, It's Okay To Not Be Okay — it is the only one that has murder tied up in a rom-com bow. But beyond that, it's how the series explores trauma and how it stays with you years after you experience it that is pushing it forward and has become one of my favorite K-Dramas on the platform. Tackling domestic violence, suicide, and the way we process what happens to us, You Are My Spring is able to tackle the darkness with light.
Performances
Every actor in You Are My Spring can oscillate between light, airy romance and something darker and sadder. There is a somber note that undercuts many of the performances in the series, but for some characters, as shown in the trailer, the somber is replaced with sinister. Truthfully, You Are My Spring allows its actors the ability to be whimsical, to be happy, and to explore grief, fear, and other emotions that always take the stage in a romance.
That said, it also lets actors like Yoon Park step into a role that winds up being so drastic that it's as if he's playing multiple characters. Of all the performances, it's Yoon Park as Chae Jun who delivers a stunning showcase of his acting ability. As Jun, Yoon Park is able to be equal parts charming and unsettling. From a blank and intimidating look, no blinking, no movement, to a smile that is packed with charisma to make you swoon, he's able to change his entire aura in a second.
Mystery
In just the four episodes available, the story has shifted drastically multiple times while still maintaining a strong narrative. With the focus initially solving one murder in December, a confession throws the mystery of the series for a loop, leading characters to question each other and the truth. To be honest, twists executed so early on in a series tend to throw off the narrative structure of a show. That said, this doesn't happen here. Instead, each twist unlocks more growth for each character and slowly reveals how the events of the past are interwoven into the narrative happening in the present.
While there is still a lot coming in the rest of the season, so far, I'm not confused as to what is happening, but I also have no idea where the story will go beyond what has been shown. You Are My Spring is doing suspense right. It keeps you on your toes without forgetting its characters nor the path it's set up.
---
With so much to watch, getting back into the weekly routine of watching a show can be great, and with Netflix K-Dramas, you can do just that. Whether you're looking for something that's pure romance like Nevertheless or tackling a murder mystery that also explores trauma like You Are My Spring, jumping into a K-Drama is a good choice. And I can assure you; You Are My Spring is a must-watch this month.
You Are My Spring airs new episodes every Sunday exclusively on Netflix in the United States.