DC Comics has had a wildly interesting week with three brand new issue #1's and a variety of ongoing series. Out of the 15, that's right 15, issues to hit the shelves this week, here are the DC Comics to Read June 22nd. The comics I selected this week vary from topic to topic, but all carry an aura of bravado about them. From reptilian superheroes to cosmic multiversal team-ups, and all the way to Harley Quinn trying to take up the mantle of Batman. This week's selections are a lot of fun.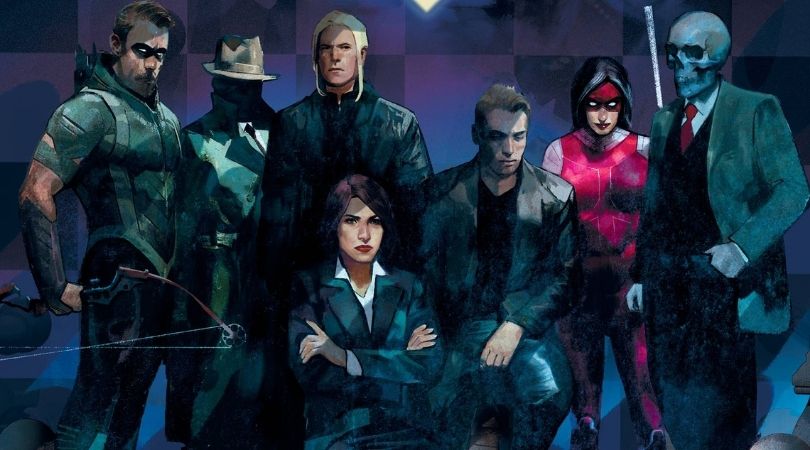 Creative team: Brian Michael Bendis, Alex Maleev, David Stewart, and Josh Reed.
From the award-winning creative team behind last year's Event Leviathan comes the next surprising chapter in DC Comics' deadliest saga. Leviathan has agents and acolytes all over the world-but what is the secret behind its power? The planet's last, best hope to infiltrate Leviathan may be this motley collection of spymasters, now teamed up to try to take back the world that was stolen from under us all! Green Arrow, the Question, Talia al Ghul and other unlikely allies converge to tackle Leviathan as members of the new Checkmate-but who is the surprise hero behind this team? Big clues to the future of the DC Universe start here!
The Leviathan series was brilliant, dark and gritty. With the worlds intelligence agencies all now absorbed into Leviathan, or destroyed, it's up to a few select super sleuths to figure out how best to regain control of the planet. The art is brilliant from Maleev as ever, and Bendis has created an air of distrust amongst his heroes to keep the reader constantly guessing of whether they can overcome Manhunter.
Checkmate #1 can be found on ComiXology, and wherever comics are sold.

Creative team: Garth Ennis, Liam Sharp, and Rob Steen
Publisher: DC Black Label – DC Comics
What strikes fear into the hearts of those who terrorize Gotham? It used to be Batman, but something far more frightening than a mere man stalks the shadows-and it's after Gotham's villains. How savage must a monster be to haunt the dreams of monsters? Pick up this dark and bone-chilling tale by comics legends Garth Ennis and Liam Sharp to find out!
I never thought I'd say this, but I never knew how badly I needed Batman Reptilian in my life. The writing encompasses everything about the darkness that is Batman, aided by his detective skills, and add in the fact he's part terrifying and intimidating reptile, oh yes. The visuals capture a water paint style where images bleed into one another invoking a very seedy image of Gotham and the dark deeds afoot with the criminal underworld. It's easy to see why this comic made the DC Comics to Read June 22nd list.
Batman Reptilian #1 can be found on ComiXology, and wherever comics are sold.

Creative team: Josh Williamson, Xermanico, Romula Fajardo Jr, and Tom Napolitano.
When our heroes saved the Multiverse from Perpetua in Dark Nights: Death Metal, everything was put back where it belonged…and we do mean everything. All the damage from all the Crises was undone, and heroes long thought gone returned from whatever exile they had been in. Most of them, at least. Alan Scott, the Green Lantern from the Justice Society of America, has noticed some of his allies are still missing in action, and he's determined to find them. There are others, though, who would rather remain hidden than explain themselves, like Roy Harper, a.k.a. Arsenal, a man who should be dead but now is not. Plus, what does all this mean for the DCU's place in the Multiverse? On opposite sides of a dimensional divide, both Barry Allen and President Superman ponder this question. Not to mention the Darkseid of it all! Or a team of Multiversal heroes called Justice Incarnate!
Wow. This first issue expertly weaves in some fantastic exposition to catch new readers up with what's previously happening, while also laying down several storylines that gives this comic real gravitas. The visuals and the coloring are catchy, and clean, and will have you wanting to read more as soon as possible. There's no question this had to be included on the DC Comics to Read June 22nd list.
Infinite Frontier #1 can be found on ComiXology, and wherever comics are sold.
Detective Comics #1038

Creative team: "The Neighborhood" part 5 Mariko Tamaki, Viktor Bogdanovic, Daniel Henriques, Jordie Bellaire, Aditya Bidikar.
Creative team: "March of the Penguin" Meghan Fitzman, Karl Mostert, Jordie Bellaire, and Rob Leigh.
An epic battle is taking place in Gotham City…below the city streets?! Batman and MR. WORTH are locked in a deadly duel involving a rocket launcher, a micro-cave subterranean system, and a whole lot of bloody knuckles. Can Huntress save Lady Clayface before the entire city collapses from underneath itself? Plus: the insidious VILE makes his move, and boy is it UGLY…FEATURING "MARCH OF THE PENGUIN": Gotham's seediest gangster is looking to take advantage of the unrest in the city, and the Penguin is finally ready to make his move!
Batman, Lady Clayface, Huntress, and Mr. Worth? This is an action-packed issue bolstered by some brilliant, art and great colors to boot. Plus there's a bonus story featuring Penguin that ties in to the main plot. An exciting read that will have you thumbing quickly through the pages.
Detective Comics #1038 can be found on ComiXology, and wherever comics are sold.

Creative team: Stephanie Phillips, Riley Rossmo, Ivan Plascencia, and Andworld Design.
I may be in the sewer, but you better get your mind outta the gutter! That rhymin' zombie known as Solomon Grundy ain't happy that I'm in his domain (but to be fair…it's also Killer Croc's domain too, there's a lotta sewer dwellers in Gotham). Grundy's either going to welcome me with open arms or crush me! And I can't let that happen, 'cause Kevin's at the mercy of Hugo Strange. Hugo's going to do everything in his power to break Kevin and turn him against me, I hope in our brief time together, Kevin's learned a little perseverance!
Harley is back on her sh*t, and doing it the only way she knows how. This chaotic story, layered with some fantastic humor also slams down some great art, and exciting panel work from the enigmatic Rossmo.
Harley Quinn #4 can be found on ComiXology, and wherever comics are sold.

Creative team: Joshua Williamson, Gleb Melnikov, Luis Guerrero, and ALW's Troy Peteri.
It's a beach party from hell! Robin's mission to get to the heart of the League of Lazarus's inner workings has left him once again locked in combat with his fellow fighters, but never did Damian Wayne think it would lead to a beach-blanket cookout. What's more dangerous than a life-or-death struggle for the all-or-nothing prize of immortality? Well, for Damian, it's acting like a normal teenager for five minutes. And don't miss the surprise confrontation with Damian's number 1 competition, a mysterious fighter trained by the League of Shadows!
Damian Wayne is invited to a party on an island full of killers. The bad guys he can handle, the fun, not so much. A surprisingly intriguing story, that sees the mettle of Robin truly tested, and oh, that's some interesting ending by the way. I wasn't expecting to add this on to the DC Comics to Read June 22nd list, but it was a really gripping read.
Robin #3 can be found on ComiXology, and wherever comics are sold.

Creative team: Justice League – Brian Michael Bendis, David Marquez, Ivan Plascencia, and Josh Reed.
Creative team: Justice League Dark – Ram V, Xermanico, Romulo Fajardo Jr., and Rob Leigh.
The Trial of Naomi commences! After the shocking events of the last few issues of Justice League, the team is forced to confront its larger issues as a group and the responsibilities the League has to the world where they live versus the Multiverse at large. Guest stars galore as Justice League members from the past come to give guidance for the future. Naomi's fate is revealed. Black Adam joining the Justice League becomes public, and the fallout is surprising. And what cosmic secret is Hawkgirl carrying with her? Meanwhile, the Justice League Dark must rely on the wit of John Constantine to make their way back to the real world, which is slowly losing its grip with Merlin ready to remake it in his image. Little do they know, a knight from the sorcerer's past is the key to stopping him once and for all. Will she survive long enough to help our heroes?
The Justice League have been pushed and pulled, and now they need a minute to sit down and recap what the hell just happened. Naomi has some explaining to do, and a surprise invitation is sent out. Not to mention things get super weird with the Justice League Dark, and I love a good trippy plot laced with some exciting art.
Justice League #63 can be found on ComiXology, and wherever comics are sold.
---
Having read all of the DC titles this week, it was a difficult choice to slim it down to just a select few. The first issues really grabbed my attention and were exciting and ambitious, while some of the other titles, are just producing some solid work. Pick up all these comics, and more on ComiXology.
Synopsis for the comics featured in the titles in this DC Comics to Read June 22nd list were taken directly from ComiXology.