The road of being a JoJo's Bizarre Adventure (JJBA) fan has been a long but rewarding path. At the start of my fandom journey about four years ago, owning a piece of JoJo merch was nothing but a hopeful dream. JJBA was some weird anime that people either loved or hated and was being adapted from the manga originally written in the '80s. The only time I would ever be able to find any sort of merch was when I found copies of the hardcover manga volumes at the bookstore.
However, JJBA has become a worldwide phenomenon and has seeped into pop culture. Merchandise has become accessible. Given that JoJo is known for its stylistic flair and flamboyant attire, I wanted to share some of the absolute, ultimate, JJBA must-haves from Hot Topic. Presented in this list are clothes I personally own or I plan on purchasing soon!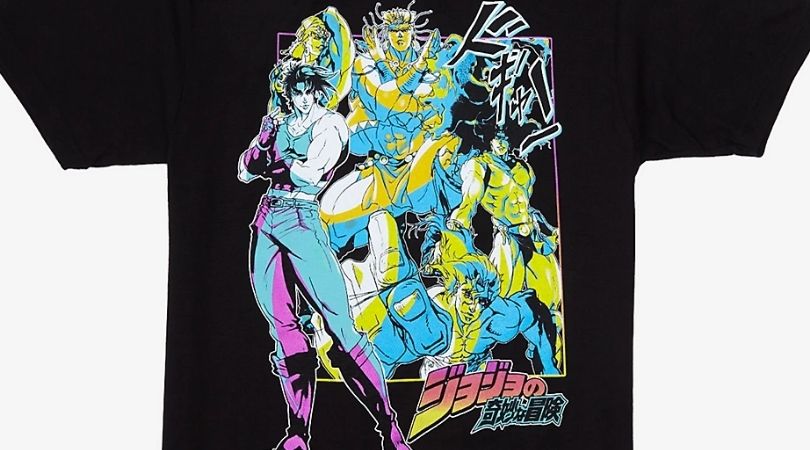 Time for more bizarre adventures with your wardrobe! This black tee from Jojo's Bizarre Adventure: The Animation is printed with Joseph Joestar in the front, with the Pillar Men (ACDC, Wamuu, Kars, and Santana) behind.
This tee has Dio's back… literally! From JoJo's Bizarre Adventure: Stardust Crusaders, this black tee is printed with Dio and his battle catchphrase "Muda muda muda muda" repeated in white Japanese text in the background.
Get ready for your next bizarre adventure in this long-sleeved purple tee from JoJo's Bizarre Adventure: Diamond Is Unbreakable. It features yellow symbols down the left sleeve with the title on the front and characters on the back in a stylized pink print.
Ready for bizarre adventures with Josuke? These crew socks have purple trim, his iconic symbols (peace sign, heart, and anchor) in pink, and his name printed on the side of the sole.
Need more Josuke in your life? We've got you covered. This black cropped tee with a raw hem is from Jojo's Bizarre Adventure: The Animation is printed with a posing Josuke on the front over a diamond background and the back features "Josuke Higashikata" in pink and yellow text.
Channel your inner Jean Pierre Polnareff! These iconic earrings from JoJo's Bizarre Adventure: Golden Wind are just like the red broken heart ones he wears. Perfect for your next cosplay look!
"I, Giorno Giovanna, have a dream!" Take some inspo from the fashionable Giorno Giovanna. From JoJo's Bizarre Adventure: Golden Wind, these earrings are inspired by the blue ladybugs from Giorno's suit. Includes ladybug studs and dangling drop earrings with a heart and ladybug.
This black tee from JoJo's Bizarre Adventure features a stylized print of Dio Brando above his line "I cast aside my humanness, JoJo!" printed in yellow.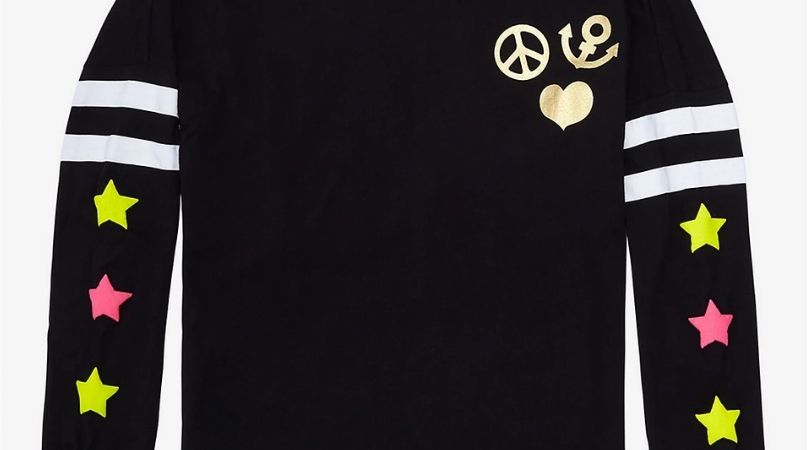 Want to rep your favorite multigenerational anime? This athletic jersey from JoJo's Bizarre Adventure: Golden Wind is printed with the Golden Wind season logo in puff ink on the back. Featuring a foil print of Jotaro's hat logo on the left chest, with appliqued white stripes on both sleeves, pink and yellow stars on the right sleeve, and symbols from the show on the left.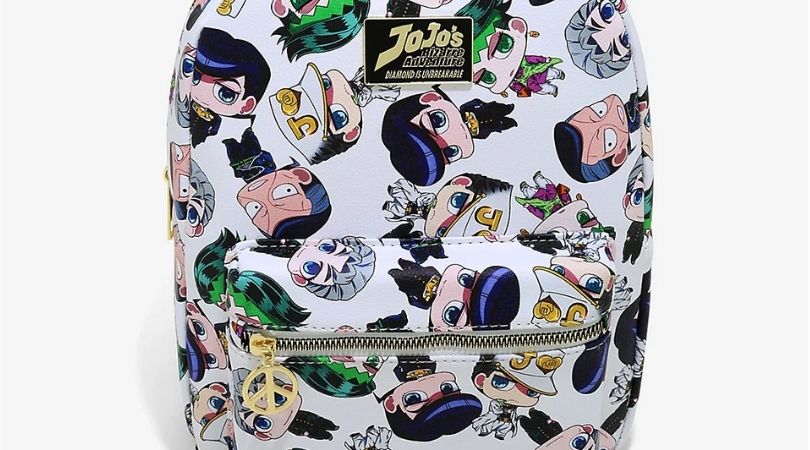 Be ready for any type of adventure with this mini backpack from JoJo's Bizarre Adventure: Diamond Is Unbreakable. Printed all over with chibi versions of your favorite characters. Featuring a front zipper pocket, zipper closure, top carrying handle, and adjustable straps.
---
I cannot wait to rep all of the amazing JoJo merch from Golden Wind to Phantom Blood. Hot Topic has been an amazing place to get anime merch and has made my heart so happy in the past few years. JoJo is so important to me and I am glad that we, as fans, can collectively begin to enjoy the perfect merch to either wear or accessorize in true JoJo's Bizarre Adventure fashion!