Reading Time:
4
minutes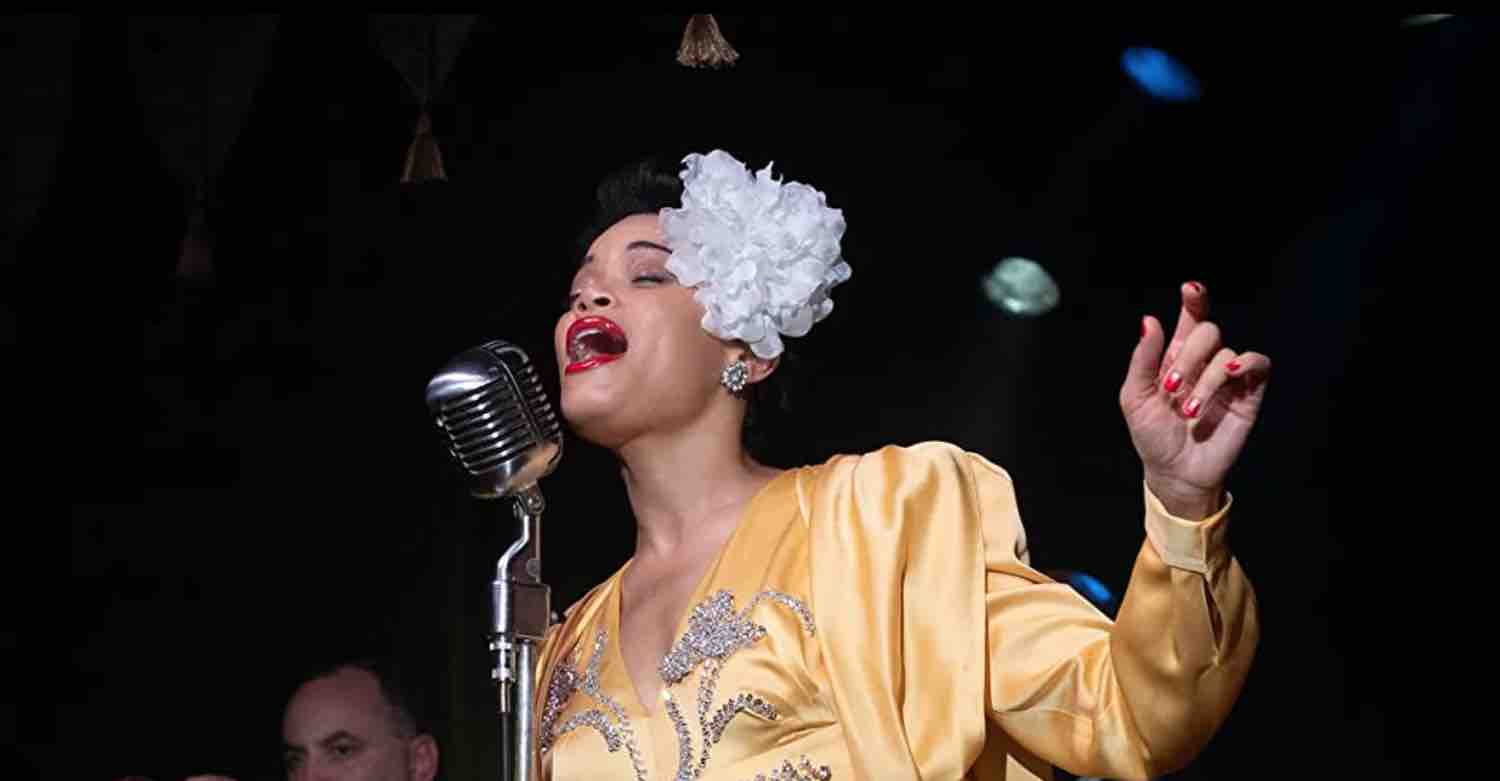 Lee Daniels's latest effort, The United States vs. Billie Holiday, brings to light the legendary singer's lesser-known battles with the FBI and her powerful Strange Fruit record that shook the nation. Raw and disarmingly sweet, The United States vs. Billie Holiday reminds us of Black excellence and the opposing powers that dare suppress it.
1972's Lady Sings the Blues is a film that left a strong impression on Lee Daniels, which inspired him to take up filmmaking altogether. As a 13-year-old boy living in Philadelphia, watching Lady Sings the Blues for the first time was a formative experience for the Precious director. He fondly recalls seeing "Two Black people in love, Diana Ross and Billy Dee Williams. They were beautiful, stunning. That fashion was fabulous. It was everything that I grew up about as an inner-city kid in Philly, except it was in Harlem, and it just reeked of my life. I had never seen anything like it ever." Coincidentally, he would also make a film about Billie Holiday, although this time around, he tackles it in a raw and unfiltered lens, something the romanticized and shallow 1972 biopic lacked. 
What sets The United States vs. Billie Holiday apart from other Billie Holiday films is how it focuses on Strange Fruit and what the song truly meant to her. Sure, we get the extensive drug use and her assortment of abusive suitors. Still, the real, lasting element of this film is how it exemplifies how much of a civil rights fighter Billie was long before the civil rights movement took off. She fought with Strange Fruit, a song protesting lynching, and she sang it with lavish garments and glittering pearls, but the country wasn't ready for it.
Singer/Songwriter Andra Day, in her first significant acting role, plays Billie Holiday and delivers an astounding and transformative performance. There were times I had to question whether or not they were using actual Billie Holiday vocals during her singing scenes, only to be blown away by Andra Day's hauntingly uncanny depiction of Lady Day herself. Andra Day truly becomes Billie Holiday for just over two hours, and she is spectacular to behold. Her mannerisms, raspy inflections, and even the way she stands in front of the microphone in front of a packed Carnegie Hall is only a credit to Andra Day's authentic and studious portrayal. Moonlight star Trevante Rhodes joins her as a mysterious and softspoken onlooker who later turns out to be an FBI plant tasked with taking down Billie Holiday. Their relationship gets off to a rocky start but then again, has she ever known a non-tumultuous relationship?
Lee Daniels dives deep into what made Billie Holiday tick but ultimately falls short in trying to tackle numerous events and flashbacks in a non-intrusive cohesive manner. At times, the film feels like a jumbled mess of memories strung together by strong performances and an eye-catching wardrobe. Take, for instance, a scene in which Billie Holiday unknowingly runs into a brutal lynching that had just taken place. She is visibly distraught and paralyzed; she stumbles away from the horrific scene. Lee Daniels frames this exquisitely in a continuous shot tracking her as she weaves in and out of different stages in her life. It is a gorgeous scene and a standout scene, but you're left disoriented about what time we're in.
 The movie begins with Billie Holiday retelling details of her life to an interviewer on a recording device. Through this, we hop in and out of different parts of her life, but it never truly feels like a focused narrative. More than half the time, I forgot she was still doing the interview. This kind of narrative disconnect does more to distract than keeping you engaged. Some of the film's best moments are when Billie hangs out with her band and entourage after her performances. Tyler James Williams as Billie's confidant and tremendous tenor saxist, Da'Vine Joy Randolph as ride-or-die supporter Rosyln and Miss Lawrence as the carefree and flirty Miss Freddy all contribute to this melting pot of warmth, humor, and Billie's only sense of real family. I laughed out loud several times when Miss Lawrence would berate Billie on her fashion sense or the lack of pay after a gig. These moments are plentiful, and Lee Daniels smartly scatters them appropriately throughout the film.
When it comes to Billie Holiday's pursuit by the feds and the constant harassment over her singing Strange Fruit, the movie scores high marks in delivering what this kind of injustice must have felt. Billie Holiday cared deeply about the song, and she knew how important it was for the country to hear it. In one stunning scene, Billie, who at this point is hospitalized and still being hounded and attacked by the feds, tells Harry J. Anslinger — the man hunting her down  —  "You think I'm gonna stop singing strange fruit? Your grandkids will be singing strange fruit."
Andra Day kills it in this scene, but it's a shame the rest of the film never reaches this kind of impact.  Billie Holiday's story is a story that can't be half-measured; it can't be half-baked; her story needs to be told in full. Otherwise, why do it? Lee Daniels tries his best, but The United States vs. Billie Holiday still isn't the Billie Holiday portrait we've been waiting for. However, it is a significant launching pad for Andra Day, a magnificent star ready to burst.
The United States vs. Billie Holiday is streaming on Hulu on February 26th.
The United States vs. Billie Holiday
TL;DR
The United States vs. Billie Holiday is messy yet wonderfully acted. Odd narrative choices and jumbled timelines disrupt what is otherwise an excellent platform for Andra Day to showcase not only her incredible singing talent but her impressive acting chops to boot.