Reading Time:
4
minutes
Sherlock Holmes is one of the most well-known literary figures. From BBC and CBS televisions shows, a slew of movies that range from action to comedy, comics, modern books, and even manga or two, Sir Arthur Conan Doyle's character has seen many lives. But with those many lives, has come a feeling of repetition. We know how his stories end, how the Reichenbach falls, and even as a fan, I've been tired of his story.
It's this cultural backdrop that makes the Netflix Original film Enola Holmes all the more fascinating and fun. Directed by Harry Bradbeer and adapted to the screen by Jack Thorne, Enola Holmes is based on the beloved book series by Nancy Springer. This film is a coming of age story and a mystery-adventure that recenters everything we love about Sherlock Holmes on Enola herself.
Set in 1884 England, Enola Holmes (Millie Bobby Brown) wakes on the morning of her 16th birthday to find that her mother (Helena Bonham Carter) has disappeared, leaving behind an odd assortment of gifts but no apparent clue as to where she's gone or why. After a free-spirited childhood, where her mother served as her teacher, trainer, and best friend, Enola suddenly finds herself under the care of her brothers Sherlock (Henry Cavill) and Mycroft (Sam Claflin). But, both are set on sending her away to a finishing school for "proper" young ladies, with Mycroft leading the charge to "break" her free spirit. Refusing to follow their wishes, Enola escapes, embarking on a search for her mother in London.
But like every iteration of the literary Holmes before her, her journey finds her entangled in a mystery surrounding a young runaway Lord Tewksbury (Louis Partridge). Enola becomes a super-sleuth in her own right, outwitting her famous brother as she unravels a conspiracy that threatens to set back the course of history. Enola Holmes does its best to showcase its titular character as a young girl learning what it means to be an adult.
Over the course of the film, Enola exemplifies why people love Doyle's work. She solves puzzles, deduces answers to situations, but more importantly, she is arrogant in a tenacious way that she backs up with knowledge. Arrogant here isn't meant as a slight, Instead, its meant to point out that Enola is entrusted to carry every element of the Sherlockian tropes and identity, instead of being forced into a prim and proper box. But this is balanced by elements of reality. While we get to see exciting action sequences that center Enola, she has to use her intelligence in addition to her fighting skills to defeat her opponents, who are more ruthless and larger than her. Enola isn't just perfect like Sherlock often is, she has to fight to win and she meets that challenge.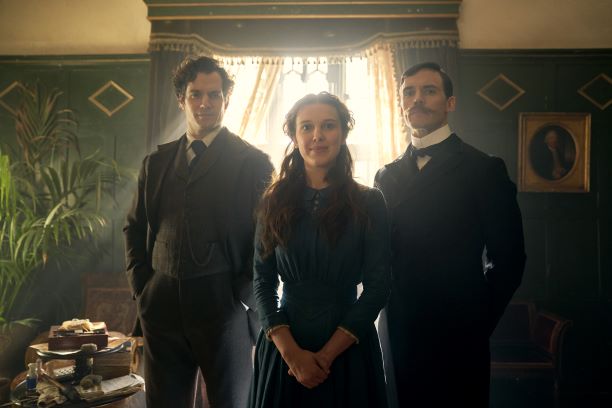 The cast is superb. Cavill as Sherlock showcases a side of the character that we have truly never seen before. While it is slightly unnerving to see Sherlock's kindness and his familial sensibilities, the way Cavill brings it to life is beautiful. In his mentoring of Enola, we see the way logic can be used over emotion without coldness, a trait we're not familiar with from Sherlock. Claflin is awful, as Moriarty and he's supposed to be. He's sexist, cold, and determined to push what he thinks is right all while ignoring Enola. On the other hand, Cavill is an older brother that is caring, considerate, and in awe of his baby sister. This is a balance that works, even when I didn't think it would. Also, while I was skeptical of Cavill looking the part of Sherlock, he nails it in his facial expressions and mannerisms.
But, the best choice that Enola Holmes makes is to not center this story around Enola's connection to her famous brothers but instead around her mother and the group of women she is connected with. This is a Holmes story and it hits every piece of Doyle's Sherlock and its iterations in such a way that it makes itself stand out against them, but also captures its spirits. She is, alone for a lot of the film, and that's what makes Enola fantastic.
Brown's Enola is tenacious and powerful, and in her interactions with both her brothers, she pushes them and refuses to lose herself. The best part of Enola Holmes is that it is a film that belongs to Millie Bobbie Brown's film. She is the center of the story and commands the screen regardless of who she's acting with. Brown is electric as Enola and she's bound to become a cornerstone for children watching at home.
While a lot of the "girl power" commentary is hamfisted, it's not something that I rolled my eyes at like I did in Captain Marvel. Instead, Enola pushes against gender roles and expectations. But, she does it her way, moving those around her to see her worth and her identity. That said, there are hints of a romance that feels forced, and given the male creative team behind the adaptation, the romantic plot points don't flow with the rest of the story — the rest of her story.
In truth, Enola Holmes is adventurous, fun, comedic, and just the right heart-warming young adult adventure for the times. While it may not be perfect, it is beyond enjoyable for me as an adult, and I can see it being even more so for young ones watching. Hopefully, Enola Holmes is just the first in a series of films led by Millie Bobby Brown. With how this story ends, I hope we see more of Enola soon.
Enola Holmes is available exclusively on Netflix September 23, 2020.
Enola Holmes
TL;DR
In truth, Enola Holmes is adventurous, fun, comedic, and just the right heart-warming young adult adventure for the times. Hopefully, Enola Holmes is just the first in a series of films led by Millie Bobby Brown. With how this story ends, I hope we see more of Enola soon.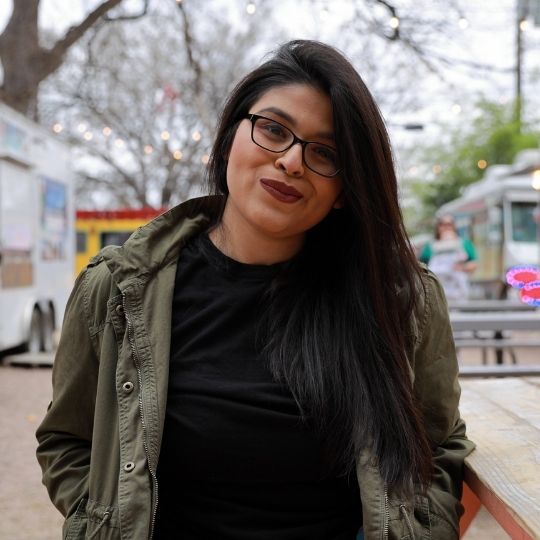 Kate Sánchez is the Founder and Editor-in-Chief of But Why Tho? A Geek Community. There, she coordinates film, television, anime, and manga coverage. Kate is also a freelance journalist writing features on video games, anime, and film. Her focus as a critic is championing animation and international films and television series for inclusion in awards cycles.