Daredevil #22 published by Marvel Comics. Written by Chip Zdarsky and art being taken over by Francesco Mobili. The inker is Victor Olazaba with colours by Mattia Iacono, in addition to Clayton Cowles on letters.
In the last issue, Daredevil was arrested for the murder of a bank robber which occurred in the very first issue of the series. Before turning himself in, he got into an altercation with Spider-Man and revealed his secret identity to the District Attorney.
This issue begins with Daredevil handing himself over to the police. The beginning of the series introduced the concept that superheroes may testify in a court as witnesses without having to reveal their identities. Because of this, the District Attorney ruled that Daredevil would be arrested and tried without unmasking himself to the authorities or to the public. Daredevil is released on bail and goes on patrol, coming into contact and having both a team up and conversation with another fellow superhero. There are also scenes involving Wilson Fisk and Typhoid Mary.
The plot of the last two issues has moved at a steady pace. This side of the series is a courtroom drama, even more so than Daredevil usually is. The ideas presented regarding superhero identities within courts have been considered within other comics before, but Zdarsky puts a spin on it that is interesting. The legal storyline and Murdock's trial are intersected with the Kingpin's ministrations, giving the readers some breathing room. When a particular guest star is introduced, it is a surprising addition. Daredevil and this guest have a past, but they are vastly different in power-level. The comic ends with a character reveal that is entirely unexpected.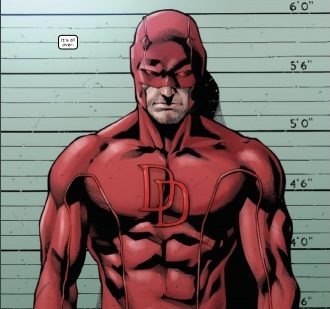 The dialogue in Daredevil #22 is brilliant. Murdock and Foggy are always wonderful to read, as they have this lasting friendship that is clearly visible every time they speak. The chat Murdock has with the other hero is also a great scene, showing how well Zdarsky can write both characters. They both obviously have respect for each other, which is a result of existing in the same world for a very long time, and is something I always appreciate from Marvel team-ups. The writer also uses the scene to include exposition about Daredevil's plans to challenge the Stromwyns, the overarching antagonists of this series. However, this recap doesn't feel clunky or unnatural.
One thing that is not in this comic is the powerful emotions that radiated from the pages of Daredevil #21. Murdock was worn out and exhausted on every level for the entirety of the issue, leading to it feeling like a part of a transition to a new arc. The mood of this issue feels lifted slightly, the exhaustion and heaviness gone. This isn't necessarily a bad thing, because I can see how issue 21's mood could become suffocating after too long.
The art by Mobili is fantastic. His style is similar to Checchetto's, so the change in artist shouldn't be too jarring to the reader. Despite the change in artists, intricate details of the characters remain. For example, the stubble on Daredevil's chin visible through the single window of his mask. The splash page of Daredevil in front of a lineup board is a great first shot of the issue, immediately informing us of where he is. Another technique that the artist utilizes can be seen during a fight scene where Daredevil interrupts an arms deal. As Murdock kicks weapons out of the criminals' hands and throws his billy club, guns and limbs frequently leak outside the panel borders. This is a fascinating dynamic that helps indicate both motion and depth. The inks by Olazaba are effective at defining what is in each panel, preventing any confusion.
Iacono's colours are still terrific. One feature of his work in this series is the sheer variety of reds found on Daredevil's suit. There have been other colorists that will use a singular shade or red. But the use of a variety of shades of red in Daredevil's costume is simply stunning.
Cowle's letters are easy to read and laid out well, which is a very important factor in comics featuring large amounts of dialogue like this one does.
Daredevil #22 is the latest in a line of brilliant issues in Zdarsky's run. The use of guest stars in the series is a fantastic method of introducing unpredictability while also not feeling purely like an attempt to draw in an audience. These guests have a purpose in the plot while also connecting Daredevil to the wider superhero network. At the same time, Murdock's own court case is heating up, but it appears that the real trial is yet to begin.
Daredevil #22 is available wherever comics are sold.
Daredevil #22
TL;DR
Daredevil #22 is the latest in a line of brilliant issues in Zdarsky's run. The use of guest stars in the series is a fantastic method of introducing unpredictability while also not feeling purely like an attempt to draw in an audience.