Reading Time:
3
minutes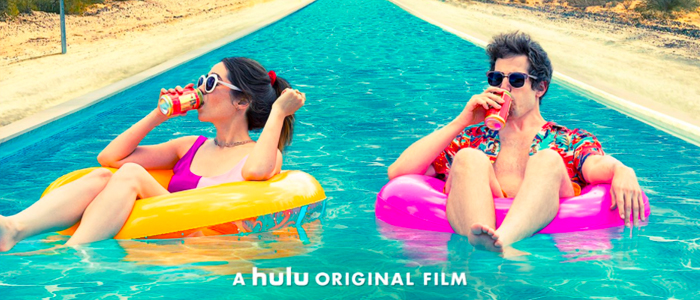 One of the sweetest sensations is sitting down for a good film and realizing, as you're in the midst of viewing it, that you are watching a film become a new favorite, for you, in real-time. It's as much a rare and beautiful thing as finding your soulmate. With Palm Springs, it was love at first sight. A Hulu Original, the film stars Andy Samberg, Cristin Milioti, J.K. Simmons, Meredith Hagner, and Camila Mendes, is directed by Max Barbakow, and was an official selection of the 2020 Sundance Film Festival, where it enjoyed a warm reception.
Palm Springs begins with a wedding, as all good rom-coms should. Nyles (played by Andy Samberg) is a carefree wedding guest with a certain cynicism when it comes to love. Sarah (Cristin Milioti) is the black sheep maid-of-honor, who would rather be anywhere else than at her sister's nuptials. Their chance meeting becomes more than just a night of fun when the pair discover that they have no way of escaping the venue, each other, or even themselves.
Romantic comedies with a healthy dose of cynicism aren't anything new. When Harry Met Sally and Sleepless in Seattle (practically anything Meg Ryan has starred in) invented the smart-aleck romantic prospects that are jaded when it comes to love. Palm Springs fits right in with other genre greats by creating likable, but rough-edged characters and giving us that classic formula. As a viewer, we can settle right in knowing exactly the good time that's in store. That being said, Palm Springs brings a lot more to the table than just a solid rehashing of what we know and love.
[SPOILER WARNING] The twist of a Groundhog Day-esque time loop is a welcome addition and played to a hilarious, never cheesy, effect. With every repeated day, we're treated to increasingly hilarious and heartwarming vignettes. It's a roller coaster that I'm just thrilled to ride along on.  Palm Springs creates an atmosphere reminiscent of more quirky indie romances, fully leaning into the weird. It's fun, irreverent, and so damn smart. For all of its raunchiness (and occasional jarring violence), Palm Springs is so remarkably sweet and incredibly refreshing.
Andy Samberg and Cristin Milioti are magnetic as an onscreen couple. You're rooting for them from the get-go and it's a delight to see the very subtle one-up game between these two performers. The comedic instincts are razor sharp and they play off of each other in a way that feels warm and intimate, but never like a directionless riff. These two absolutely make Palm Springs.
Palm Springs works as well as it does because even though it hits all the beats of a traditional rom-com and even though it brings some refreshing weirdness, Palm Springs has a heart and a soul and something more to say. The love story of Nyles and Sarah goes beyond the typical path of two scrappy fools stumbling on love. This film is an exploration of the self. The core of the film is facing previous wrongs and getting in touch with the parts of yourself that are messy and finding acceptance. Nyles and Sarah are able to guide each other, as friends, in a direction that makes them better people and eventually people who are ready to be a good partner to the one they love.
The film defines romance as finding meaning in the mundane and making every day an adventure. As one person follows the other into an absolute mess of an existence, the thing that gets them through is a commitment to working on themselves for the other. This is not a rom-com that alleges that the falling in love is the best part.  Palm Springs is a love story for people who know what being in love really means — not just the honeymoon phase.
Palm Springs is laugh-out-loud funny and so gosh-darn endearing. It is respectful of its audience and profoundly offers something that feels real. As a highlight of 2020, I'm ready to make a long-term commitment to Palm Springs.
Palm Springs premieres on July 10, 2020 on Hulu and in select Drive-In Theaters.
Palm Springs
TL;DR
Palm Springs is laugh-out-loud funny and so gosh-darn endearing. It is respectful of its audience and profoundly offers something that feels real. As a highlight of 2020, I'm ready to make a long-term commitment to Palm Springs.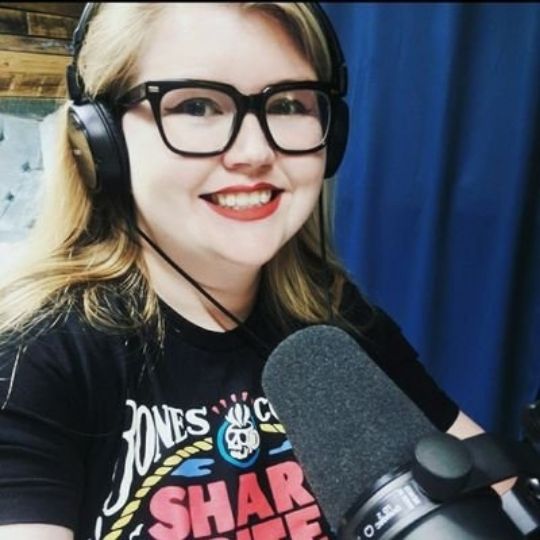 Caitlin is a sweater enthusiast, film critic, and lean, mean writing machine based in Austin, TX. Her love of film began with being shown Rosemary's Baby at a particularly impressionable age and she's been hooked ever since. She loves a good bourbon and hates people who talk in movies. Caitlin has been writing since 2014 and you can find her work on Film Inquiry, The Financial Diet, Nightmarish Conjurings, and many others. Follow her on Twitter at @CaitDoes.