Fantasy Island has always been a story that has intrigued me. In the 1970s the debonaire Mexican actor Ricardo Montalbán as the island's steward Mr. Raorke in his white suit fascinated me as much as the fantasies he brought to life on the island. So, when Blumhouse announced this remake of such a beloved cult title, I was intrigued, and when Michael Peña was announced as the enigmatic and seemingly immortal Mr. Roarke, I was excited.
Much like the initial adaptation, Blumhouse's Fantasy Island, directed by Jeff Wadlow, is focused on how fantasies twist around the individuals who dream them. With Mr. Roarke pulling the strings, five individuals have won a stay on the Island, a luxurious and remote tropical resort. Filled with promises and online rumors, each guest is tackling different parts of their psyches as they fulfill their wishes. For, Patrick (Austin Stowell), he's looking to be a soldier, to finally enlist and serve, while Melanie (Lucy Hale) is looking to seek revenge on a school bully. Even still, JD (Ryan Hansen) and Brax (Jimmy O. Yang) just want to have it all and finally while Gwen (Maggie Q) is looking to have the family she always wanted.
While each of their fantasies begins as dreams, they quickly turn into nightmares as the guests abide by one of the two rules: follow their fantasy through to its natural conclusion. Along with the first rule, that each guest only receives one fantasy, this simple request reaches sinister ends as each guest is forced to survive their deepest desires. As elements of the story begin to weave together to form a larger narrative, Fantasy Island pays the viewers who draw the simplest conclusions while tangling itself in front of those who look deep into the twists expecting more subversive pay-offs.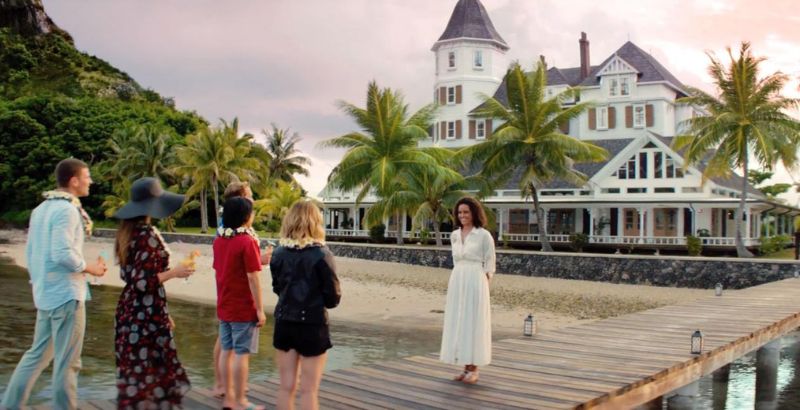 Now, given the mysterious nature of the film, I can't dive too much into the details of the film without spoiling major plot points. But, with twists for each character, for each group, and for each of their fantasies, there is almost too much going on. While some of the twists shine, others don't really push the story anywhere. To put it simply, either 30 more minutes or a smaller ensemble could have helped push the narrative decisions for greater impact, but instead, many of them feel half-realized.
With that said, the character performances in the film carry it through some rough patches when their performances outshine the narrative weight of their fantasies. While the fantasies themselves each had great potential, only find themselves fully realized by leaning hard into their genre-bending motifs while the others are simply there. As showcased in the trailer, Melanie's revenge leans in hard on the slasher angle, causing her and the bully she brought to the Island with her fantasy to move through the island as final girls. Second, you have Gwen's emotional story of correcting her past and reclaiming a family she never thought she deserved. In Gwen, we see drama and even get a glimpse at Mr. Roarke's compassionate core – a trait hidden for most of the film but known to fans of the original series.
But the joy of watching Blumhouse's Fantasy Island isn't because I expected it to be a narrative giant, but because I expected it to deliver just what it did: a love letter to the original. While many saw the trailer for Fantasy Island and quickly dubbed it the horror remake of a classic, the film, in reality, lives in the spirit of the original, while still embracing more thriller than camp tropes along the way. Mr. Roarke is now played by one of our generation's iconic Mexican-American actors and Peña channels Montalbán wonderfully while still injecting his signature comedic charm in small moments. Additionally, while the narrative goes in many different directions with new characters popping up, old ones changing, and some not really meaning anything at all, it gets to the heart of the original series by unlocking a small moral tale and teaching the guests for better or worse.
While the middle of Fantasy Island is weirdly paced in its many twists, the ending solves its problems as the story finally becomes crystal clear and the film embraces its more overt nods to the original. I will say that the trailer shows a lot of the film, but almost all out of context, which means even those who spot a trailer's nuance will find surprises in the film. Because of this, Fantasy Island is everything you want and expect from a theater Blumhouse film. It stumbles a bit but winds up where you need it to.
Propelled by its character performances, fans of Peña and popcorn movies will have fun with this title. After sitting with it, Fantasy Island is really all I ever needed it to be. It embraces the source material in the end, even it takes some time to get there. I'm sure a lot of people won't like this flick, but it was a lot of absurd fun.
Fantasy Island is playing in theaters nationwide now.
Fantasy Island
TL;DR
After sitting with it, Fantasy Island is really all I ever needed it to be. It embraces the source material in the end, even it takes some time to get there. I'm sure a lot of people won't like this flick, but it was a lot of absurd fun.