I'm going to be honest, while I love Harley Quinn in Bruce Timm's work and most of the comics, I didn't like Margot Robbie's first live-action appearance. Couple it in with a year of bad fight choreography for women in 2019 with Charlie's Angels and Captain Marvel, I was apprehensive when I sat down to watch Birds of Prey: And the Fantabulous Emancipation of One Harley Quinn. Then, it started.
Opening up with an animated history of Harleen Quinzel, this movie started as the perfect primer for the character that has become a DC staple since stepping into the Joker's shadow in Batman: The Animated Series. Her Ph.D., her trouble with love, and everything else were laid out in front of the audience in a quick and fun way that even though it was exposition, you didn't lose attachment. With Margot Robbie narrating, the opening scene served as a reclaiming of the character from the disastrous Suicide Squad variation. Birds of Prey uses Harley as narrator to hold the story together, jumping from past to present, character to character, it's her story.
While this works extremely well, keeping the scattered plot in line with one of the most notoriously manic characters in the DC canon, it also brings my only gripe with the film. While the Birds of Prey, or rather a variant of them, are introduced, it isn't their movie, nor their stories, which makes my issues with the title stand firm. That said, that's where my issues with the film end and despite not being the focal points, Birds of Prey does an amazing job at introducing each character and setting them up for their own adventure away from one Harleen Quinzel.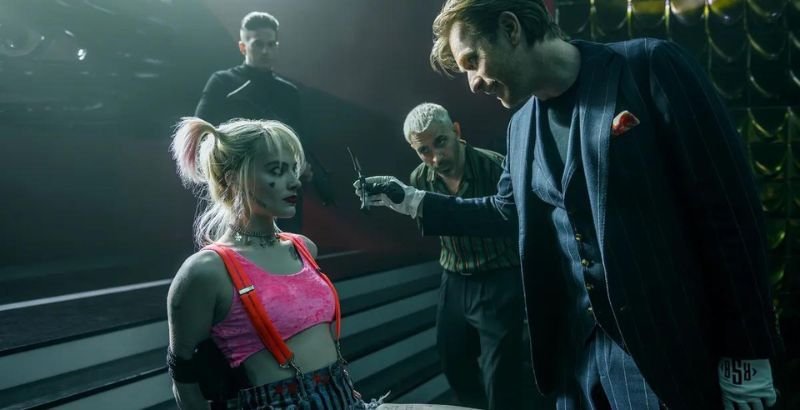 To do this, the story is slightly simple — but entertaining nonetheless. After splitting with the Joker, Harley loses all of the protection being the girlfriend of the Crown Prince of Crime gives you. In no time, she goes from a woman with no rules and enough power to break a man's leg in a crowded club and have no one care, to the person at the top at every mercenary and just regular old person's hit list. From girl's she punched in the roller derby ring, to men she refused to sleep with, and Roman Sionis (Ewan McGregor), Black Mask himself, everyone is after her and no one is standing by her side.
Through both luck and pure happenstance, Harley winds up smack dab in the middle of the intersecting paths of Black Canary (Jurnee Smollett-Bell), Huntress (Mary Elizabeth Winstead), and Renee Montoya (Rosie Perez) all with the purpose of keeping Cassandra Cain out of the hands Black Mask and his killer goon Victor Zasz (Chris Messina). As their paths converge, you learn about each of them and Christina Hodson's script gives audiences a foundation for the characters while each and every actress brings the future heroines to life. Smollet-Bell nails the Canary charm and ferocity, Winstead brings to life a brutal Huntress, and Perez is unequivocally Renee Montoya with her neo-noir obsession blended into 80's procedural humor.
But it isn't just the women who bring substance to this ensemble. Both McGregor and Messina are eccentric, disturbing, and so eye-catching that it's hard to not be attracted to them but also hard not to cringe when they interacted with the women on screen. Together, their chemistry is undeniable and electric. As Zasz, Messina is disgustingly creepy and as Black Mask, McGregor is intimidating. Not to mention, both are dressed to the nines in costuming that is quite simply to die for.
But Harley stands above them all. It's apparent that this is the version of Harley that Robbie was meant to bring to the screen. She's violent, emotional, irreverent, and hilarious. She portrays the Harley we know and love, the one driven by emotions who even though she is a terrible person, has a soft spot for at least one person at a time. She's dynamic and interesting and feels like the character we got from Timm so long ago. I fell in love with Robbie's Harley and now I can't imagine anyone else playing here.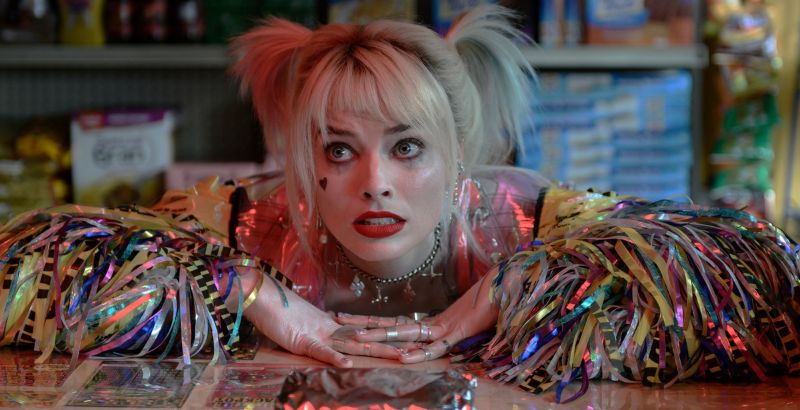 Even with a phenomenal cast, a killer script that delivers both dark and irrelevant humor with some emotional introspection on abusive relationships, it's the fight choreography and coordination that seals the deal for this film. Birds of Prey is what happens when you trust women to do stunt work instead of relying on heavy editing and "empowering" songs. The violence is unrelenting. The way each hit, crack, and slap are timed to the music throughout the film highlights the importance of good fight choreography – and a killer soundtrack. It looks effortless and beautiful and this is thanks not only to actresses and stuntwomen who executed it, but the choreographers behind it.
From John Wick, Chad Stahelski, Jon Valera, and Jonathon Eusebio bring their style to Birds of Prey. Fast-paced combat with improvised weapons, and utilizing every piece of the sets define a lot of the Keanu Reeves-led action films and that's here. But what changes, and thankfully so, is showcasing their understanding of how a woman's body moves. The way our center of gravity drops, how smaller frames can meet and defeat large muscular men. To put it simply, Harley Quinn beats down Black Mask's men in roller skates and I don't question a moment of it because of how fluid and seamless her movements are.
Similarly, the other women all move with distinct styles. Renee is a boxer, Canary uses her legs like a kickboxer, and Huntress uses range to her advantage. Each and every style fits the characters and in the climactic fight we see all of them fighting together on the same platform, and the execution and coordination in the scene makes their choreography shine.
It must also be said, that Cathy Yan in the director's chair is what pulls this entire colorful, violent, and manic film together. Not only does Yan understand to use large action set pieces but she truly understands how to shoot fight choreography. She trusts her actresses and stunt performers in their roles, and it shows. In one of the film's best fight scenes, Harley does two one-versus-many fight scenes back to back. First, she moves from a water fight, with elements of Tony Jaa's water fight scene in The Protector, to a close-quarters evidence room fight sequence where Harley shows off what she can really do with a bat.
In both of these dynamic shots, the kills are creative, the bone breaks are satisfying, and the long takes that move around Harley instead of relying on heavy editing are perfection. Add in the killer score and a coked-out Harley smashing bones to "Black Betty" and you have the recipe for success. Birds of Prey has the best fight scenes in all of Warner Brothers' DC-based films. Additionally, while slow-motion is used, it doesn't oversaturate the film like some of DC's other live-action ventures.
Overall, Birds of Prey: And the Fantabulous Emancipation of One Harley Quinn is a must-see. Not just because it's female-led or because it's a comic book movie, but because it blows every other DC comic book movie out of the water and a large helping of Marvel's too. Come for the action, stay for irreverent humor and glitter bombs.
Birds of Prey: And the Fantabulous Emancipation of One Harley Quinn is now playing nationwide.
Birds of Prey (And the Fantabulous Emancipation of One Harley Quinn)
TL;DR
Birds of Prey: And the Fantabulous Emancipation of One Harley Quinn is a must-see. Not just because it's female-led or because it's a comic book movie, but because it blows every other DC comic book movie out of the water and a large helping of Marvel's too.