In this episode of "Carolyn Talks…" she speaks with Costume Designer Trysha Bakker on the last day of filming for season 5, about creating intergalactic fashion for the characters of hit sci-fi show Killjoys and her career in the film and television industry.
For the past five season, Killjoys has been one of the most popular sci-fi shows on network television. Created by Michelle Lovretta, Killjoys stars Hannah John-Kamen as Dutch an interplanetary bounty hunter who works with her best friend Johnny (Aaron Ashmore) , his brother D'avin (Luke MacFarlane) and their friends to fight a seemingly unbeatable force, while trying to prevent a class war from erupting between the factions living on the various moons.
Whether she's creating custom leather jackets for badass women, evening gowns or shirt-waisted dresses of the 1930s, Trysha makes sure that each character she dresses is unique and stands out. Just as cinematography and lighting are important to how audiences experience a show or film, the costumes characters wear tell can tell us a lot about the characters and where they live. Bakker and her teams pay attention to every little detail that can be seen immediately such as the embellishments on a cape, or the unseen like the texture of a specific material that only the actor can feel.
---
About Trysha Bakker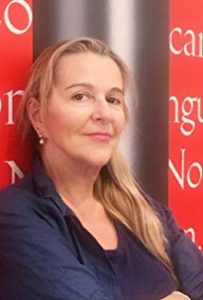 Trysha Bakker is a freelance Costume Designer in Film and Television with a wide range of experience in both Period and Contemporary Costume Design most recently on MAUDIE, a period feature shot on location in Newfoundland, starring Sally Hawkins and Ethan Hawke.
Her contemporary credits include DAMIEN for A&E and she is currently working on the futuristic TV series, KILLJOYS for Space/SyFy Network.
Ms. Bakker who is based in Toronto has filmed in many countries as she holds an EU passport.
In the last few years, her work has taken her to Spain, the Netherlands, Austria, Denmark, and NYC. In addition to her film and television career, Ms. Bakker maintains an exclusive list of clients from the arts and business professionals for whom she provides stylist services.