Reading Time:
3
minutes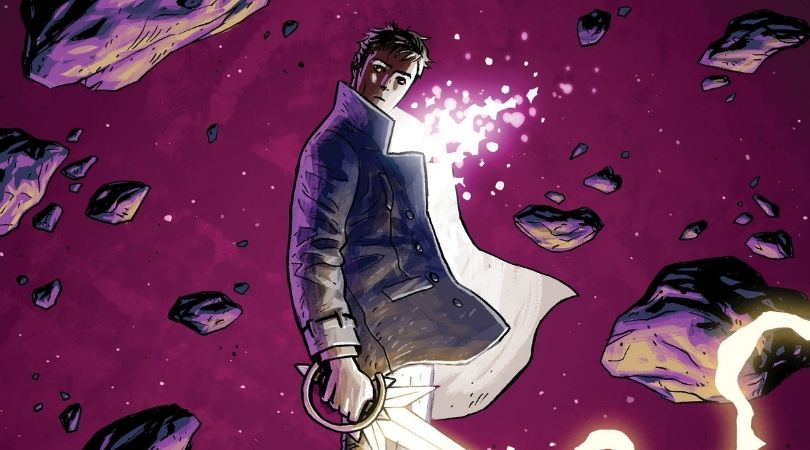 Collapser #1, titled "Constellation Prize" is published DC's Young Animals, an imprint of DC Comics, written by Mikey Way, and Shaun Simon, with art by Ilias Kyriazis, colors by Cris Peter, and letters by Simon Bowland. This is DC Young Animals' second story, after Doom Patrol, since the revival of the imprint overseen by Gerard Way. The issue follows Liam James as he just muddles through life one day at a time, trying to manage his responsibilities with his wants.
Collapser #1 highlights the disorder in Liam's life as he tries to balance his day job, his passions of becoming a successful DJ, and maintaining the relationship with his girlfriend Jocelyn. Things are about to go from difficult to impossible when the black hole, that's been delivered to him via intergalactic mail (yes, you heard me), escapes the confines of the package.
Liam's origin story during the issue focuses on his attempt at balancing what he needs to do, versus what he loves to do. The story pays particular attention to the professional requirements of his role as a caregiver as he tries to find stability in completing his daily tasks, and still making time and adding value for the residents of the nursing home.
This entire sequence at the nursing home is utterly brilliant. Way and Simon don't shy away at all from the realities of working as a caregiver as Liam goes from cleaning excrement, washing dentures, to finding one his residents dead. A horribly sad, but true reality of this profession. During these moments, we witness the chaotic inner monologue of Liam's mind that ties all of his thoughts.
During this same sequence Kyriazis and Peters do wonders with the art and color and one particular page really reinforces this by emphasizing Liam's frenzied inner thoughts. The page is split between completing his daily tasks, to the passing of time for Mr. Edgars, who Liam had promised to play chess with, and to finally worrying about the package in his apartment. The nine panel layout clearly captures the visual representation of what a frantic day looks like, as his mind jumps about between his tasks and his body slips into auto pilot just so he can complete the work he has in front of him. The art, and the color, are sublime here and really leave you feeling fatigued in a way that you feel like you've been invited into the mind of Liam. Everything about Liam's life is hectic.
As frenetic as the story is though, it feels relatable, and it connects. The dialogue and the art of this issue is so busy, but that's the point and it transfers from the page so well. With all of this, a lot of credit has to go to Bowman who really has his work cut out for him in capturing the lettering for this dialogue, but it's all balanced really well.
The pages are bizarre and trippy and loaded with amazing detail that will have you scanning all of the fine points of the illustrations. All of this culminates into a tense conclusion that will leave you excited and anxious to get your hands on the next issue. Overall, first issues can be difficult to balance, but the creative team has gone after this story in an aggressively creative fashion.
Collapser #1 is available now everywhere comic books are sold.
Collapser #1
TL;DR
Overall, first issues can be difficult to balance, but the creative team has gone after this story in an aggressively creative fashion. A must read!