When it comes to gaming, DreamHack Dallas 2019 showcased everything from esports, to indie titles, and even student-made games. At their Student Game Showcase, DreamHack Dallas hosted games from student programs from universities across the United States on the expo hall floor. My favorite of which was To the Rescue!, from the University of Arkansas at Little Rock, Little Rock Games. While walking the floor there wasn't a single game that caught my attention more than this dog rescue simulator.
To The Rescue's art was eye-catching and adorable in its pastel palette. This charming dog shelter simulator puts the player into a role of responsibility by taking care of dozens of best boys and girls who are in need of a home. That being said, as adorable as it is, To The Rescue teaches players that running a shelter can be a lot of work. Like any sim, there isn't just one thing that you need to monitor. Each dog is generated with its own traits and preferences that make them unique while also adding difficulty and nuance into running the shelter.
Since you have to manage all of the dogs' needs in order to maximize their chances of finding the right forever home, a dogs well-being isn't the same across the board as they each enjoy their own types of foods, routines, as some are more difficult to lead than others. As was my experience attempting to bring Meanie, a dachshund who had the exact same coloring as my own rescue pupper that refused to go to the main kennels to be introduced to a potential new pet parent.
Each day brings new challenges and rewards, with resource management key to keeping the lights on and the dogs happy and healthy. It's important to know dogs' specific preferences and pay attention to every canine in their kennels. It isn't a simple feed and water, in fact, the puppers can get diseases and some even have bad traits. This requires you to take care of them in a health sense as well, and ups the difficulty of matching the dog with a future owner. You need to ensure that each dog is up to date on their vaccines and that they're healthy. Sadly, I had to put the game down when walking into the vet area, with a furnace on one wall, it was something my pup parent heart couldn't take. That being said, that is a reality of being a vet and running a shelter.
The management resources involve food and of course money, which is crucial to ensuring your success. Not only can you maintain your shelter but if you end up with some spare funds, you can upgrade the shelter to have deluxe kennels, get help with cleaning or upkeep, and more add-ons to make your job easier. However, it's important to keep your eyes on the dollars as it gets more difficult to keep every dog happy, leading you to make thrifty and tough choices in order to keep helping the dogs find their forever home. One of the really cool features is the ability to hold fundraises and receive donations, which alleviates some of the pressure.
One of the heartbreaking things about this sim is that at around 15 minutes of playing on the demo, it's abundantly clear that there is always fewer homes and always more dogs. One of the mechanics forces the player to understand that some dogs are more desirable than others, especially when the dog has negative traits. It's hard to play as an owner of a rescue dog with food and leash aggression, and it made every time a customer said no to a dog feel incredibly bad.
Ultimately, meaning that the sim fulfilled its job. Though there is a mode for those younger audiences who may not be ready to make the tough choices or those who just can't bring themselves to, allowing them to have the experience of the sim without the heartache.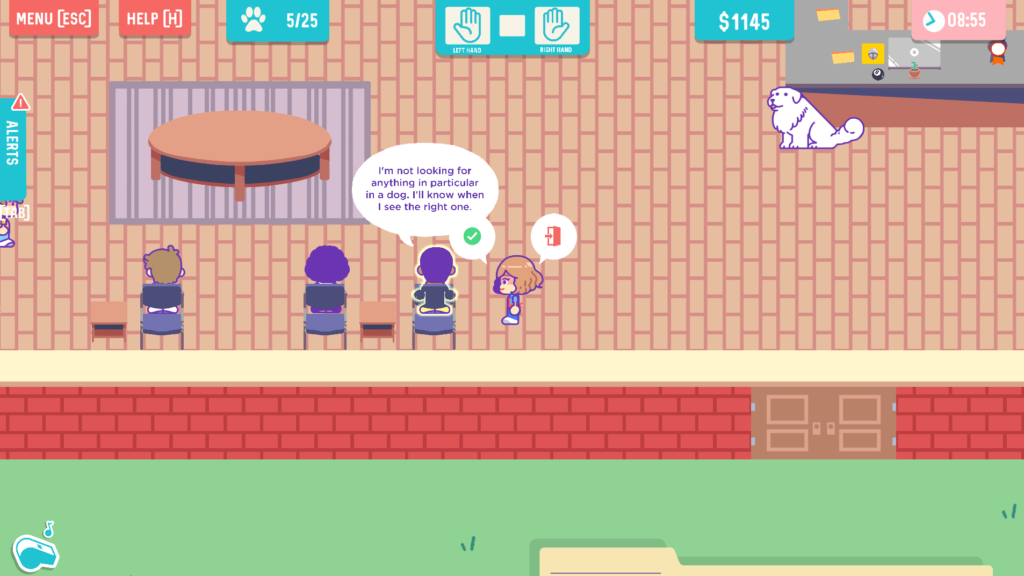 One of the frustrating aspects, which may weigh more on me as a player than the game itself, is matching dogs with some owners can be extremely difficult. This is because while some potential pet parents may know exactly what kind of dog they're looking for, others have no ideas. One of the goals is to match puppers with adopters based on their preferences in order to increase adoption chances, the ones not looking "anything in particular" are more difficult to deal with than someone with many preferences.
Overall, To The Rescue! is a sim about saving. Its delightful art style will make the game appealing to all age-ranges while the ability to turn off the harder realities of running a shelter will facilitate that large target audience. The mapping of the controls is extremely simple and intuitive, facilitating what I can foresee of hours of saving puppies. You can also pick from a diverse slate of characters to play as which is great to see. Truth be told, not only is To The Rescue one of my favorite games visually with a UI is simple, clean, and easy to understand, but it is also a game that I can easily see being ported to other travel consoles such as the Nintendo Switch or even mobile, as it would be the perfect game to play while on the go.
The game is available to add to your Steam store wishlist for PC and Mac OS. To The Rescue!'s Kickstarter goes live later this year on August 6th. In addition, to support an indie game, you also get to support real-world charities. The plan is to share 20% of the profit from all sales to dog shelters, although the details are still developing.
As a dog mom and as a gamer, I can't recommend To The Rescue! enough.