Reading Time:
3
minutes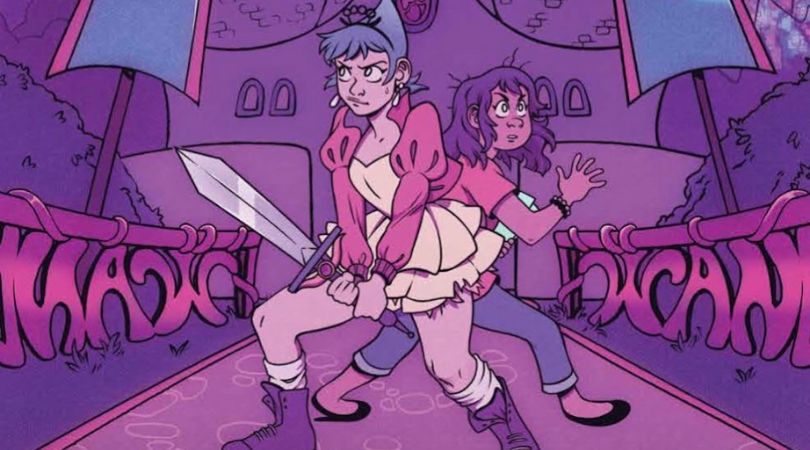 Welcome to Wanderland #4, which is published by BOOM Studios, is written by Jackie Ball, illustrated by Mollie Rose, colored by Nimali Abeyratne, and lettered by Ed Dukeshire. In the previous issue, readers learned more about Bel and Riot's relationships with their respective families. The end pages revealed that Riot's sister, Syla, had taken over all of Wanderland with the use of magic. She also used her magic to banish Bel out of Wonderland and back to her home. This issue picks up with Riot and her brother Sebastian seeking the help of Captain Forten, who seems to have a close relationship with Riot. Bel tries to get back to Wanderland and asks her brother Michael for help. It's up to these five brave heroes to save Wanderland and find a way to defeat Syla.
This was quite possibly the best way to end this four issue mini-series. Nothing in this issue felt rushed or seemed as if it was given a sort of fairytale ending. For instance, Both Bel and Riot have grown throughout the series and have both demonstrated they would do anything to protect Wanderland. It's quite a change from issue #1 where Bel seemed to dislike working on the theme park that's based on Wanderland and Bel wanted nothing to do with the throne. Their call to action once Syla takes over has been set up perfectly rather than the plot just thrusting these two characters into it.
Bellamy's confidence was put to the test in this issue. Like mentioned before, she wanted nothing more than to save her friend and the kingdom of Wanderland. Having been banished back to her world, she constantly looks for a way back. The positive encouragement she received from her brother Michael was exactly what she needed. It's a big contrast from the relationship that Syla has with all of her siblings, including Riot and Sebastian. It's suggested that Bel has not only improved her relationship with her brother but that she has what it takes to be the best mage that Wanderland has ever had.
Given that it's almost Pride Month, major props have to be given to this mini-series for including characters who identify as LGBTQ+. A possible relationship or romance had been teased between Riot and Captain Forten throughout the series, but Riot always brushed it off. However, this issue will confirm that they do have a history together. It would have been a bit of a letdown had the creative team just teased this relationship but never delivered. It's fantastic to see LGBTQ+ characters being at the forefront of comic books. Hopefully, this means that more comic book series will have LGBTQ+ main characters.
It had been made clear that Syla hated her siblings since they were in her way of being queen. However, this issue does a phenomenal job with displaying just how much she hates them. She's willing to see her siblings die so she can control Wanderland. Christian makes note that she wasn't always this way, which acts as a way to get readers to sympathize with Syla. Her character is written well and doesn't fall under the usual tropes of just been a bland villain without any real purpose.
With this being the end of the mini-series, readers will most likely be satisfied with its ending. Whether it's the humor, the further development of its central characters, the representation of gays characters, or just simply wanting to know how the story ends, readers will definitely be in for a treat. This series has found a way to include coming-of-age tropes and combine it with fairytale elects to create a phenomenal series.
Welcome to Wanderland #4 is available to purchase now wherever comic books are sold.
Welcome to Wanderland #4
TL;DR
With this being the end of the mini-series, readers will most likely be satisfied with its ending.