Written by Ali Wong, Randall Park and Michael Golamco, and directed by Nahnatchka Khan, Always Be My Maybe is the newest romantic comedy released by Netflix. The film stars Ali Wong as Sasha Tran, a celebrity chef and restauranteur, who reconnects with her childhood friend and crush Marcus Kim (Randall Park), who has settled into a life of complacency as the lead singer in a small band and working for his dad. After years of not speaking to each other, Sasha and Marcus may finally have a chance to heal old hurts after parting on bad terms.
Best friends from youth, Sasha and Marcus had always been each other's support system. Like when Sasha is left home alone to fend for herself, because her parents will be late returning from work, Marcus and his family provide her with a homecooked traditional Korean meals such as Kimchi-jjigae (Kimchi stew, yum). Apart from the homecooked meals, a montage shows them enjoying typical American moments in a kid's life: taking a ride on San Francisco trams, lunch in the school cafeteria, trips to the amusement park, and dressing up as characters from their favorite film for Halloween. That being said, what sets these scenes apart from the usual rom-coms we've seen are the references to their Asian heritage and culture. This is something not ordinarily seen in North American films before unless it was used as a punchline.
Though I may not be Asian there are certain things I relate to personally, and recognize from living and working in a multi-cultural city. Just like Sasha prepared a meal of SPAM and rice topped with seaweed and sesame seeds, I was reminded of a dish Bajans (Barbadians) call "1-2-3" which is comprised of sliced luncheon meat (or hot dogs) and Mac & Cheese that was a go-to all kids learned to prepare for ourselves.
I smiled seeing Marcus and Sasha sharing a box of Pocky Stix and eating dumplings for lunch because the kids at the school where I work do the same. When I saw kids taking off their shoes at the front door, to run through the house to the back and put them back on, I laughed because that's a part of my culture as well, and something I still do when I go to house parties. And who didn't mumble croon along with D'Angelo when "When How Does it Feel?" played on the radio?
Just as it's important to see people who look like us on screen, seeing others having similar experiences matters also.
As teens Marcus and Sasha are inseparable. Well, until they lose Mrs. Kim to an accident. As people tend to do when grieving, Marcus verbally lashes out at Sasha, hurting her feelings and causing a rift in their friendship.
I have to be honest here, because I wasn't sure if to mention this but figured why not. Ok, here it goes. I may have let out just the tiniest giggle when it was revealed Mrs. Kim died in a car accident. Now, don't get me wrong, I didn't think her death was funny, I was slightly amused because parents dying in accidents is an actual trope in Korean dramas. It's so much a part of the fabric of these shows that there's a plot device called "The white truck of death", because nine times out of 10, characters are killed by an actual white truck. While this may or many not have been the intention, as someone who is an avid fan of K-Dramas, I immediately made this connection, and it just became another part of Always Be My Maybe that I relate to and enjoy.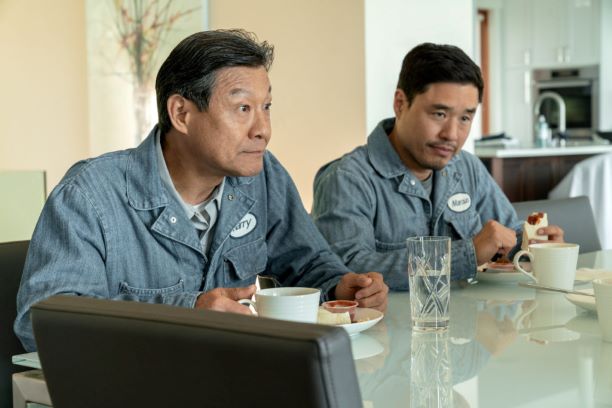 While Sasha has gone on to become a successful chef, owns her own home and multiple restaurants, Marcus seems to remain stuck in the past. He still lives at home with his dad Harry (James Saito) and works for his air conditioning repair service. All Marcus cares about is smoking weed and doing gigs at the local dive bar. At first glance he seems satisfied with his life and has settled with not wanting more for himself or even his band "Hello Peril." Then you realize that he's anything but content.
Marcus is afraid to live and move on. He's afraid to not only leave his dad, but to forget his mom. I love that we got to see this side of Marcus and his relationship with his father. Harry knows that Marcus was affected more deeply by his mother's death than he let on, and rather than try to force him to leave the nest as it were, he allowed him to stay because it was the one place Marcus felt connected to his memories.
Adulting is hard. Even though it may look like we have our lives together to people looking on from the outside, it may actually not be quite true. To the world, Sasha seems to have it all. She has money, a beautiful home, a fantastic wardrobe and collection of glasses (I want every single pair), and Brandon, her smoking hot fiancé played by Daniel Dae Kim.
In reality, everything isn't what it appears, especially her relationship with Brandon, Frankly, he's a massive jerk and I love that. Jerks come in all races and ethnicities, and it's great to see more Asian actors playing characters like this. After she breaks up with Brandon due to his douchiness, Sasha meets and begins dating none other than Keanu Reeves. Yes. Keanu is actually playing himself and it's one of the best things about the film.
In the week that I'm writing this review, the Twittersphere was atwitter with a discussion about Keanu's acting ability, and I, being a long time fan of his acting – and looks – was quick to point out that a lot of his performances especially in his more recent films rely on subtle things like the quirking of his lips, or a small tilt of the head to convey what his character is thinking. Ironically, he did the exact opposite here.
In what can be described as self-parody, this version of Keanu's personality is a mix of some of the characters that he has played in the past including Ted (Bill and Ted's Excellent Adventure) and Neo (The Matrix Trilogy). I'm not going to spoil exactly what he does, but let me just say that I've never laughed so hard at someone apologizing to meat. It was a joy to see this side of Keanu, and I hope we get to see more of it in future films.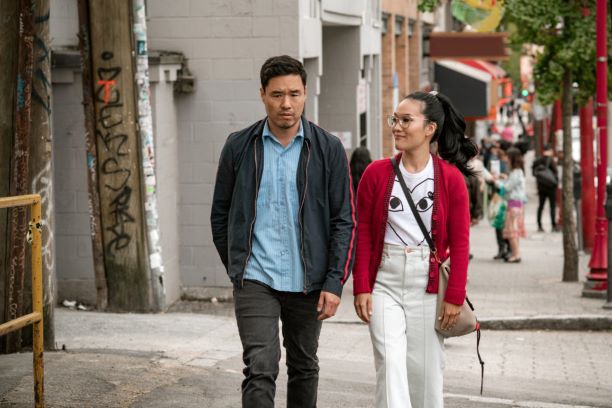 Romantic comedies have always been a genre of film that seems to ebb and flow in popularity every few years or so. They're known for specific tropes, and I'll be honest with you, Always Be My Maybe has a few of them. With that said, rather than feeling like a retread of streets we've all be down before, the script adds nuance and gives us explanations for why these things happened. Instead of silly misunderstandings that create unnecessary conflict, the characters are open (usually) about what they're thinking and how they feel, even if it makes you shake your head.
I've always wanted to see more North American produced films with people of colour (POC) as the romantic leads, and films like Always Be My Maybe and Crazy Rich Asians are beginning to fill the void that was created. One of the things I appreciate about Always Be My Maybe isn't only that it's about Asian Americans, but that it features Asians of different ethnicities and shows them having different careers, interests, and personalities and involved in interracial relationships with other POC, to which I have to say: HALLELUJAH! Finally, can I have more of this please?
As I wrap up I do have to mention my one gripe, which is Sasha's best friend and assistant Veronica (Michelle Buteau) can be described as filing in the "Sassy Black friend trope", and her being gay makes it seem that they went for a two-for-one special in the diversity column. With a supporting cast of characters played by Karan Sony, Susan Park, Veronica may not have seemed like such an obvious cliché were it not for the fact that she is the only Black person in the entire film with significant screen time, and lines.
Overall, Always Be My Maybe is a funny, endearing film about friendship, women knowing what they want out of life and getting it. Both Sasha and Marcus learn they can no longer live in the past, and sometimes the best way to honor a loved one is to go out into the world and take a leap of faith for love. While flying away from the nest can be terrifying, we won't know what the world looks like and what we're capable of unless we try.
Always Be My Maybe
TL;DR
Always Be My Maybe is a funny, endearing film about friendship, women knowing what they want out of life and getting it. Both Sasha and Marcus learn they can no longer live in the past, and sometimes the best way to honor a loved one is to go out into the world and take a leap of faith for love.