Reading Time:
4
minutes
With Spider-Man: Into the Spider-Verse taking the multiverse by hyper-colored storm, new audiences are being introduced to comic characters that have become staples within the Marvel Comic Universe for some time. Miles Morales, Gwen Stacey as Spider-Gwen, Spider-Man Noir, Peni Parker, and even Spider-Ham all make an appearance. They also all look almost exactly like their comic book counterparts. Watching Spider-Man: Into the Spider-Verse is a fantastic gateway to the comic book medium. So, here are five comics to get you started if you loved Spider-Verse.
Edge of the Spider-Verse & Spider-Verse by Dan Slott, Christos Gage, Michael Costa, Dennis Hopeless, Guiseppe Camuncoli and more
The event that most directly influenced Spider-Man: Into the Spider-Verse, was Spider-Verse. As Marvel's major crossover event in 2014, the evil Inheritors begin exterminating spider characters throughout the multiverse forcing every single Spider-Man in every universe to team-up and stop them. The event stars hundreds of Spider-People, from the beloved to the obscure and even introduced the character of Spider-Gwen to Marvel continuity. The event begins with issues 1-5 of Edge of the Spider-Verse and is continued into the Spider-Verse main event. This crossover encompasses a lot of issues,  so you might be better off picking up the collected trade editions.
Miles Morales: Ultimate Spider-Man 

by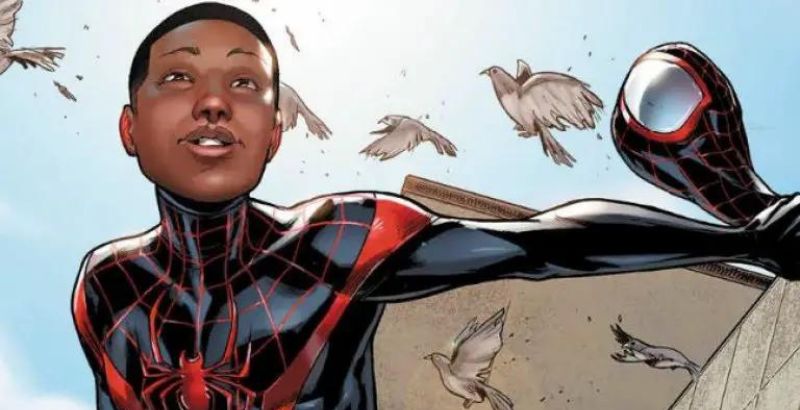 Miles Morales: Ultimate Spider-Man was the character's first solo run. The story follows a very similar origin story to Mile's character in Spider-Man: Into the Spider-Verse. Miles Morales is thrust into the mantle of the Ultimate Spider-Man after being bitten by a similar spider as Peter Parker. Following Peter Parker's death, Miles, now with incredible arachnid-like powers, must attempt to live up to Peter's legacy as Spider-Man while still trying to be a regular teenager. Mile's creator Brian Michael Bendis not only wrote this run but also worked as a producer on the Spider-Verse movie.
Miles Morales: Spider-Man by Jason Reynolds
While not a comic, Miles Morales: Spider-Man is a YA novel that follows Miles as he tries to be a normal teenager balancing family, school, friendship, potential girlfriends and being Spider-Man. The novel does a great job of giving us a glimpse into Miles' family life and the hardships he faces an Afro-Latino teen. At school, Miles' spidey-sense is on the fritz and he begins to have strange nightmares. While trying to decide whether to ignore it or investigate further he ends up in a whole lot of trouble. The book is out now at book retailers everywhere.
Web-Warriors by 
Similar to the Spider-Verse comic event, Web-Warriors was a follow-up series that followed various Spider characters as they raced around the multiverse to save the day by hopping to realities that lost their Spider-Men and Women during Spider-Verse.  Web-Warriors is a super fun and diverse team-up book. If your favorite part of Into the Spider-Verse was seeing the various Spider-people work together despite their extreme differences in personality, background, and origin this book is perfect.
Spider-Man/Spider-Gwen: Sitting In A Tree by Brian Michael Bendis, 
Spider-Man/Spider-Gwen: Sitting In A Tree is a crossover between Miles Morales and Gwen Stacey. In the movie Into the Spider-Verse, their romance is hinted at, clearly having drawn inspiration from this story arc. The story is framed around their budding teen romance as Miles finds himself in another universe and in pursuit of someone he holds dear. With Spider-Gwen's help, the two travel around the multi-verse. While the crossover featured various issues from both Miles' and Gwen's respective books, there is a combined trade of the arc that I highly recommend checking out.
---
Spider-Man: Into the Spider-Verse was a fantastic movie that was clearly a love letter to the comic medium with its bold animation choices that showed distinct art styles between every Spider character as well as the use of onomatopoeia words similar to the lettering in comics. Like many comic fans, I hope movies like this draw new readers into stores and continue to keep such interesting and diverse characters as Miles Morales, Gwen Stacey, and even Peni Parker on the screen and in panels for years to come.