Every year, Halloween brings with it scary monsters and ghost stories. AMC has its FearFest and Hollywood has the latest in horror and jump-scares. But I'm not here to acknowledge the spooky scary skeletons. I'm here to talk about Dracula – sexy Dracula – or the multiple Draculas throughout cinema history. Here's my list of most attractive Draculas of all time.
'Hotel Transylvania' Dracula
This Dracula has a certain charm about him. Behind the "bleh bleh bleh's" there's a loving father who wants what's best for his daughter and who is trying to find love again. There is a softness to him that adds that human element to a creature of the night. Nothing is more attractive than someone trying to be a good person – or vampire. He has the traditional Dracula look and the long chin. His slicked-back hair and tailored suit definitely add to the mystery of his character. This Dracula is a tall drink of water.
'Dracula' 1931
For many people, Bela Lugosi IS Dracula. He's one of the first Draculas to sexualize vampires and, for that, I salute Lugosi. His intense gaze and gentlemanlike appearance is a drastic change from the 1920's Nosferatu. This is also the second film adaptation for Bram Stoker's 1897 novel of the same name (the first being The Death of Dracula). Lugosi's Dracula is dashing and old-fashioned with just the right amount of sinisterness. When he speaks, his voice demands attention and, damn, if that's not attractive in a Dracula – I don't know what is. He's the OG of handsome Draculas and valiantly deserves a place on the list. Capes off to you.
'Dracula' 1979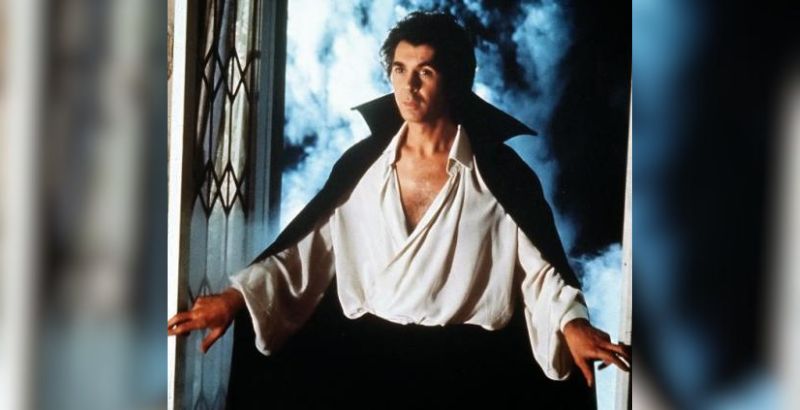 You don't watch Frank Langella's Dracula for the plot. The low v-neck shirt with just a hint of chest hair is everything you need to know about the film. Langella's sexy Dracula looks like he's going to disco dance me into a trance and I am here for it. He has the perfect coif and he rides a horse at one point in the film. This Dracula is attractive enough to dress business casual. He knows he doesn't need the tuxedo – he has a neckerchief.
Dracula from 'Van Helsing'
Hugh Jackman was the main character of this film but Richard Roxburgh's Dracula was the star. The long hair and riding boots drew me in. He has that old-fashioned appeal but you know he can transform into his monster-like appearance with a snap of his finger. Roxburgh's sexy Dracula has that mystery about him that just oozes attractiveness. Plus, he just wants to have kids with his brides. He's a family man and Van Helsing keeps ruining his plans. This Dracula looks like he's about to sing "Enter Sandman" with Metallica and I am swooning.
Sir Christopher Lee's Dracula
How could I not include this legend on the list? Lee's Dracula is the epitome of a sexy Dracula. The only film he ever spoke in was the first one that came out in 1958. He just used his good looks and enticing eyes to draw people in for the rest of the films. Who cares about the plot? We have a Dracula with the most intense eyebrows I have ever seen in my life going through time and wreaking havoc. He's so attractive that people keep trying to bring him back to life after he dies. They know he's a bad guy. But he's so bad that it's oh so good.
Dracula from 'Bram Stoker's Dracula'
Gary Oldman in anything is going to be good. Gary Oldman as Dracula is the icing on the vampire cake. This sexy Dracula oozes charm. Once we get passed the older version of him at the beginning of the film, it's smooth sailing. Oldman's Dracula was THE Dracula when the film came out in 1992. He was a lady's man and I get it. This Dracula has the long, wavy hair with the goatee and steampunk attire that brings out my inner goth. He has just enough 90's aesthetic in him that separates him from the original Draculas. While the storyline deviates from the novel, Oldman's Dracula is a man looking for some love and romance. He's the villain in this movie but the hero of my heart.
'Dracula 2000' Dracula
Gerard Butler as a sexy Dracula IN New Orleans? Say no more. Butler's Dracula encompasses the intense stare, the glamorous hair and the long black coat in lieu of the traditional cape. This Dracula looks like he's about to drop a new single from his boy band. It's a twist from the traditional Dracula films and, while I love old-school Dracula, I'm a sucker for a good shake-up. This Dracula throws tradition out of the window with a fresh look, a new origin story, and a nice Gerard Butler. The black t-shirt, gelled back curly hair and blazer-style coat scream late 90's and I'm a sucker for that genre of film.
---
This is my list of the most attractive Draculas. Who are your top Draculas? Or if Dracula isn't your thing, let us know who your hottest vampires are too.