Blizzard Entertainment brought a good showing for Overwatch 2 to Blizzcon 2023 with a new playable hero. The Overwatch team focused on the next year of its hero shooter by showing a glimpse of two new heroes, a new DPS, and a new support spec. They also importantly focused on the immediate future with their new Tank hero, Mauga. Interestingly enough, Mauga was revealed all the way back in 2019 in a cinematic, and four years later joins as the 39th hero. Mauga is from Samoa and brings a new twist to the Tank role that was individually brought with Orisa and Junker Queen, along with his own twists. Mauga was available to check out on the show floor, and we got to go hands-on with him in a match.
Interestingly, Mauga comes with not one but two weapons. Two chainguns named Gunny and Cha-Cha are a volatile chaingun and incendiary chaingun, respectively. In execution, that means that one adds fire damage over time to enemies, and the other focuses on critical damage hits. Both weapons are active at the same time, so there isn't a need to swap between the two, depending on the situation. Similarly to Mercy, they are tied to the left and right click. But where Mauga stands out is they can both be used at the same time.
There are some downsides to using them both simultaneously. Using one at a time keeps your hit markers in a tight circle. Using them together makes that circle much larger. So it's only really advantageous to use them together when you get right in the enemy's face. They also eat through ammo. Both powerful chainguns pull from the same ammo per reload. In other words, fire Gunny once. You'd be at 399 of 400. If you then fire Cha-Cha, that one wouldn't also be at 399 of 400. Your ammo would then be at 398. With how fast they fire, you could find yourself reloading a lot when not planning properly.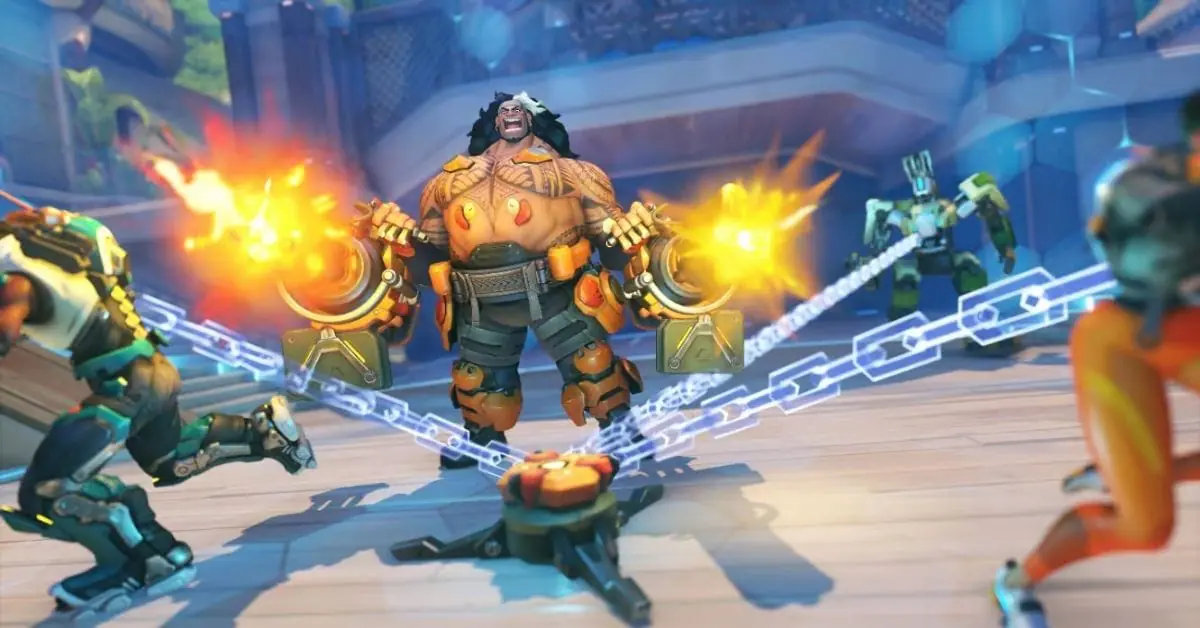 What wasn't clear right away was how much Mauga relies on not only good aiming but also using the volatile weapon regularly when you're leading the charge. Mauga isn't as tanky as other Tank role heroes are, like Reinhardt or Orisa, which offer more crowd control abilities, though Mauga has some that benefit from close-quarter combat. The enemy team was tearing through my health fairly quickly.
Mauga's kit is all about breaking through the enemy's front lines, landing critical hits and damage to heal himself through two of his abilities. His Berserker passive ability gives Mauga temporary health depending on critical hit damage, and one of his active abilities, Cardiac Overdrive, heals himself and team members close to him based on how much damage he deals—do enough damage and you can get your squad out in a pinch. It's easy to see how good Mauga players will be able to keep him alive much more easily than the average player.
The most fun times with Mauga came with his charging ability, Overrun, to start team fights. His charge lets him jump right into the middle of a group and stun anyone close by with a powerful knockback. This can create some great opportunities if you time it with some allies' ultimates. What makes this ability even greater is Mauga's ultimate Cage Fight.
Timed properly, you can cut off squishy enemies to face you in an inescapable arena where no healing or damage can go in or out. Whoever is trapped in it is trapped in there with you until you cancel it or you die. This was such a fun ability to use in the heat of the moment, especially when enemies were initially distracted before they got caught.
In just a short match, it's quick to see just how much fun and how much potential Mauga brings to Overwatch 2's ever-growing roster. While bringing some familiar abilities with his kit, he adds his own spin on everything to make him feel truly unique and will keep everyone on their toes. With proper coordination with teammates, Mauga has the potential to really shake up the meta in Season 8 and beyond. You can watch his Origin Story here.
Mauga and Season 8 full release comes to Overwatch 2 on December 5, 2023 on Xbox Series X|S, PC, and PlayStation 5.