With Fern (Kana Ichinose) and Stark (Chiaki Kobayashi) hunted by demons within the town, and Frieren (Atsumi Tanezaki) confronting Aura the Guillotine (Ayana Taketatsu, The Tale of Outcasts) outside the town, the stage is set for an epic confrontation as Madhouse shows that it can deliver on the action just as well as the series delivers on emotional and insightful character development in Frieren: Beyond Journey's End (Sōsō no Furīren) Episode 9, "Aura the Guillotine."
This week's episode opens with Fern and Stark as they oversee Graf Granat's (Shunsuke Sakuya) treatment of his injuries, devise a plan to deal with the demons, and learn more about Aura's abilities. Given how their first engagement went, Fern and Stark come to the conclusion that their best course of action is to retrieve Frieren to finish off the demons since Granat knows she isn't responsible for the slain guard. Upon hearing that it is Frieren that he had thrown in jail, Granat grows more remorseful for his mistake, as his town owes her debt from when she helped save them from Aura with the rest of the Hero's Party.
As he discusses the events from the past, Frieren Episode 9 uses the moment to seamlessly transfer the narrative to Frieren's ongoing confrontation with Aura in the present. We learn that Aura commands an army of animated suits of armor like puppets, who she sends after Frieren. These tin soldiers have a disquieting look about them, which is reinforced through Frieren's admission that, while Aura's magic must be mighty to control so many puppets, it also disgusts her.
The narrative returns to the trio within the city as Granat explains Aura's powers, revealing a chilling truth behind her iron legion. Every suit of armor was once occupied by a human that, thanks to her use of the Scales of Obedience, was enslaved to her until, eventually, they wasted away, leaving only armor in their places. Frieren knows this, and it is revealed that this is why she holds back from simply blasting them all with magic. The last time she helped defeat Aura, Himmel chastised her for slaying the suits so mercilessly, given their unwilling part in Aura's plans. Granat also reveals that the only person who cannot be caught by the scales' power is someone who has more mana than Aura. I have a sneaky suspicion I know who that is going to be.
With the talking done, Frieren Episode 9 follows Fern and Stark as they prepare to evacuate the town and retrieve Frieren, respectively. But just before the pair split up, Fern realizes that they both have Lügner's blood on them, providing the demon a way to track them. But it's too late, and the demons launch a surprise attack, splitting the two heroes up for a pair of one-on-one battles.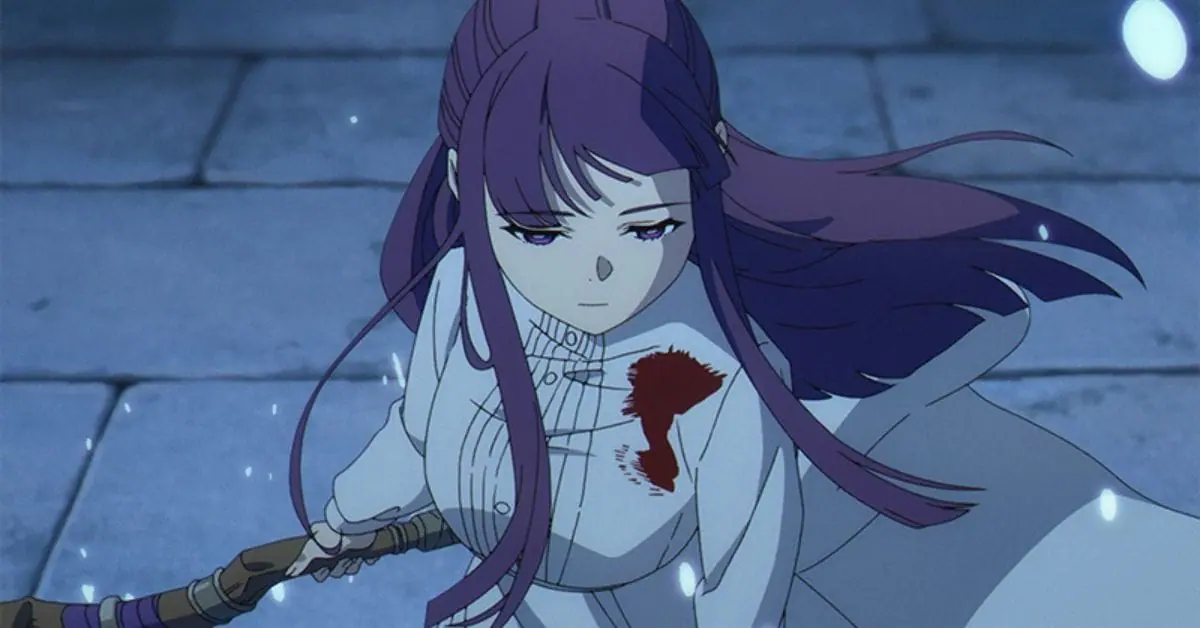 While previous entries in the series have given glimpses of combat, the show hasn't brought a full-scale fight sequence to the audience before. What we see here is an amazing display of both physical and magical combat as each of the duels plays out. Linie (Manaka Iwami, Oshi No Ko) and Stark are shown exchanging blows as each twists and turns as they jockey for an advantage over the other. The speed, power, and skill on display here are eye-catching and effective in displaying the action to the audience. While this contest is fantastic in its own right, it doesn't hold a candle to the magical mayhem that unfolds between Fern and Lügner (Jun'ichi Suwabe).
Throughout this fight, both mages lean heavily on their trademark spells. While Fern blasts away at her opponent with her "Zaltraak" beams of light, Lügner unleashes his bloodborne tendrils in unending waves at his opponent. Such limited move sets would lead to a repetitive and boring fight most of the time, but Frieren Episode 9 manages to keep the battle fresh with some phenomenal camera work that pans and flies through the battle, keeping the energy up as attacks are exchanged.
Also lending a sense of power to the battle is Fern herself. Just like in last week's ambush scene, Fern projects an awesome level of presence and power throughout this battle through just how focused and neutral-looking her body language remains. Never once does it feel like Fern doubts herself as she fires off spell after spell. With each new attempt her foe brings, she counters smoothly as if to reassert her command of the situation.
Also, breaking up the combat is a flashback for Fern and Stark as each remembers an important lesson their respective masters taught them about combat in the past. Frieren highlights a way in which Fern is actually her superior at casting magic spells, while Eisen (Yôji Ueda) tells Stark the secret to beating a powerful enemy. These moments bring the emotion and character focus the series has always excelled in, making these battles not just challenges for our protagonists but also moments of personal growth for them as well.
As the dust settles, Frieren Episode 9 leaves things primed for the final showdown between Frieren and Aura. With how well this story blends dynamite action with organic character growth, next week's entry will be hard-pressed to top it.
Frieren Episode 9 is streaming now on Crunchyroll.
Frieren: Beyond Journey's End — Episode 9 - "Aura the Guillotine"
TL;DR
As the dust settles, Frieren Episode 9 leaves things primed for the final showdown between Frieren and Aura. With how well this story blends dynamite action with organic character growth, next week's entry will be hard-pressed to top it.