The Exorcist is a formative horror film that my Catholic upbringing, despite my current Atheism, won't allow me to rewatch. It has a legendary weight of cultural impact that many have been chasing in the decades since its release, whether in sequels, television series (which take this as your sign to watch, a now non-canon sequel series, it's stunningly horrifying), and even the exorcism subgenre at large. The Exorcist: Believer is the latest in this line. Directed by David Gordon Green, it features a screenplay by Green and Peter Sattler, with a story by Scott Teems, Danny McBride, and Green. The Exorcist: Believer is a direct sequel to the original film, with returning casts in tow.
The Exorcist: Believer is centered on Victor Fielding (Leslie Odom Jr.), a man who lost his pregnant wife in a Haitian earthquake 12 years prior. Since his tragedy and the survival of his daughter Angela (Lidya Jewett), he's focused on being an attentive father. The two of them against all odds. Then Angela and her friend Katherine (Olivia O'Neill) disappear in the woods, only to return three days later with no memory of what happened to them. This unleashes a chain of events that will force Victor to confront evil and, in his terror and desperation, seek out Chris MacNeil (Ellen Burstyn), the only person who knows how to help.
The Exorcist: Believer has a strong foundation. Two friends become possessed together after playing with forces they don't understand. Angela is grasping at pieces of her mother, be that a scarf she finds in her dad's things or in a trance-like state with Katherine as they play with a pendulum, conjuring something they don't understand. The film has a stellar duo at its core, with Leslie Odom Jr. and Lidya Jewett as the father and daughter duo.
Their connection is one that constantly feels real and authentic. Their teasing and their care for each other, and ultimately the way in which their story concludes. They are the strongest part of the film, and you become deeply invested in their fear and survival. With them at the center and a concept that pulls two families together that didn't know each other, it's all compelling. Add in the fact the film pushes its characters to create community instead of suffering alone, and it's a stellar start. But the execution is another story altogether.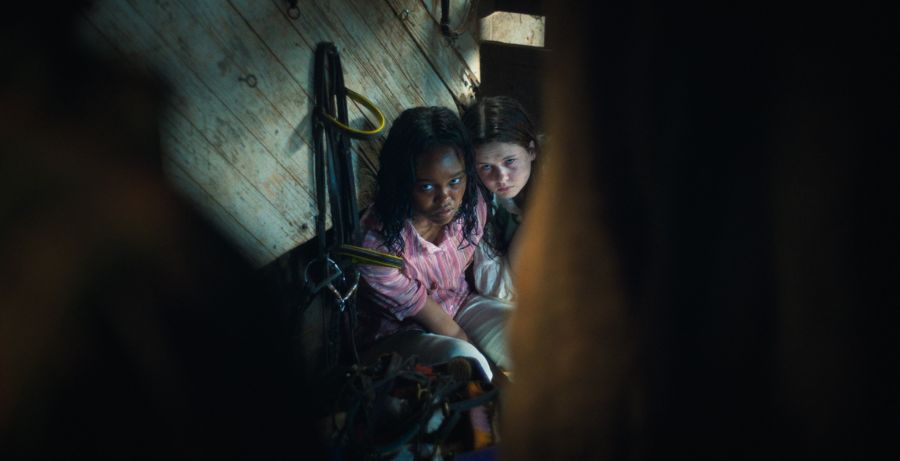 Additionally, while written thinly, Katherine and Angela as a pair are entirely unsettling. The duo of young actresses who bring these possessed girls to life have a long horror career ahead of them if they want it. Their eye movement and ability to twist their faces and move their bodies all play well on camera and show an awareness of who they are at any given moment. If only they had had more to do than just sit, tied together.
Still, even with its compelling concept and characters, the truth is that The Exorcist: Believer buckles under the weight of the original film. Chris and Regan MacNeil are shoehorned into the plot, creating a specter of the past on a film that could very well be its own narrative and IP. Though more awkwardly, the nods to the original gags in the original The Exorcist film never go the way you expect, but they also don't carry the dread, transgressive meanness, or impact in execution like the originals.
When the film is telling its own story, whether that be in its double exorcism or father-daughter bond, you can see its potential. Instead, it's weighed down in an unecessary IP coating. The horror that the girls go through would be better served as one found in their adolescent curiosity instead of a vehicle to call to a Ragan that never comes and bait Chris MacNeil, who is little more than a prop in the story.
The time spent connecting The Exorcist: Believer to its iconic predecessor should have been spent adding more depth to the characters we see on screen. We don't know who Katherine is other than a friend that apparently no one knew existed. We don't know why her father says that he has "sinned the greatest" as he's huddled away from the family as the possessed Katherine seemingly runs rampant in the home. The hollowness in the connection between Katherine and Angela and their families makes the impact of their double possession less important as Mr. Fielding saves Angela from a demon.
We needed more time with the girls. More time with the families. Ultimately, The Exorcist: Believer just needed more time alone, set apart from its legendary counterpart. Had it stood alone, there's a version of this film that is successful in telling a communal story. However, any larger theme it spins is undercut by the MacNeil's plight and superficially so.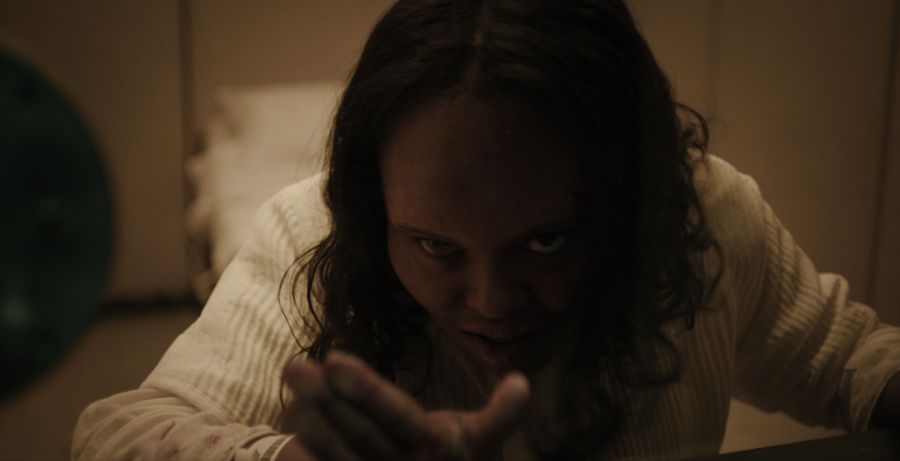 Outside of some well timed jump scares, The Exorcist: Believer is an R-rated film in spirit only. It lacks the grotesque and brutal nature of the first. Knowing that the demons in the girls are connected to Regan, there is an expectation of aggression that we don't see on screen. Instead, it feels as if the film is stuck inching up to something and then pulling back before taking a large swing.
Where the film does succeed is in its ability to adapt the parable of King Solomon in a unique way, balancing Leslie Odom Jr.'s Victor Fielding against a coward of a father who can't even be with his daughter as she's being checked for signs of assault. Even more time between the two families navigating the traumatic event would have bolstered the message of the film. But even with his sometimes repetitive flashbacks, Odom Jr.'s Mr. Fielding is a father who feels deeply.
He loves his daughter, and the weight of that love is balanced against the pain he feels from losing his wife. That balance and when the demon in Angela calls it out is one of the most tense moments of the film, not because of the possession make-up on Angela's face or any visual horror gags and scares, but because it scratches deeply at an insecurity and guilt that has been building in Victor since Angela's birth.
The personal moments of The Exorcist: Believer is where its power lies, twisting the truth of events that happened into their most devastating form. Only we don't see this happen with Katherine. For a double exorcism where the two girls' hearts are beating in sync, I would expect to understand their parallels and see each family go through strife, but instead, Katherine, by extension, feels like a prop. The Exorcist: Believer understands relationships, which is what makes this miss stand out starkly.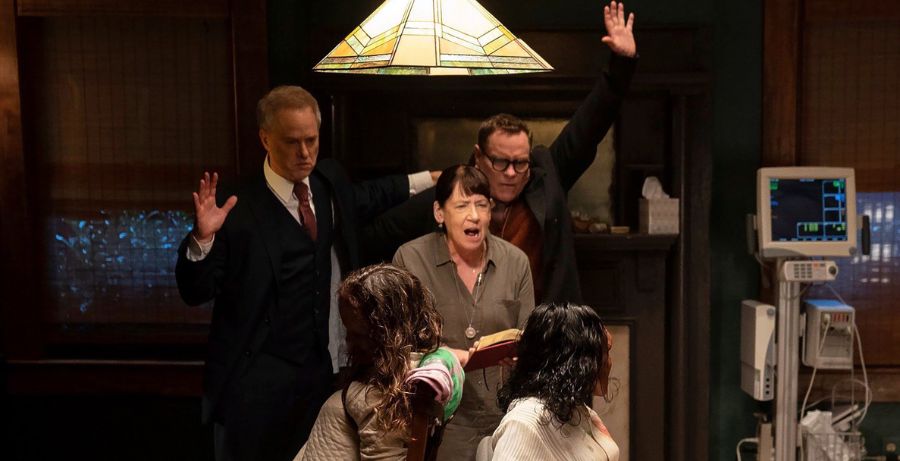 Finally, the use of faith throughout the film, especially with "believer" in the title, is one note. For all of the talk and exposition about every culture and religion in the world having exorcisms, the film defaults back to the Christian god. Be it Katherine and her family's seemingly evangelical Christian church, the neighbor's catholicism, the other neighbor's unnamed charismatic Christianity (presumably Pentecostal), and even the Root Work as an example of Black folk religion and spirituality, every single path leads back to a Christian god.
If you're going to make claims about the widespread nature of possession, why choose varying examples of Christianity, whether that be through the church or the syncretic ways that Root Work became a blend of ancestral religion and Christianity? To do nothing with the Yoruba and Haitian Vodou religious practices shown at the beginning of the film is a loose thread that sticks out, given the protection that Angela was blessed with while still in her mother's belly. Why not showcase the gods and beliefs from Haiti, given how the location is central in the film? The easy answer is, detaching exorcism from Catholicism but not from Christianity.
The most frustrating thing about The Exorcist is that Believer isn't that it's bad. In fact, it's a fine film, not bad, not good. It's that it holds so much potential and does nothing with it. It's a fine film to watch for Halloween, but it's also a film that was always doomed to be hobbled by the IP it's attached to, making the fact that it's just part one in an already greenlit trilogy all the more baffling. Should you watch it? Well, it's a quick scare that hits the prescribed notes of the genre that fit for the Halloween season.
This is a film I dread putting on Rotten Tomatoes. It's not fresh, it's not rotten, it's just stuck on the vine in an in-between stage. In fact, that's what the film is, stuck in the void of the middle. The Exorcist: Believer is a film buckling under the weight of a franchise attachment it didn't need and built on a foundation of "almost." It's almost scary. It's almost mean. It's almost multicultural. It's almost a story of connection. Almost, almost, almost.
The Exorcist: Believer is in theater October 6, 2023.
The Exorcist: Believer
TL;DR
The Exorcist: Believer is a film buckling under the weight of a franchise attachment it didn't need and built on a foundation of "almost."