PARANORMASIGHT: The Seven Mysteries of Honjo is on track to be gaming's best hidden gem of 2023. Described as a must play for horror fans by But Why Tho's own Kate Sánchez; the game is a masterclass in occult horror, ensemble cast storytelling, and narratively intuitive game design. Available for only $20 on both Steam and the Nintendo Switch eShop, this game is an exemplary visual novel that both advances the genre and serves as a fantastic introduction for those new to the form.
So why did I only learn about the game five months after its release and from a medium sized YouTuber?
PARANORMASIGHT, being a hidden gem is less a badge of honor and more an indictment of what kinds of games that are valued today by video game publishers and media outlets. This game was developed and published by Square Enix and only covered by the largest of gaming and tech outlets or the smallest and most niche. When great games are undervalued and under-discussed, that hurts everyone in the gaming ecosystem. I hope that in writing about PARANORMASIGHT and how it's broadly overlooked, I can contribute to a healthier cycle of gaming discourse.
Before I get into how concerning trends and longstanding biases in the game sphere led to PARANORMASIGHT getting snubbed, I should probably describe why I like it so much first. In short, PARANORMASIGHT is one of the most competently directed and authored video games I've played since 2022's Neon White. Every cylinder of this game is firing in perfect coordination with every other to deliver what feels like the precise experience that writer and director Takanari Ishiyama had in mind. While in Neon White that synergy delivered a feeling of unmatched speed and action, PARANORMASIGHT is instead a slower, occult-inspired detective thriller that never fails to instill a player with the exact right amount of tension and dread at the exact right moments.
When I say that every little bit of PARANORMASIGHT lines up to creep a player out, I'm not exaggerating. The ability to pan the camera a full 360 degrees in the game's first set piece — a desolate urban playground during the middle of the night — immediately evokes the creeping, anxious feeling of someone or thing watching you from just outside of your field of vision. The blocking of the characters further builds this anxiety.
When you talk to other characters in PARANORMASIGHT, they take up just a little bit more of the screen than what feels comfortable, obliterating any sense of personal space and the security that comes from that social barrier. Wrapping this all up in a bow is the music which, in this opening segment, regularly shifts from inaudible to a slight and uneasy melody to a cacophony of sound that drives home the existential terror of learning that magic is real and that it killed a girl you were vibing with.
This is just the opening segment of the game, though! Every other stretch of this short and sweet visual novel delivers an equally well-crafted experience. Just as the spooky vibes are beginning to get old, the game changes perspective to a pair of wisecracking paranormal detectives, whose theme music is nothing short of funky fresh! Then, when their schtick starts to get scale, the game can further swing out to a grieving mother and an eccentric detective who are trying to revive her deceased son and/or a pair of young women who become entangled in a supernatural criminal conspiracy.
And that says nothing of the little touches that make the world of this game — the actual Honjo neighborhood of Sumida, Tokyo, circa the 1980s — feel like a weird, lived-in place. For instance, there are stickers of birds dressed and stylized as delinquents hidden in the game's various backgrounds. They are hilarious and adorable, and I love these Mocking Birds — which is the actual name of these fake stickers! Also, the opening protagonist is straight-up wearing a Canadian tuxedo, which I can only assume was a look every young man tried to pull off in the 80s.
PARANORMASIGHT is holistic in both inception and execution, and this is likely a culmination of Ishiyama's career of filling widely different roles in game development across projects ranging from Tokimeki Memorial titles to Metal Gear Solid, and a few Final Fantasy spin-offs. I cannot undersell how much I enjoyed this game, and I hope Ishiyama and the team behind it are proud of themselves; because it really doesn't seem like Square Enix is. In a year with a scant number of releases from one of gaming's largest and oldest developers/publishers, the company did surprisingly little to promote PARANORMASIGHT.
Despite releasing on the Nintendo Switch globally this March, PARANORMASIGHT only appeared in the Japanese version of February's Nintendo Direct, which is usually only the case for Japan-only Switch releases. Square Enix's only push to promote this game outside of Japan seems to be a single website and trailer that both launched on the game's release date, as well as pre-release access for gaming press. Also…there's no also. Square Enix released a banger and put next to no resources into marketing it, while putting their middling AAA releases on a pedestal.
While I described PARANORMASIGHT as a hidden gem at the top of this article, it might be more accurate to call it a diamond in the rough. Square released or is releasing several larger-budget games this year, including Forspoken, Final Fantasy XVI, and Octopath Traveler II. I've seen countless ads, ranging from YouTube videos to sidebar promotions to television commercial spots, for these releases so far this year. Final Fantasy XVI even had a massive installation at this year's Anime Expo! I don't mean to imply that any of these other titles are less than competent or not worth experiencing, but it's weird Square propped them up instead of their actual best game of the year.
Then again, Square Enix has been weird about the kinds of games it releases and what it seems to value for a while now. In 2022, the company released about a dozen smaller to medium-sized games, with the tactics game Triangle Strategy being the headliner. In 2021, Square continued niche series like Bravely Default and The World Ends With You; while also rereleasing the oldest Final Fantasy titles, and dropping surprise hits like Marvel's Guardians of the Galaxy and DUNGEON ENCOUNTERS. 2020 was, of course, the year of Final Fantasy 7: Remake, and they didn't put out much beyond that.
Looking at this pattern, it seems like Square tries to release major AAA titles every three years, with less resource-intensive projects filling in the years in between. While this release cadence is hopefully good for them financially, it also leads to many unique titles slipping through the cracks. Maybe if PARANORMASIGHT had come out a year earlier or later, it would have gotten some kind of support from its publisher and developer but it couldn't, with bigger titles taking up all of the company's marketing bandwidth. As a long-time appreciator of Square Enix games and someone who hasn't particularly liked its most recent AAA attempts, this is a bummer for me. It feels like the company is shifting away creatively from the kinds of games I enjoy and think are its best.
Mainstream gaming's general apathy towards visual novels also didn't do PARANORMASIGHT any favors. Despite being long established in the medium of gaming, being integral to the art form's growth, and regularly serving as a point of entry for new developers, gamers and games media are largely dismissive of this genre. Every couple of months, a title comes along that gets people talking about visual novels, but they're almost always novelties or relying on shock value to gain attention.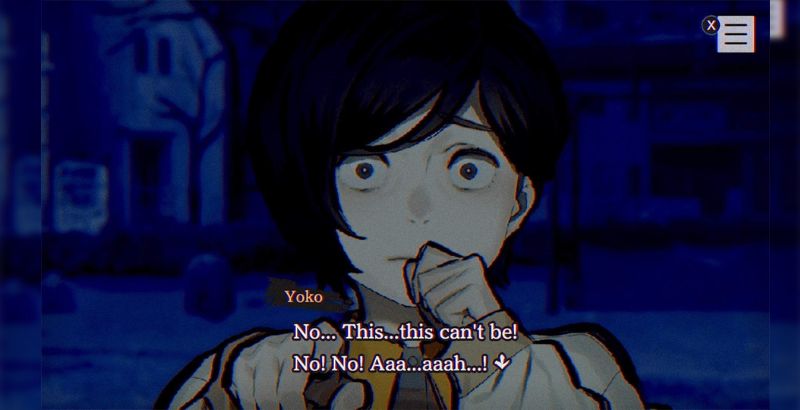 The game that kicked this off this year was The Murder of Sonic the Hedgehog, which coincidentally released in the same month as PARANORMASIGHT. While it's a competent title that has a lot of fun in putting the heavily memed Sonic characters in a fresh setting, it's also available for free, which to me implies that developer and publisher SEGA didn't think it was good enough that people would pay for the experience. The Murder of Sonic the Hedgehog was also released a day before April Fool's Day, implying that visual novels are a joke.
While that might sound a little harsh, people keep releasing visual novels as a bit, and that's weird! KFC published I Love You, Colonel Sanders! A Finger Lickin' Good Dating Simulator in 2019 also got way more coverage than PARANORMASIGHT. 2017's Doki Doki Literature Club similarly blew up by virtue of being free, kind of making fun of visual novels by learning into stereotypes about the genre and then transforming into a horror game, and was also maybe an ad for an upcoming game.
Looking back on this past discourse around gimmicks masquerading as visual novels while a great one like PARANORMASIGHT is ignored is a bummer. Visual novels aren't a lesser form of media than other gaming genres, and the only way that games as an art form improve is if mistakes are critiqued, and successes are recognized and elevated. This doesn't just apply to PARANORMASIGHT either. If anyone reading this is interested in visual novels and wants to see what the format is capable of, I encourage you to play games like Suda 51's The Silver Case, Ryukishi07's When They Cry titles, Shu Takumi's Ace Attorney games, or Kotaro Uchikoshi's 999.
I earnestly believe that PARANORMASIGHT is one of the best games to release this year and is certainly the best title to come from Square Enix. It sucks that the game's own publisher made the decision not to promote this gem and that long-standing prejudices against this kind of game prevent PARANORMASIGHT from receiving more widespread acclaim and potentially influencing future releases. I like video games, and I hope to see the artform grow by virtue of acknowledging phenomenal works that help advance the medium. I hope this article is the beginning of that happening more broadly in this industry and community.
PARANORMASIGHT: The Seven Mysteries of Honjo is available now on Nintendo Switch and PC.